In a previous blog, we described the outcomes of grant applications according to the initial peer review score. Some of you have wondered about the peer review scores of amended ("A1") applications. More specifically, some of you have asked about amended applications getting worse scores than first applications; some of you have experienced amended applications not even being discussed after the first application received a priority score and percentile ranking.
To better understand what's happening, we looked at 15,009 investigator-initiated R01 submissions: all initial submissions came to NIH in fiscal years 2014, 2015, or 2016, and all were followed by an amended ("A1") application. Among the 15,009 initial applications, 11,635 (78%) were de novo ("Type 1") applications, 8,303 (55%) had modular budgets, 2,668 (18%) had multiple PI's, 3917 (26%) involved new investigators, 5,405 (36%) involved human subjects, and 9205 (60%) involved animal models.
Now the review outcomes: among the 15,009 initial applications, 10,196 (68%) were discussed by the peer review study section. Figure 1 shows the likelihood that the amended application was discussed according to what happened to the initial application. For the 10,196 submissions where the initial application was discussed, 8,843 (87%) of the amended applications were discussed. In contrast, for the 4,813 submissions where the initial application was not discussed, only 2,350 (49%) of the amended applications were discussed.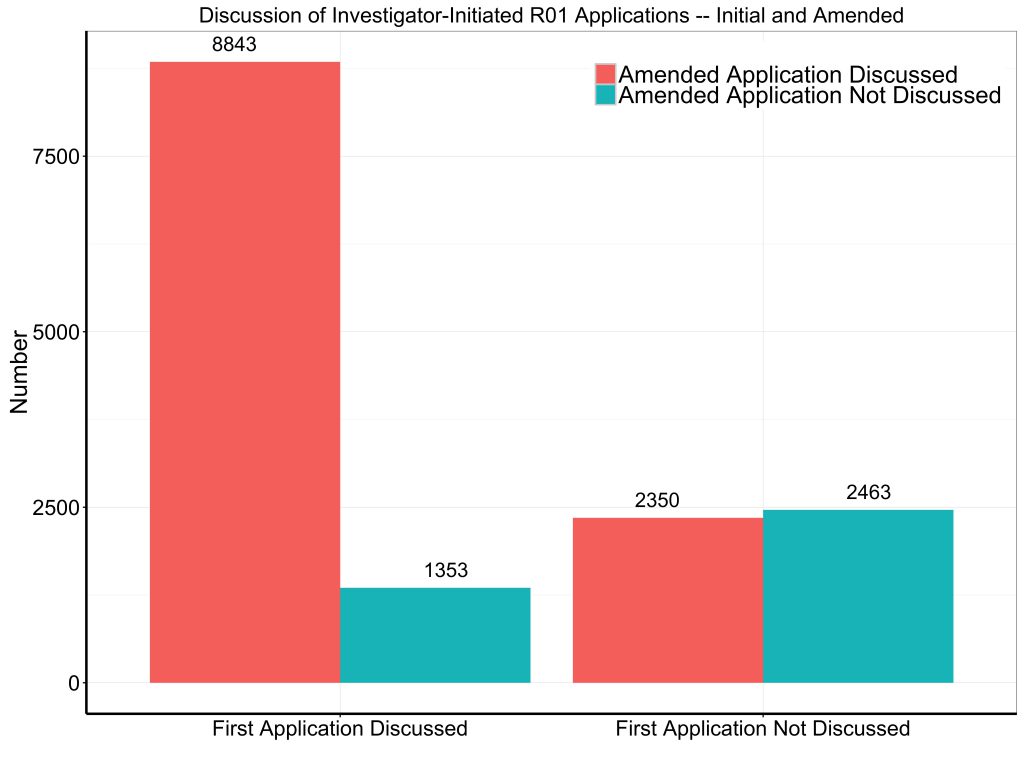 Figure 2 shows the same data, but broken down according to whether the submission was a de novo application ("Type 1") or a competing renewal ("Type 2"). The patterns are similar.
Table 1 provides a breakdown of discussed amended applications, binned according to the impact score of the original application. Well over 90% of amended applications with impact scores of the original applications 39 or better were discussed.
Table 1:
| | | | |
| --- | --- | --- | --- |
| Impact Score Group | Amended Application Discussed | Amended Application Not Discussed | Total |
| 10-29 | 759  (97%) | 23  (3%) | 782 |
| 30-39 | 3,779  (94%) | 241  (6%) | 4,020 |
| 40-49 | 3,116  (84%) | 588 (16%) | 3,704 |
| 50 and over | 1,189  (70%) | 501 (30%) | 1,690 |
| Total | 8,843  (87%) | 1,353 (13%) | 10,196 |
We'll now shift focus to those submissions in which both the initial and amended applications were discussed and received a percentile ranking. Figure 3 shows box plots of the improvement of percentile ranking among de novo and competing renewal submissions. Note that a positive number means the amended application did better. Over 75% of amended applications received better scores the second time around.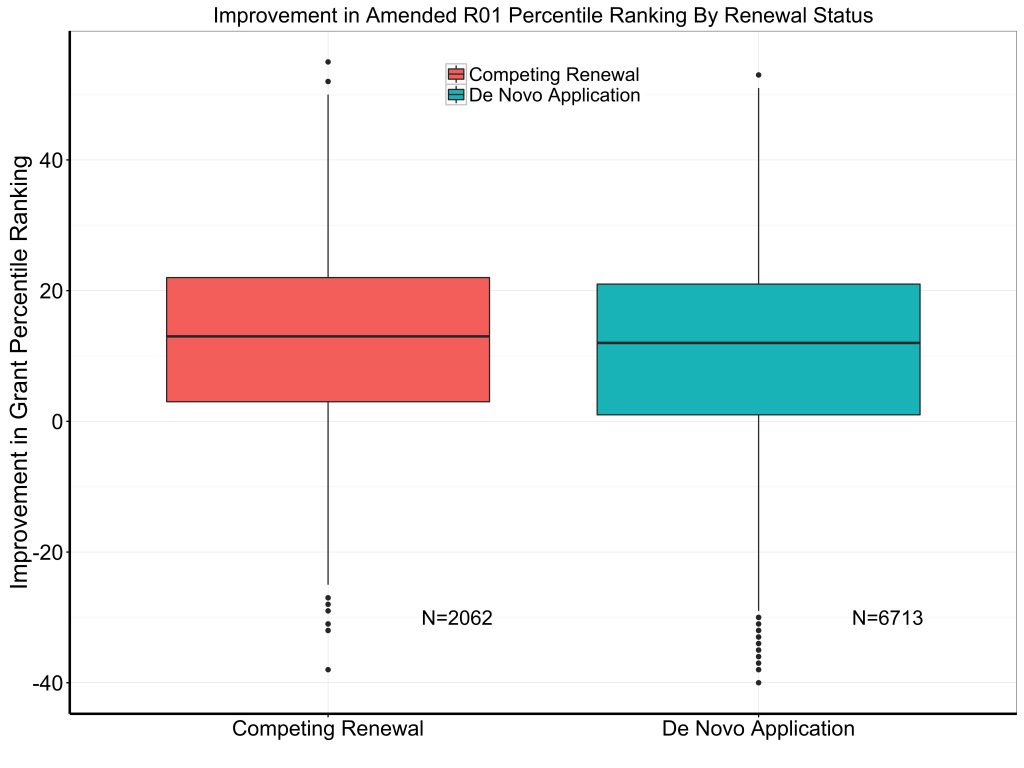 What are the correlates of the degree of improvement? In a random forest regression, the strongest predictors, by far, were the initial percentile ranking and the all other candidate predictors – de novo versus competing renewal, fiscal year, modular grant, human and/or animal study, multi-PI applications, and new investigator applications – were minor.
Figure 4 shows the association of percentile ranking improvement according to initial percentile ranking and broken out by de novo application versus competing renewal status. Not surprisingly, those applications with the highest (worst) initial percentile ranking improved the most – they had more room to move! Figure 5 shows similar data, except stratified by whether or not the initial application included a modular budget.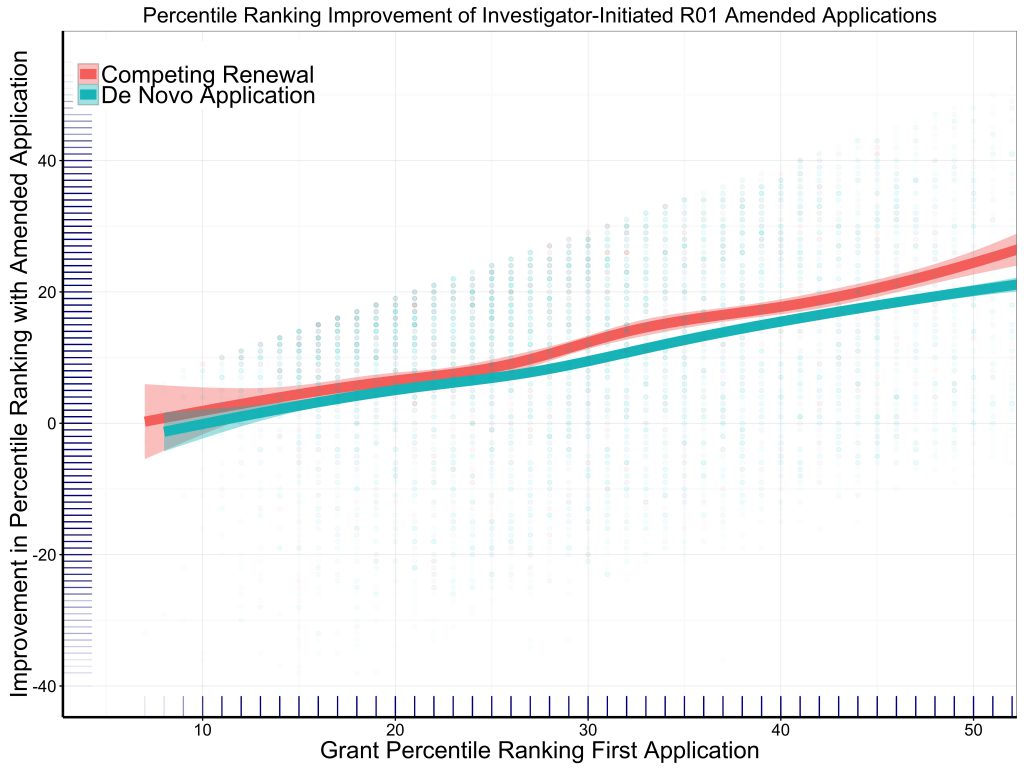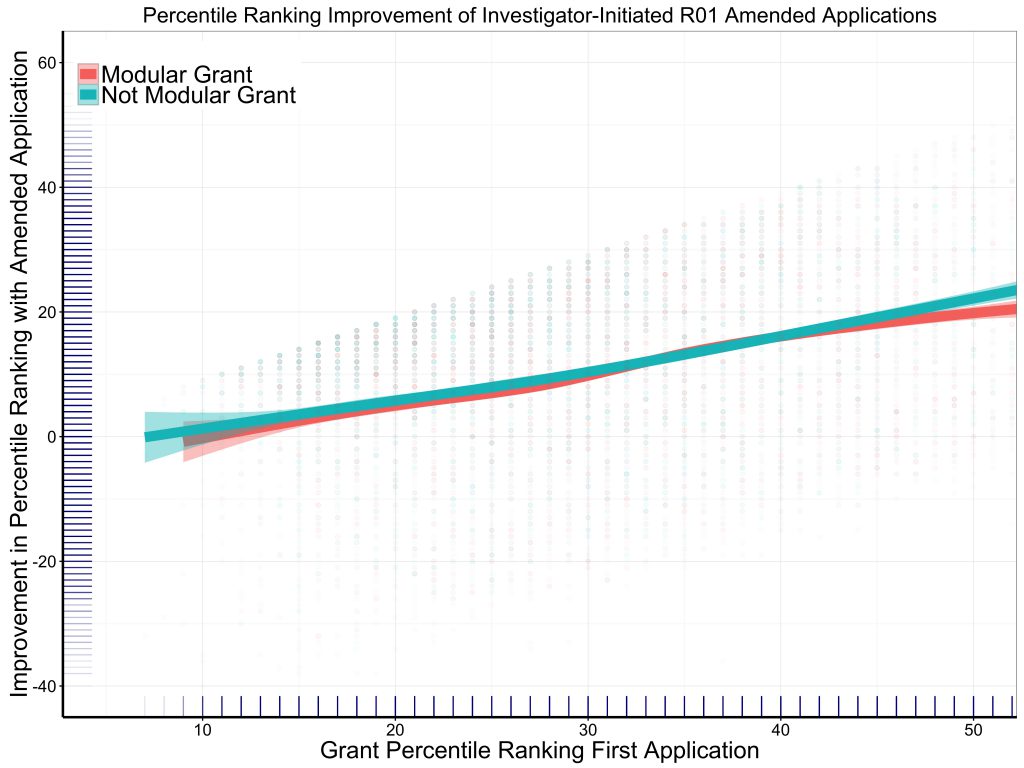 These findings suggest that there is something to the impression that amended applications do not necessarily fare better on peer review – but worse outcomes much more represent the exception than the norm. Close to 90% of applications that are discussed on the first go-round are discussed when amended. And for those applications that receive percentile rankings on both tries, it is more common for the percentile ranking to improve.