We were pleased to hear the feedback on our previous post on NIH-funded model-organism research. One question a number of you asked is: what's happening with research involving mouse models? Thanks to additional work by colleagues in NIH's Office of Portfolio Analysis (OPA) and Office of Extramural Research/Office of Research Information Systems, I'm excited to be able to share on the blog today how we approached this question.
We examined over 267,000 NIH grant applications submitted from FY2008 to FY2015, searching for the words "Mus musculus," "mouse," or "mice" in the descriptive text. Of these 267,000 applications, there were 190,329 applications (71%) that contained any of these keywords.
Figure 1 shows the number of new R01 awards for research projects using mouse models compared to all new R01 awards. The upward and downward patterns for research using mice reflect those of all research.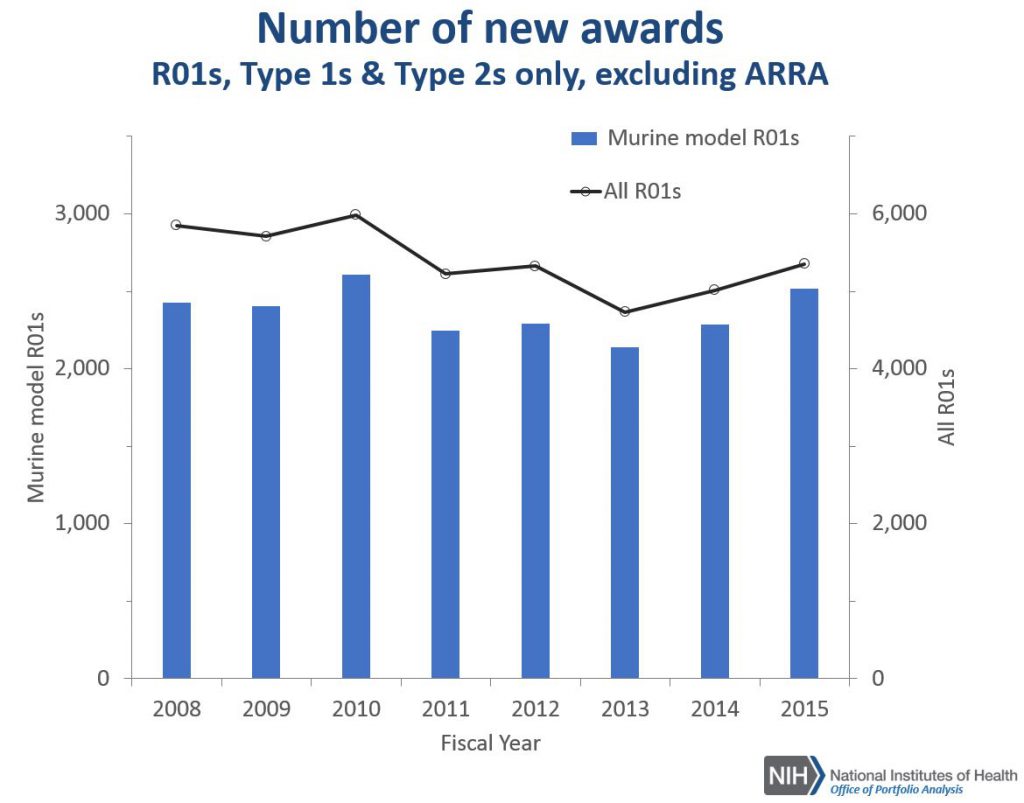 Figure 2 shows corresponding data for all research project grant (RPG) mechanisms. While the overall number of new RPG awards has been declining, the number of new projects using mouse models has increased.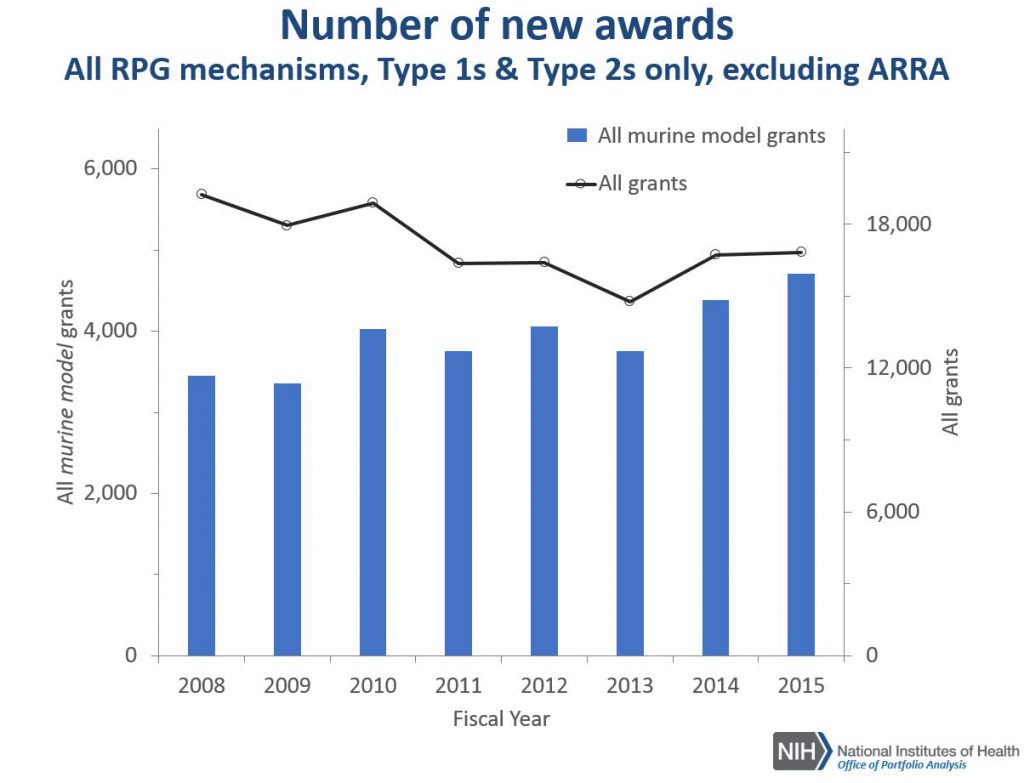 Figure 3 synthesizes the data from Figures 1 and 2 by showing what percentage of all R01/RPG awards involve mouse models. For both of these, we see increasing trends – each year, a greater proportion of new awards involve use of a mouse model.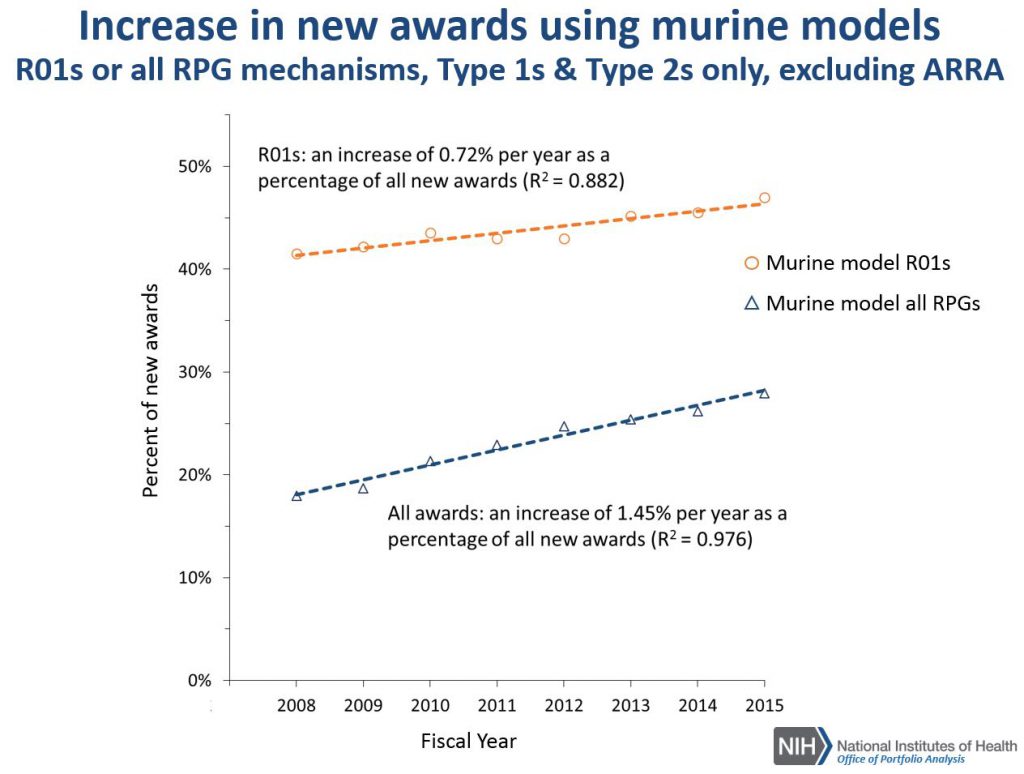 Figure 4 shows the award rates for competing R01 applications: there were no differences in award rates for R01s that employ a murine model compared to all R01s.
Figure 5 shows corresponding award rate data for all RPGs.  RPG applications that employ mouse models have lower award rates compared to all RPGs, though the differences have narrowed over time. The lower award rate of applications for research that uses mouse models compared to all RPGs may at least in part explained by the higher percentage of those projects that are submitted as R01 applications; R01s have a lower award rate (regardless of the organism being studied) relative to all RPG activity codes.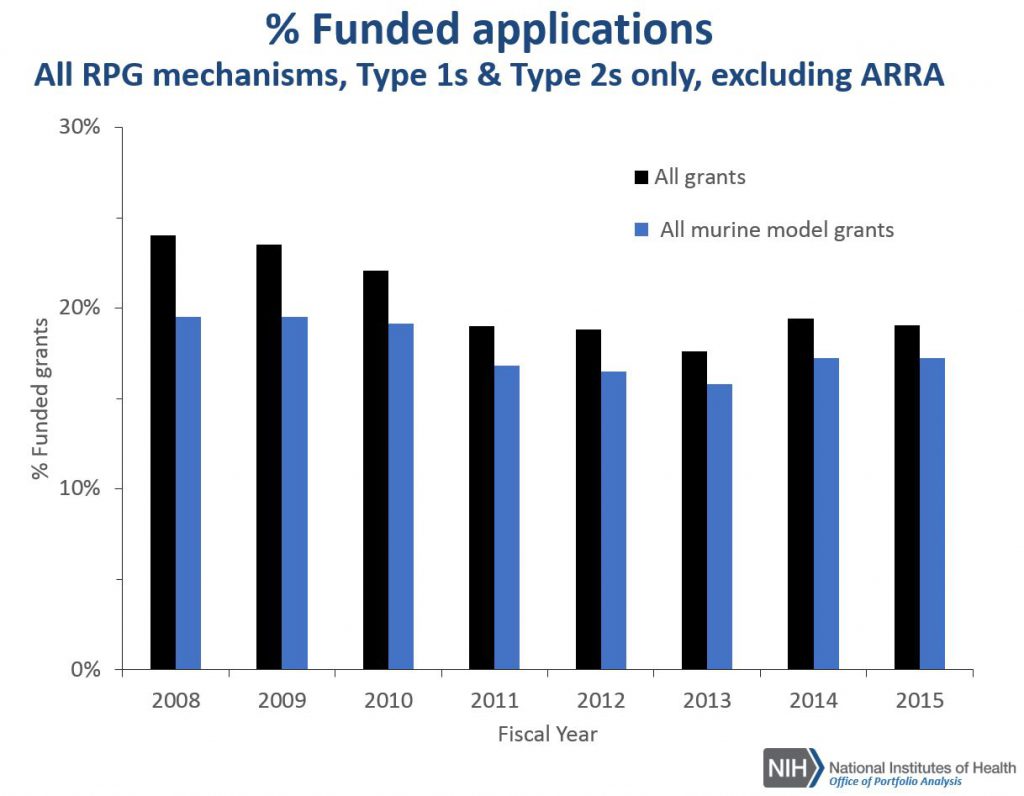 In summary, it appears that if anything, research using mouse models is playing an increasing role in our extramural portfolio. These "model organism part 2" findings complement our previous findings on support for other model organisms. In a final "model organism part 3" blog, we will examine all-RPG support for multiple model organisms using analyses that rely on a different methodology than what we showed here in parts 1 and 2.
We are grateful to George Santangelo, Rick Ikeda, Judy Riggie, and our colleagues in the Office of Portfolio Analysis and the Office of Research Information Systems for their work on these and related analyses.