On December 29, 2014, two days before New Year's Day, Reuters posted a headline, "New Year's resolutions may be more procrastination than motivation." Dorene Internicola, who wrote the accompanying story, cited a study from the University of Scranton which found that "While about 45 percent of Americans make New Year's resolutions, only about 8 percent succeed." Among the most common American New Year's resolutions is "Getting Organized," which by some interpretations might mean avoiding procrastination. One recent posting suggests that "to stop procrastinating" is "the only New Year Resolution you should set." Procrastination is highly prevalent. In the words of Scarlett O'Hara, "I can't think about that right now. If I do, I'll go crazy. I'll think about that tomorrow."
Procrastination is actually related to task avoidance, which is a symptom of anxiety and depression. Since grant applications are anxiety producing, it is only natural that people would avoid finishing them. But hard facts about how applications fare in peer review when they are submitted closer to the receipt date may give applicants the cognitive tools they need to overcome their inclination to delay.
I particularly like the abstract from this paper:
Strong and consistent predictors of procrastination were task aversiveness, task delay, self-efficacy, and impulsiveness, as well as conscientiousness and its facets of self-control, distractibility, organization, and achievement motivation. These effects prove consistent with temporal motivation theory, an integrative hybrid of expectancy theory and hyperbolic discounting. Continued research into procrastination should not be delayed, especially because its prevalence appears to be growing.
One might think that scientists and the institutions might be different, particularly when it comes to submitting grant applications. The stakes are high – should a submission with errors come in too late, it may be too late to fix. Months of work are lost. Scientists, being highly organized people who spend countless hours designing experiments and study designs, surely must be the kind of people who would not put off submitting grants until the last possible day. So we might hypothesize…
Let's look at the data.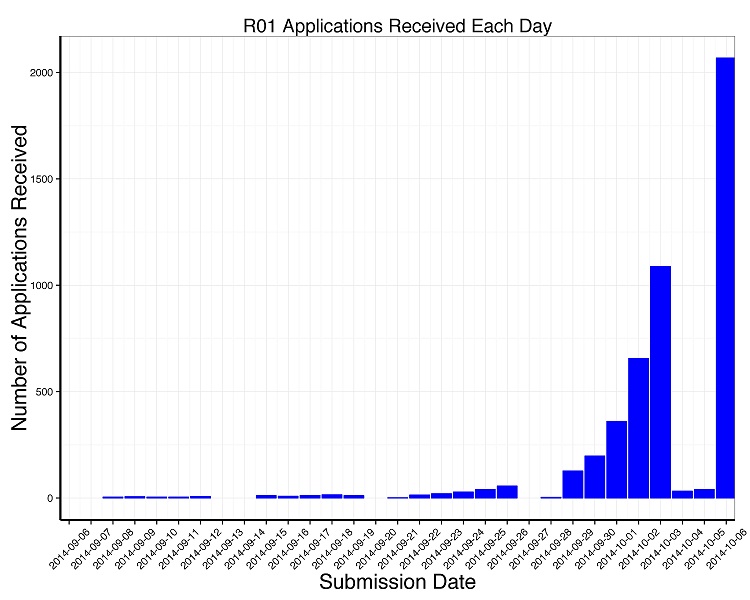 Figure 1 shows the association of date with number of R01 applications received by NIH for consideration in the May 2015 council round, the latest round for which complete award data are available. The primary R01 receipt date for new, unrevised applications was October 6, 2014. NIH received 2,788 applications through October 5, the day before the deadline; an additional 2068, or 43% of the total, came in on the October 6 due date. Even among the applications received before the deadline, the vast majority came in the week before. It may be worth noting that it is an institutional official, usually in the office of sponsored programs that is responsible for submit the applications. So PIs may have completed their application earlier, but may not have built in enough time for the authorized organizational official to process and submit the application earlier.
Perhaps submission patterns are more timely for small business applications. Figure 2 shows corresponding data for Small Business Innovation Research (SBIR) applications being considered for the May 2015 Council Round. The primary due date was December 5. NIH received 794 applications through December 4; an additional 843, or 51% of the total, came in on the due date of December 5. And again, NIH saw little submission activity until ~1 week prior to the due date.
Is there any advantage to waiting? Do the extra time, and the stress imposed by pressing deadlines lead to higher quality work. Do applications submitted on the last possible day fare better?
Table 1: R01 outcomes according to date of submission
| | | | |
| --- | --- | --- | --- |
| When Received | Number | Discussed | Awarded |
| Through October 5 | 2788 | 1319 (47%) | 240 (9%) |
| On October 6 | 2068 | 880 (43%) | 186 (9%) |
Table 2: SBIR outcomes according to date of submission
| | | | |
| --- | --- | --- | --- |
| When Received | Number | Discussed | Awarded |
| Through December 4 | 794 | 436 (55%) | 113 (14%) |
| On December 5 | 843 | 433 (51%) | 123 (15%) |
Table 1 shows the results for the R01 applications. The later applications – that is those received on October 6 – were less likely to be discussed (odds ratio 0.26, 95% CI 0.23 to 0.30, P < 0.0001 [Correction] odds ratio 0.83, 95% CI 0.74 to 0.93, P = 0.001) and similarly likely to be awarded (odds ratio 1.05, 95% CI 0.86 to 1.28, P = 0.6). These findings seem to suggest no clear advantage for waiting until the last day; if anything, at least for R01 applicants, there may be a disadvantage in that the last-day submissions were less likely to make it to discussion. Table 2 shows the results for SBIR applications. The later applications were similarly likely to be discussed (odds ratio 0.86, 95% CI 0.71 to 1.05, P=0.15) and to be awarded (odds ratio 1.03, 95% I 0.78 to 1.36, P=0.8).
But – there are many possible confounders.  What about revised applications, which have later receipt dates?  What about new investigators?  Does it matter whether the institution submits applications using a system-to-system interface?  How about the local requirements of institutional business offices?  Basic science and applied science?  These considerations, and many others, may be worth further analysis … but I'll think about that tomorrow.
Happy New Year! And special thanks to the eRA team for their help in putting this data together.