Earlier this year, we posted a blog about inequalities in Research Project Grant (RPG) support for extramural principal investigators (PIs). The blog was based on a paper we published in which we showed, among other things, that well-funded PIs not only were supported by more money but also by a larger number of distinct grants. Over 80% of the PIs in the top centile (top 1%) of funding were supported by two or more grants, compared to only 33% of the PIs in the bottom 99%.
Many comments to that post requested data on time-related trends of number of RPGs supporting individual PIs. Figure 1 shows exactly that. In Fiscal Year 1985, approximately 80% of designated RPG PIs were supported on just 1 RPG (line with triangles at the top); that proportion has fallen over time to 67% in Fiscal Year 2021. Note the vertical dotted lines correspond to the NIH doubling (Fiscal Years 1998-2003) and budget sequestration (Fiscal Year 2013).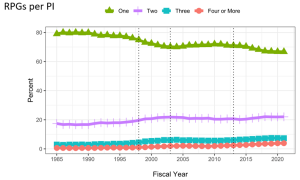 Figure 2 breaks down the same data according to the principal investigator's self-reported sex. Over time, women were more likely than men to be designated as PI on only 1 RPG.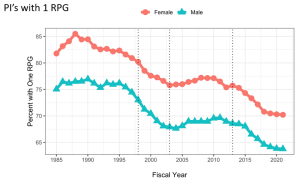 Figure 3 reverses the perspective by showing the proportion of designated PIs supported on 3 or more RPGs. That value has been rising and was always higher for men than for women.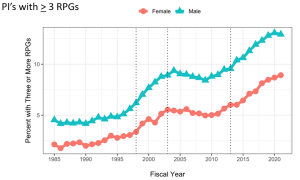 Figure 4 shows the proportion of designated PIs supported by 4 or more RPGs. This rose during the NIH doubling and again after 2009; in Fiscal Year 2021, approximately 4% of RPG PIs were supported by 4 or more RPGs. Men were consistently more represented than women in the group designated on 4 or more RPGs.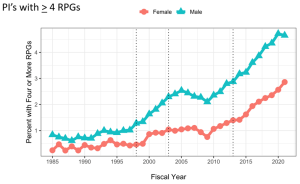 We thank you for your interest in our NIH grants data and for your probing questions.