We are committed to ensuring a safe and respectful workplace wherever NIH-supported research occurs. Be it at a recipient institution, at a conference where scientific ideas are exchanged, or in our own intramural labs, everybody deserves to work in an environment that is free of harassment, bullying, intimidation, threats, or other disruptive and inappropriate behaviors. Likewise, this goes for NIH program officers, scientific review officers (SROs), grants management specialists, and other extramural staff who are dedicated to helping NIH fulfill its mission to improve the public's health. Unfortunately, we are seeing a number of cases of uncivil behavior coming from individuals outside of NIH, directed at NIH extramural staff.
Let's consider the following scenario.
Dr. Jones, a researcher seeking grant support from NIH, participates in a virtual conference call with an NIH program officer to discuss the summary statement from a recently resubmitted grant application. Soon after the meeting began, Jones's tone and demeanor quickly turned aggressive.
With a raised voice, Jones states that the review process was unfair and misleading, as issues in the original application were corrected. The virtual temperature rises further when the program officer attempted to explain the NIH process for appealing peer review outcomes. Jones regularly interrupts and speaks loudly non-stop, being condescending, hostile, and unpleasant at various times during the conversation.
Picture another incident.
Dr. Smith, upset about an application not being discussed during study section, emails the NIH SRO saying the review was unfair. This email is not cause for concern as long as the interaction remained civil. The SRO respectfully instructs Smith about how to file an appeal. Instead of letting the appeal take its course, Smith emails the SRO at least fifty more times, accusing them of lacking integrity and scientific competence as well as threatening to report the SRO to NIH leadership and beyond.
Even after the application went through the appeals process and was denied by Council, Smith continues emailing the SRO, accusing NIH staff and Council members of being unethical. NIH makes it very clear that "the recommendation of Council concerning resolution of an appeal is final and will not be considered again by the NIH through this or another process. At no time should the Program Director/Principal Investigator or an official of the applicant organization attempt to contact individual members of the Council to discuss their consideration of an application or appeal, as doing so could jeopardize the confidentiality of the review process."
Here is one more to bring home the point.
Dr. Doe, the principal investigator on a cooperative agreement, is upset that progress was not moving quickly as expected. As things went wrong, Doe often attempts to blame others, including the associated NIH staff, turning to yelling, interrupting, gaslighting, and other behaviors during the monthly conference calls.
These incidents happened. We only changed the names and identifiers in these scenarios. Unfortunately, they are not rare occurrences. Abusive messages, phone calls, and other interactions such as these, whether they be in real life or virtual, are harassing and disruptive to our extramural staff managing the grants process. And by not addressing such unacceptable behaviors when they happen, it leads to an unsafe workplace here at NIH, potentially affecting the ability of NIH staff to conduct mission-critical work.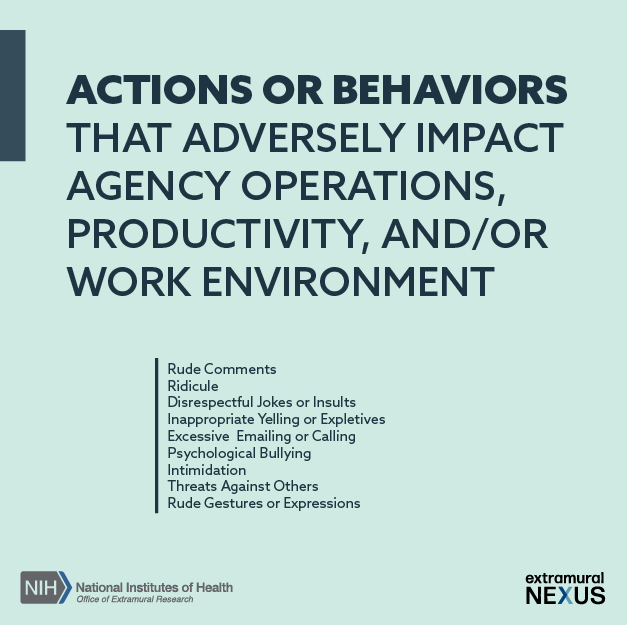 When faced with such inappropriate and uncivil conduct, our staff are encouraged to notify us via GranteeHarassment@nih.gov. Our office takes each notification seriously. When reviewing the allegations, we will determine if:
The person of concern is non-NIH staff, affiliated with an NIH-funded grant award or application, employed by a recipient institution, and/or involved with peer review service
Whether sufficient information exists to proceed, conducting follow-up conversations if needed.
We will then share relevant information directly with the Vice President for Research of the recipient institution, other appropriate leadership at the institution, or (in certain situations) the person of concern. The correspondence will explain whether the alleged behavior affected any NIH-funded activities. We will reiterate our expectations that their employees engage in civil interactions and behaviors with our extramural staff. The recipient is given thirty days to respond and must share their codes of conduct and/or policies addressing inappropriate conduct among their employees.
If warranted, my office will not hesitate to act, especially in cases where the inappropriate conduct continues. We may remove the offender from peer review service, take allowable grants management actions, contact the NIH police, or consider other appropriate measures. Institutional leadership should also consider holding their staff accountable too when necessary.
Emotions may run high when someone puts together an application, receives unfavorable review feedback, or waits for a response from extramural staff. We understand differences of opinion exist throughout the scientific process, but that does not mean our staff should be the targets of improper, harassing, and threatening behaviors. Going forward, we should embody the words spoken by Justice Ruth Bader Ginsburg (from the title of this post), and remain respectful throughout the grants process.