You have likely heard about NIH establishing one of the most diverse health databases in history, aiming for at least a million participants. What about our search for new, more targeted pain treatments? Maybe the long-COVID cohort study? Or our cloud computing activities to enhance data access? Aside from these all being quite ambitious projects, they have something else in common. They are all supported through one of NIH's Other Transactions Authorities.
What does this mean? "Other Transactions" are not grants. They are neither contracts nor cooperative agreements. Other Transactions are a unique type of legal funding instrument. Generally, these awards are also not subject to the Federal Acquisition Regulation or grant regulations (unless otherwise noted for certain provisions in the terms and conditions of award). They are, however, subject to the Other Transactions Authority that governs the initiative, as well as applicable legislative mandates.
Through unconventional processes, Other Transactions allow us to address rapidly evolving research areas, especially those that are multi-disciplinary or relate to urgent public health situations when the future direction of the science is constantly changing and unknown. NIH staff can also help bring experts together in novel ways through Other Transactions awards, such as through engaging non-traditional partners, companies, advocates, and individuals. And, similar to our role with contracts and cooperative agreements, we can take a more active and substantive collaborative role in scientific design and program management, beyond traditional grant administrative and oversight functions.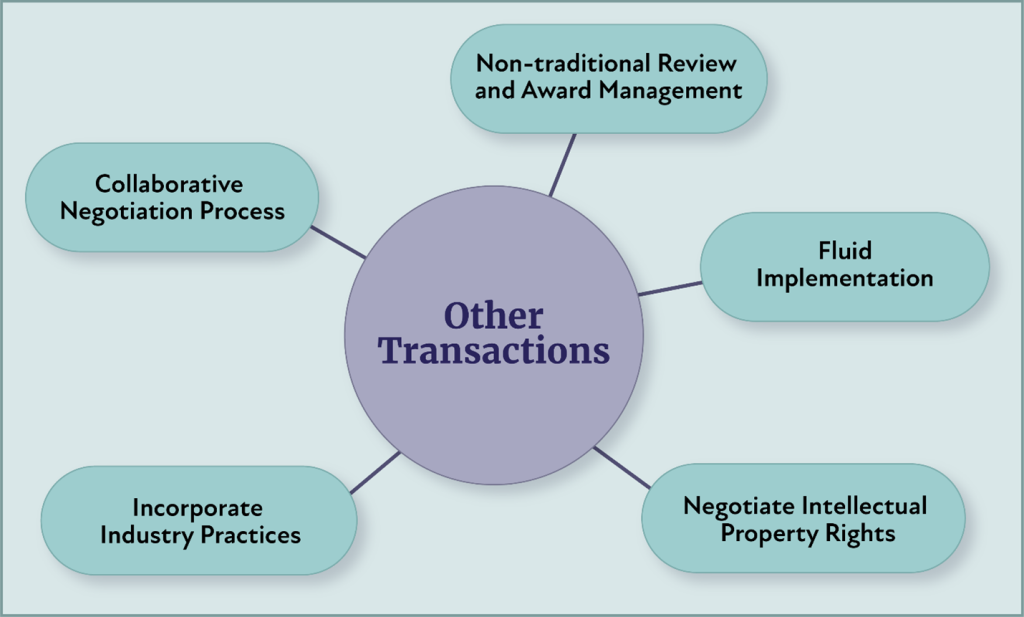 Other Transactions are typically announced through Research Opportunity Announcements (ROAs) and may be published on NIH Institute, Center, Office, or program web pages as well as other non-traditional venues. All applications must be submitted to eRA per the specific instructions stated in the ROA as well as those provided for eRA ASSIST. Once submitted, the applications will undergo a non-traditional review, one that still promotes integrity, confidentiality, fairness, and transparency.
Though select NIH Institutes have had the authority to support Other Transactions for some time, NIH obtained the broad authority to use Other Transactions in 2020. NIH spent $823.2 million on 137 Other Transactions in fiscal year (FY) 2020 and $1.3 billion on 154 projects in FY 2021 (Table 1). But for perspective, grants still remain our predominant way to support biomedical and behavioral research, as evident by NIH spending $23.3 billion on all research project grants in FY 2021 (see this post for more).
Table 1. NIH Other Transactions Awards and Funding: FY 2020-2021
| Fiscal Year* | Number of OT Awards | OT Awards Total Funding |
| --- | --- | --- |
| 2020 | 137 | $823,156,431 |
| 2021 | 154 | $1,266,797,851 |
* Includes research related to the COVID-19 response supported with direct and supplemental NIH appropriations
Other Transactions, together with our traditional awarding mechanisms, will help us continue supporting exciting, high impact, cutting-edge areas of research. If you want to learn more, please visit the Other Transactions page to learn about the application instructions, nontraditional review process, relevant contacts, and the three governing authorities.