Enter once, reuse often. That's the mantra of ORCID (Open Researcher and Contributor Identification), a non-profit organization that promotes the use of its unique digital identifier to connect researchers with their science contributions over time and across changes of name, location and institutional affiliation.
It's a mantra that ties in well with NIH's goal of finding ways to reduce the administrative burden on investigators of entering the same information in multiple places when applying to different funding agencies. It's what propelled NIH and other agencies to develop a tool, SciENcv, to enable researchers to enter their biosketch data in one place and propagate it to multiple places. A researcher can also start the biosketch in SciENcv with information from his or her ORCID profile (see YouTube demo), thanks to a neat integration between the two tools. But more on SciENcv later.
ORCID benefits researchers by providing a lifelong identifier that automatically links them to their past and recent papers, avoids the confusion caused by similar last names, enhances the discoverability of their papers and simplifies creating biosketches for grant applications (as evidenced in SciENcv).
The identifier also allows agencies like NIH to better monitor professional outcomes by tracking the progress of researchers along their career path, starting with trainees and early career scientists. By leveraging the information available via ORCID, we can be more confident about our training program evaluations and more easily obtain data to support data driven policy decisions aimed at strengthening the biomedical research workforce.
With this in mind, in fiscal year 2020, NIH, joined by CDC and AHRQ, will begin requiring individuals supported by training, fellowship, career development, and other research education awards to have an ORCID iD linked to their personal electronic Research Administration (eRA) account (NOT-OD-19-109).
This iD will be required as part of the appointment process for those appointed to institutional awards and through the application process for those applying for individual awards. Note that xTrain appointments will not be accepted if potential appointees do not have an ORCID iD linked to their eRA personal profile starting October 1, 2019; the same will apply to individual fellowship and career development applications submitted for receipt dates on or after January 25, 2020.
Note that eRA began allowing researchers to link their ORCID iD with their eRA Commons profile back in 2017 (see blog). The number of researchers linking these two IDs has grown steadily since then to 35,000, a very encouraging sign. Of these, ~20,000 have applied for a grant and ~10,000 have been awarded a grant as PD/PI.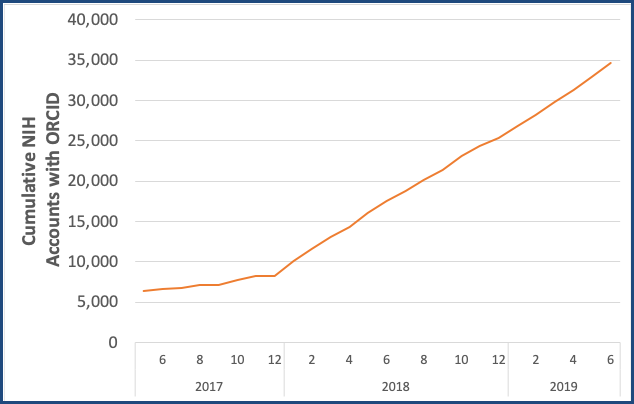 NIH is also making efforts to expand the use of the ORCID model beyond publications to data elements typically found on a CV, such as grants, courses taught, presentations and other research products, through a public-private partnership with ORCID and multiple research funders, called ORCID Reducing Burden and Increasing Transparency (ORBIT), described previously on this blog.
NIH is part of a worldwide trend among major biomedical funders committed to adopting ORCID as part of their grants funding systems, including the Wellcome Trust, the Howard Hughes Medical Institute, and UK Research and Innovation. Several private funders are requiring the use of ORCID and allowing researchers to populate grant applications with data directly from ORCID (see ORCID post).
Today, more than 6.7 million researchers have registered with ORCID for free and nearly 800 research institutions have joined ORCID as members along with more than 100 publishers, allowing ORCID to be an efficient hub connecting researchers and their contributions. Many research institutions are leveraging ORCID in their institutional research profiling systems, making it easier for their researchers to keep their websites, curriculum vitae, and other documents up to date with their latest accomplishments.
Among US federal agencies, the Department of Energy has used ORCID to track the use of its national lab facilities and the resulting publications, and other agencies including NASA, USDA, and Department of Transportation are encouraging or requiring the use of ORCID for investigators.
On the SciENcv front, NSF plans to require the use of SciENcv to create and submit the biosketch for NSF grant applications starting in January 2020. SciENcv allows a researcher to start from one set of research profile data to create a biosketch that will work for NIH, the National Science Foundation), or the Department of Education Institute for Education Sciences. SciENcv gathers the information in a database connected with NIH's grants system and PubMed and makes it easy for researchers to fill out the forms. ORCID and SciENcv were both pilots under the aegis of the White House's National Science and Technology Council Subcommittee on Research Business Models to reduce administrative and regulatory burdens on research.
As for the ORCID requirement for Ts, Ks and Fs, we expect it will benefit researchers at all career stages across the biomedical research community, as well as NIH. Leveraging ORCID will help investigators, fellows, and trainees focus on moving their innovative scientific research ideas forward, instead of spending time and effort updating federal user profiles with information already entered in other agency systems. Avoiding the need to reenter information on publications, grants, teaching responsibilities, university service, and other common CV items saves time and reduces errors. Even those early in their scientific career will benefit from sharing their ORCID profiles with others to create new collaborations.
The information that NIH gleans from tracking scientists along their career path will help inform policy decisions to better the biomedical research workforce, a 'tracking outcomes' need emphasized by the Advisory Committee to the NIH Director and the White House's National Science and Technology Council.
We encourage everybody, from graduate students to senior scientists, to register today for an ORCID account (if you do not have one already) and link it to your eRA Commons personal profile to ensure a smooth transition.
It's a win-win for researchers and NIH alike.