As highlighted in many previous blog posts and the recent National Academies of Sciences, Engineering, and Medicine (NASEM) report, promoting a strong biomedical workforce is a top priority for the NIH. In 2017, NIH launched the Next Generation Researchers Initiative, which is a multi-pronged approach to increase the number of NIH-funded early stage investigators. An important component of this initiative is the call for increased transparency and availability of data about the make-up of the biomedical research workforce. More complete data will allow NIH leadership to best understand and address the needs of our emerging workforce.
To this end, I would like to highlight a recently published study examining the demographics of the NIH workforce, conducted by my colleagues in the Office of Extramural Research, "Examining Trends in the diversity of the U.S. National Institutes of Health participating and funded workforce".
This paper, which appeared in the Federation of American Societies for Experimental Biology (FASEB) Journal last month, examined representation according to career stage (new, early-stage, or experienced investigator), gender, ethnicity, and race of investigators identified on research applications and awards. This study focused on the time period between 2009, when NIH first implemented new and early stage investigator policies, and 2016.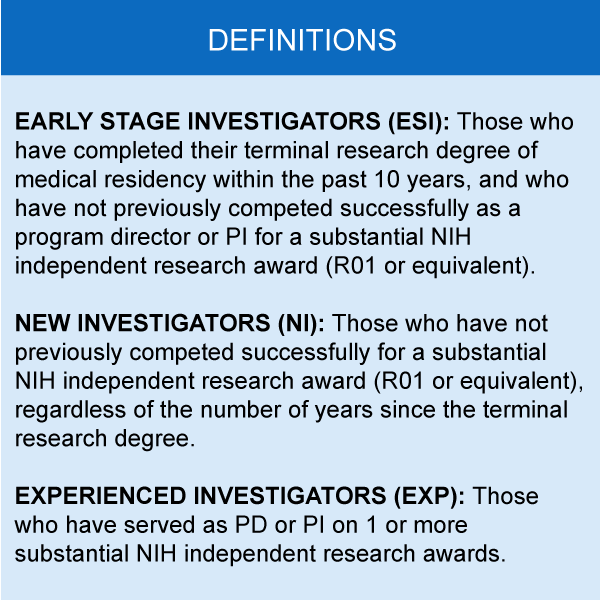 When looking at the data by career-stage, we see that women, underrepresented racial minority, and Hispanic researchers comprise a higher percentage in both the ESI and NI groups compared to the experienced investigator (Exp) group (Table 1). This suggests these groups could be disproportionately affected if resources for new and early-stage investigators decline. However, these data also highlight an opportunity for NIH to enhance the diversity of the biomedical workforce by increasing support for ESI and NI.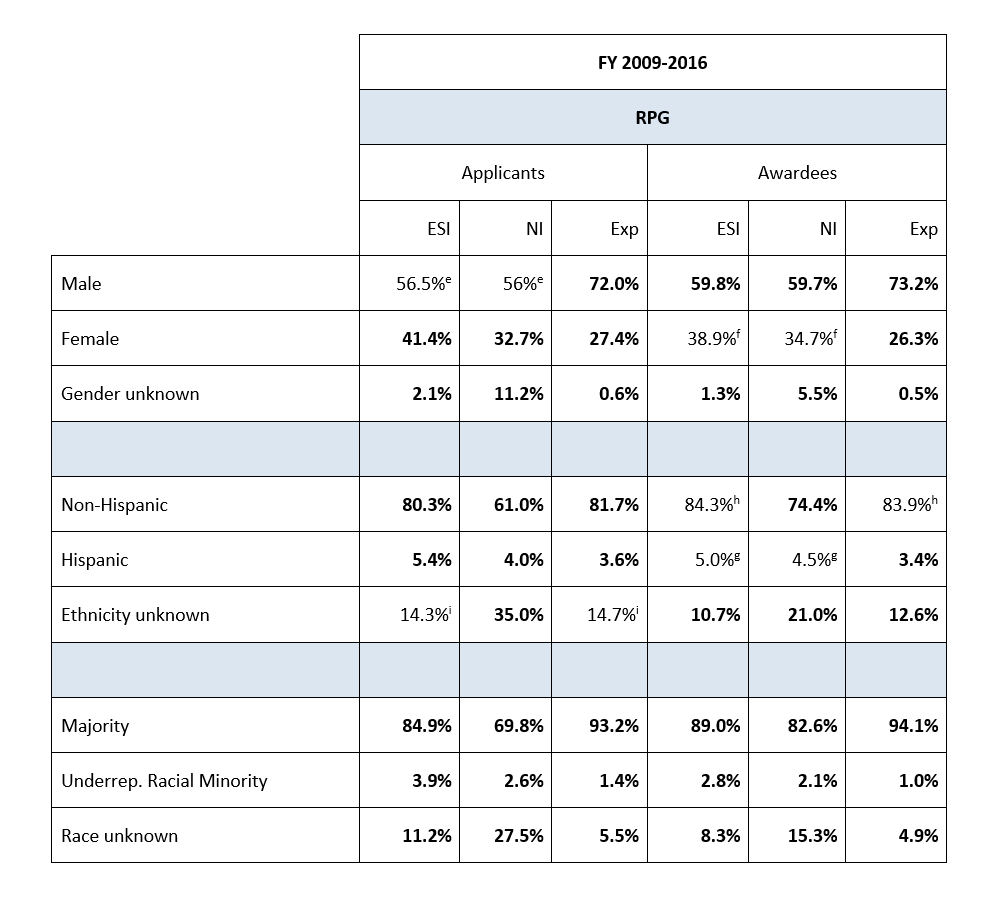 The funding rate for women is less than that for men (Figure 1). That said, compared with men, female researchers have shown a much larger percent increase in applications and awards over time.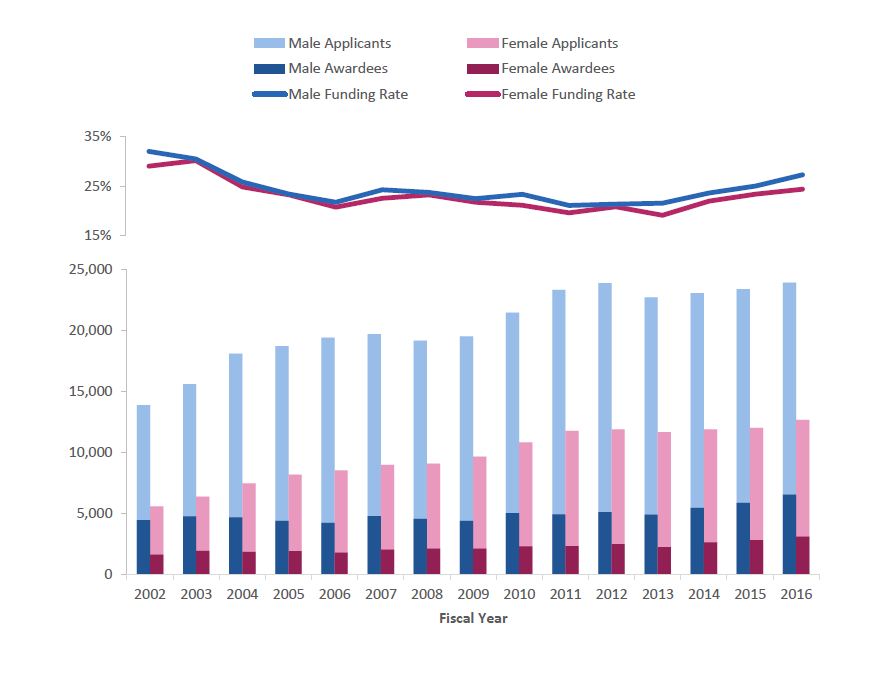 While applicants and awardees from underrepresented racial minority (URM) groups experienced a higher pace of growth than majority groups, their funding rate still remains substantially lower than that of the majority applicants (Figure 2).
There was faster growth in Hispanic applicants and awardees compared with majority applicants and awardees with an encouragingly smaller gap in the funding rate (Figure 3).
While more work is needed to improve representation of NIH-funded women and nationally underrepresented minority investigators, we do see that the early stage and new investigator groups are much more diverse than the experienced investigator group.
This provides important evidence that funding of more early career investigators could help enhance the diversity of the NIH workforce.
For more information on Next Generation Researchers Initiative, related policies, and resources, check-out our webpage. I would like to acknowledge and congratulate Silda Nikaj, Deepshikha Roychowdhury, Kay Lund, Marguerite Matthews, and Katrina Pearson for their work on this publication.