In May 2016, we posted a blog on "How Many Researchers" NIH supports.  We cited the findings of a University of Wisconsin workshop, which concluded that the biomedical research enterprise suffers from two core problems: too many scientists vying for too few dollars and too many post-docs seeking too few faculty positions.  We also noted that NIH leadership and others were increasingly interested in describing the agency's portfolio not only in terms of the numbers of awards and dollars (as we do each year in our "By the Numbers" reports), but also in terms of the numbers of researchers those awards support.  Today we show updated figures on how many researchers are vying for NIH support and how many are successful.
Figure 1 shows the number of unique applicants and awardees for Research Project Grants (RPGs).  The green (triangle) and red (circle) lines (and points) refer to unique people who applied for and received funding as a principal investigator on at least one RPG.  As before, the number of applicants is based on a 5-year window – that is, the number of applicants seeking funding in 2017 includes scientists who submitted applications in 2017, 2016, 2015, 2014, and 2013.  We see that the number of applicants increased substantially from 2003 (when the NIH doubling ended) to 2015, but since that time has slightly decreased (from a peak of 87,885 in 2015 to 87,567 in 2017).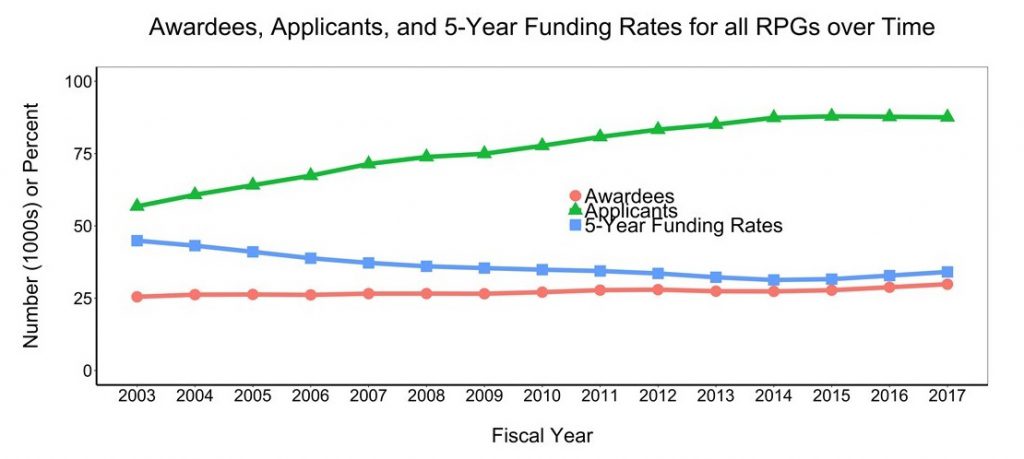 The number of awardees increased, particularly in the past 3 years (see Figure 2, from 27,761 in 2015 to 29,835 in 2017).  As before, we used these two variables to generate a "cumulative investigator rate" (the ratio of unique awardees in any given year divided by the number of unique applicants over a 5-year window). This allows us to capture a broader view of NIH-supported scientists seeking funding over a window of time.  The cumulative investigator rate increased since 2014 from 31.3% to 34.1% as shown in Figure 1 (blue line with squares) and Figure 3), reversing a long-standing downward trend – but still much lower than 2003 when it was 44.9%.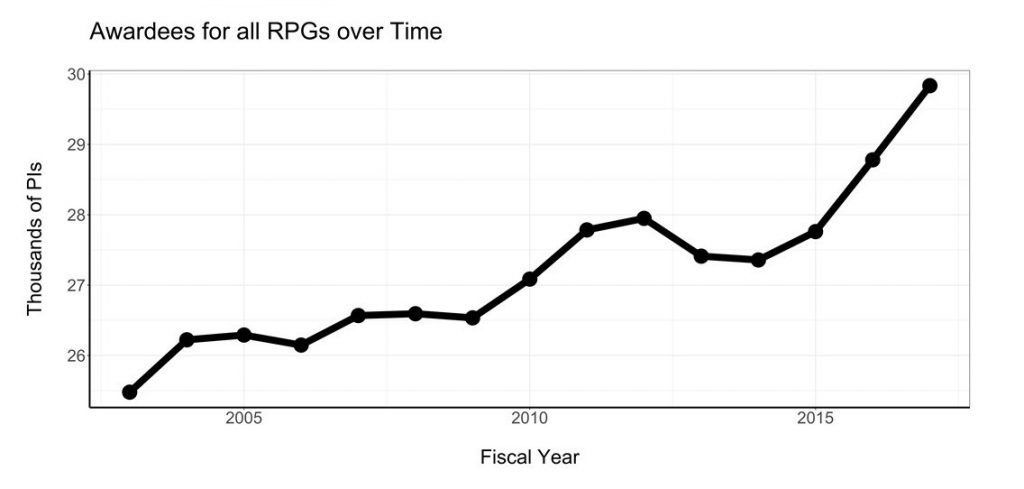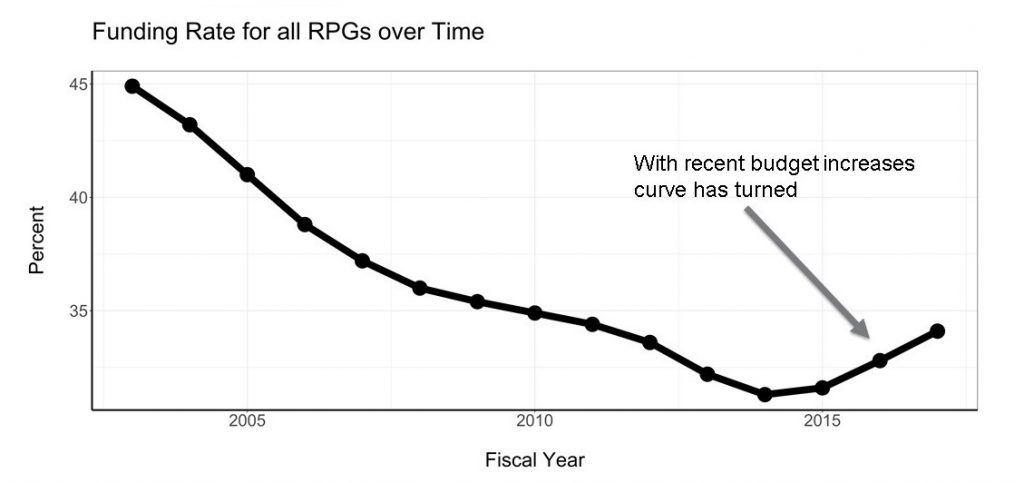 Figure 4 shows corresponding data for R01 equivalents (R01, R37, RF1 and – for FY 2017 only – DP2 awards).  Since 2015, the number of unique R01 awardees increased from 20,726 to 22,100, but this number is only slightly higher than it was in 2003 when it was 21,447.  The number of unique R01 applicants has declined slightly, from a peak of 59,926 in 2014 to 58,669 in 2017, still much higher than it was in 2003 when it was 46,166.  The 5-year cumulative investigator rate increased from 34.8% in 2014 to 37.6% in 2017, again reversing a long-standing trend, but still much lower than 2003 when it was 46.5%.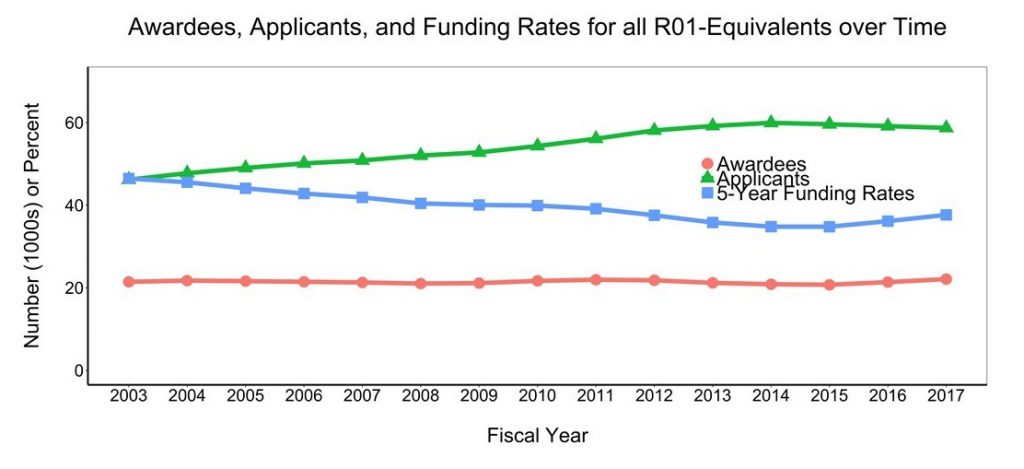 Figures 5 and 6 show corresponding data for R21 and P01 awards.  For R21 awards, the patterns are similar as with R01 equivalents, though funding rates are much lower (11.6% for R21s compared to 37.6% for R01s). The number of P01 applicants and awardees continue to decline (Figure 6).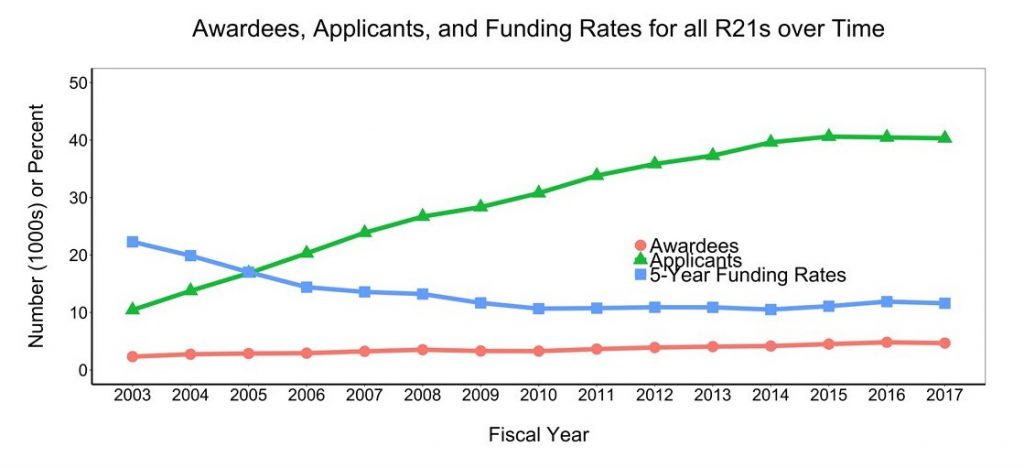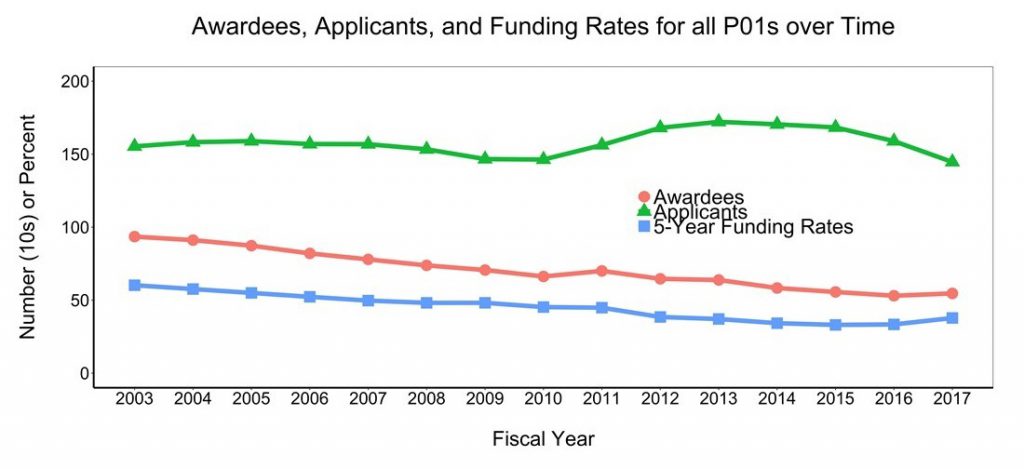 An important caveat is that the data shown in these figures focus on principal investigators, not all scientists and personnel involved with NIH research awards.  Those data are more difficult to capture, though we have reported on those previously and anticipate taking another look before too long.
Looking at these data, it appears that:
We are still very much in a state of hyper-competition, though the severity may be a bit less than it was a few years ago.
The number of unique applicants appears to be stabilizing after many years of un-interrupted growth.  This may reflect a previously described decline in the numbers of post-doctoral fellows.
The cumulative investigator rate, a person-based metric that looks at how many individual investigators are seeking funding over 5-year windows, has reversed its longstanding decline.  The recent improvement (though still far lower than it was at the end of the NIH-doubling) may reflect increased extramural research budgets as well as increased interest in programs that focus on funding and supporting a larger number of independent investigators.