Almost 11 years ago, Stefan Wuchty, Benjamin Jones, and Brian Uzzi (all of Northwestern University) published an article in Science on "The Increasing Dominance of Team in Production of Knowledge."  They analyzed nearly 20 million papers published over 5 decades and 2.1 million patents and found that across all fields the number of authors per paper (or patent) steadily increased, that teams were coming to dominate individual efforts, and that teams produced more highly cited research.
In a Science review paper published a few weeks ago, Santo Fortunato and colleagues offered an overview of the "Science of Science."  One of their key messages was that "Research is shifting to teams, so engaging in collaboration is beneficial."
I thought it would be worth exploring this concept further using NIH grants. For this post, data were acquired using a specific NIH portfolio analysis tool called iSearch. This platform prvides easy access to carefully curated, extensively-linked datasets of global grants, patents, publications, clinical trials, and approved drugs.
One way of measuring team size is to count the number of co-authors on published papers. Figure 1 shows box-and-whisker plots of author counts for 1,799,830 NIH-supported papers published between 1995 and 2017.  The black diamonds represent the means.  We can see from these data that the author counts on publications resulting from NIH support have steadily increased over time (mean from 4.2 to 7.4, median from 4 to 6).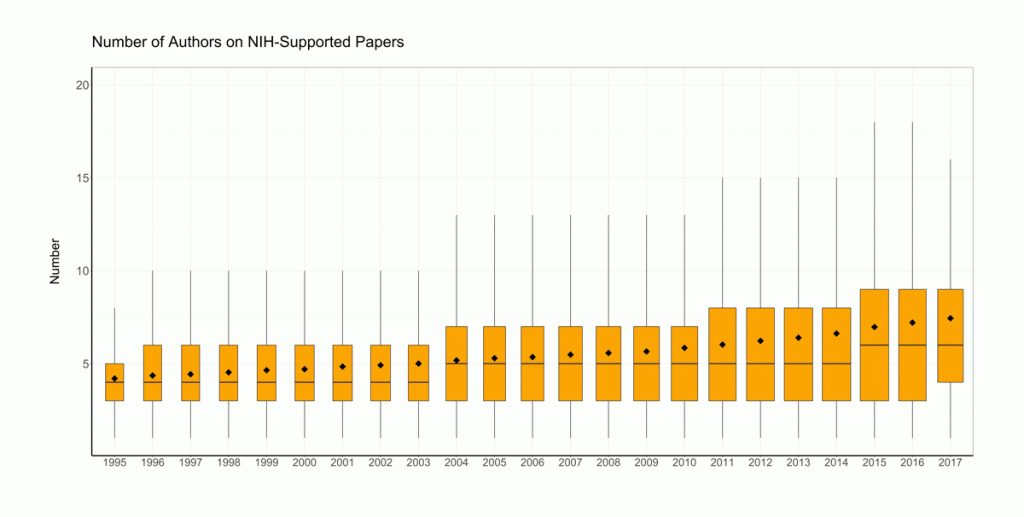 Figure 2 shows corresponding data for 765,851 papers that were supported only with research (R) grants. In other words, none cited receiving support from program project (P), cooperative agreement (U), career development (K), training (T), or fellowship (F) awards.   We see a similar pattern in which author counts have increased over time (mean from 4.0 to 6.2, median from 4 to 5).  Also, of note is a drifting of the mean away from the median, reflecting an increasingly skewed distribution driven by a subset of papers with large numbers of authors.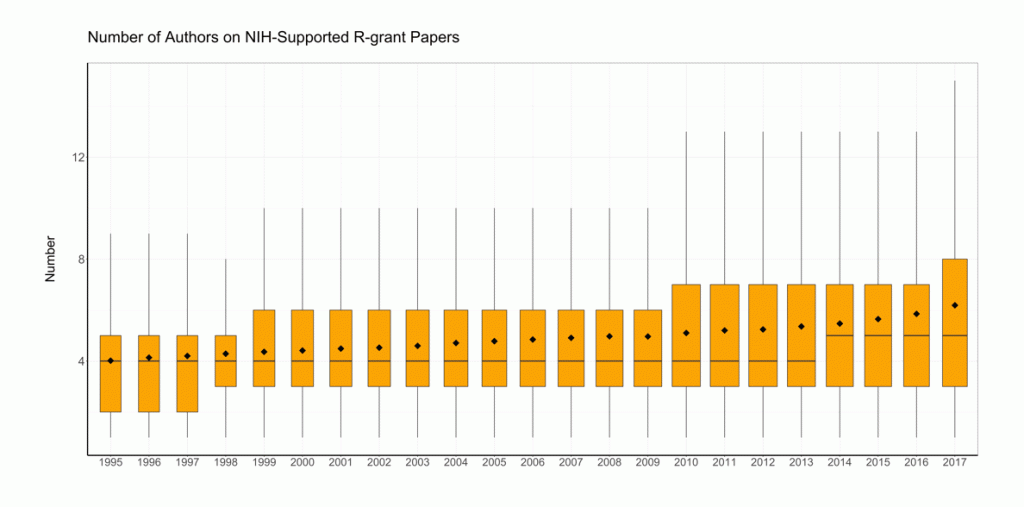 Next, let's look at corresponding data for papers that received support from at least one P grant (N=498,790) or at least one U grant (N=216,600) in Figures 3 and 4 respectively. As we can see, there are similar patterns emerging that were seen for R awards.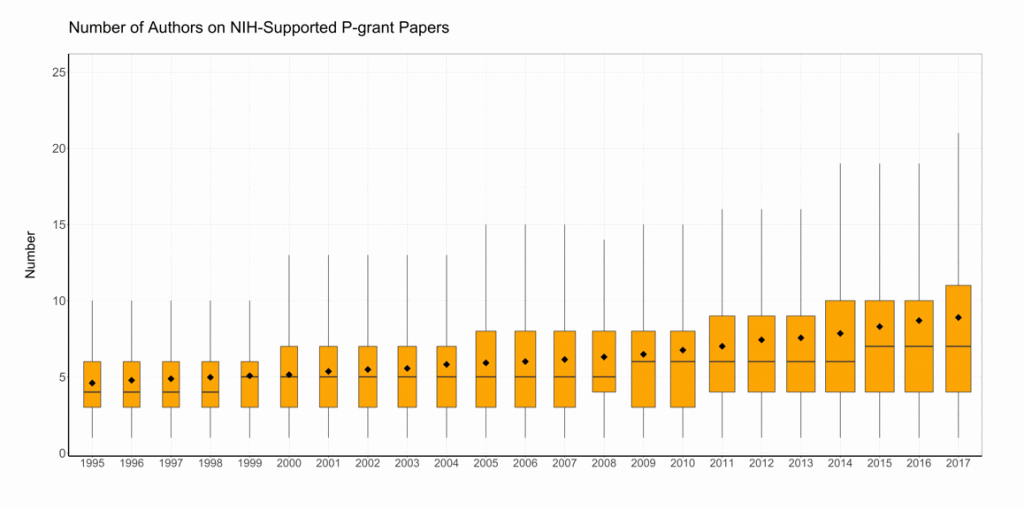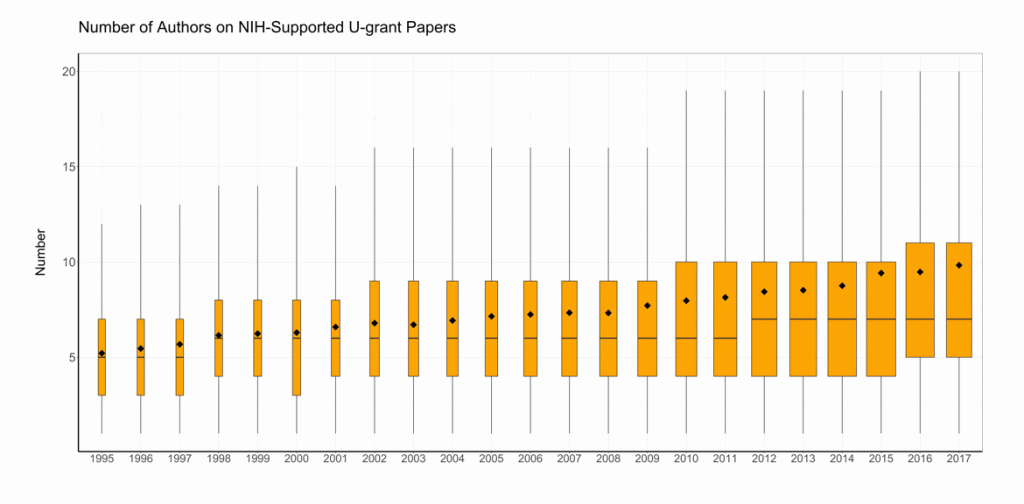 Figure 5 focuses on 277,330 R, P, or U-supported papers published between 2015 and 2017 and shows author counts for papers supported on R grants only (49%), P grants only (11%), U grants only (8%), R and P grants (16%), R and U grants (7%), and P and U grants (9%).  The patterns are not surprising – author counts are higher for papers supported by P and U grants—likely as these are large multi-factorial activities inherently involving many researchers—but even for R grant papers the clear majority involve multiple authors.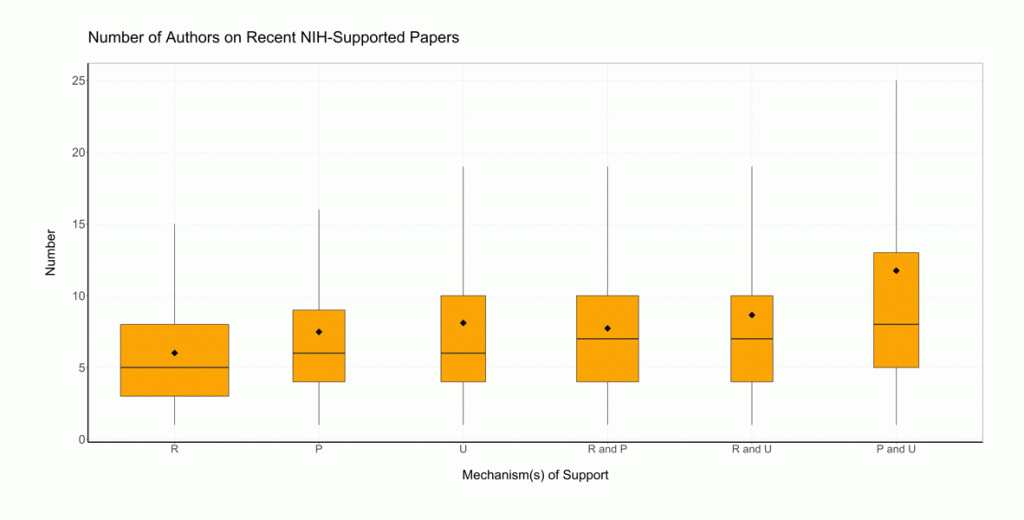 Finally, in Figure 6 we show a scatter plot (with generalized additive model smoother) of relative citation ratio (RCR) according author count for NIH-supported papers published in 2010. As a reminder, RCR is a metric that uses citation rates to measure influence at the article level. Consistent with previous literature, an increased author count is associated with higher citation influence – in other words, the more authors on a paper, then the more likely it is to be influential in its field.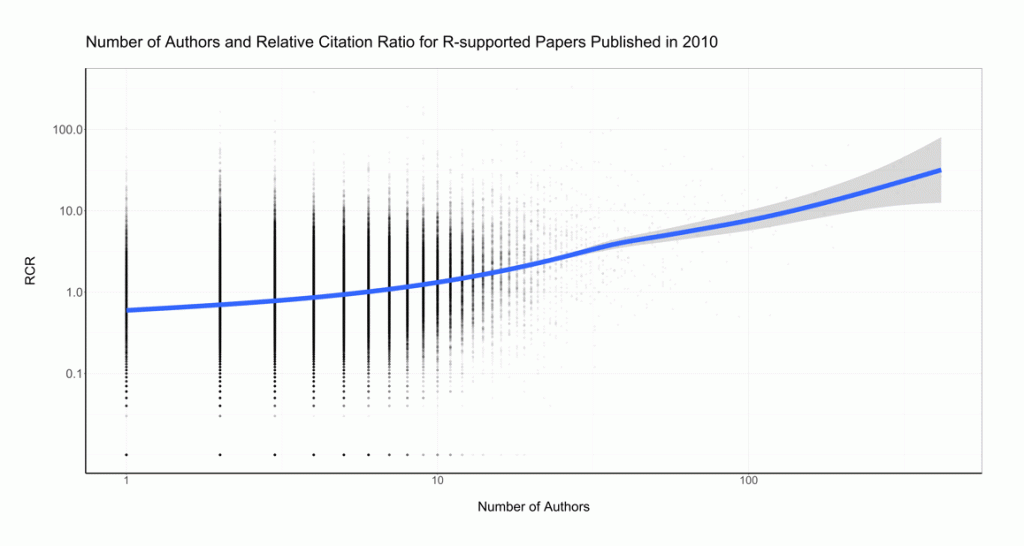 Summarizing these findings:
Consistent with prior literature, we see that NIH-funded extramural research, including research funded by R grants, produce mostly multi-author papers, with increasing numbers of authors per paper over time.  These findings are consistent with the growing importance of team science.
Mechanisms designed to promote larger-scale team science (mainly P and U grants) generate papers with greater numbers of authors.
There is an association by which greater numbers of authors are associated with greater citation influence.
It is important to understand that, even in this competitive funding environment, research is shifting to teams. And when we look more closely at the impact of the shift, we see that collaboration is proving to move science forward in important ways. How big should teams be? Some recent literature suggests that small teams are more likely than large teams to produce disruptive papers. A few years ago, my colleagues published a paper on the NIH-funded research workforce; they found that the average team size was 6. Is this optimal? We don't know.
There is much more for us to look at in terms of the role of team science in NIH supported research. In the meantime, it's great to see more confirmation that scientific collaboration is truly beneficial to moving science forward.