As I reflect on the research training I received during and after medical school, I recall how lucky I was that I did not have much resulting debt and severe financial constraints that could interfere with my research career. Unfortunately, today's aspiring physician scientists are often mired in debt. The Association of American Medical Colleges estimates that two-thirds of medical students graduate with debt, with 80% of those students owing at least $100,000

.
How can we alleviate the rising debt accrued during biomedical training for those investigators seeking a foothold in the lab? The NIH loan repayment programs (LRPs), managed inside the Office of Extramural Research, is one approach the NIH is utilizing to stabilize career trajectories for talented investigators. My predecessor, Dr. Sally Rockey, understood and also championed the impact of the LRPs, and I share her enthusiasm.
Congress established the first NIH LRPs nearly a quarter century ago to recruit and retain highly qualified health professionals into biomedical or behavioral research careers. If a researcher is awarded this opportunity and commits to studying diseases and conditions important to the NIH mission, the agency will repay up to $35,000 annually, over a two-year contract, towards their qualified educational debt. Individuals can also reapply for and receive LRP support if they continue conducting qualifying research and making significant strides in their career.
As you can imagine, we are motivated to share the successes and impact of these opportunities. NIH recently assessed career outcomes, as an example, of recipients of LRPs in 2003-2009. Preliminary results suggest that many awardees, for example, apply for and receive more peer-reviewed research grants as well as publish in scholarly journals, when compared to those who did not receive an LRP. These data suggest that individuals are remaining in active research careers and contributing to the advancement of biomedical knowledge and discovery long-term – just as the programs intended.
I'd like to highlight a few other recent updates that will help further promote this program with researchers and supportive stakeholders across the country.
First, to further support increased transparency and reporting of NIH data, we recently launched a new feature to provide access to a wealth of data regarding the NIH LRPs. The LRP dashboard allows users to easily access, visualize, and export trend data about the programs via a bold, new interface.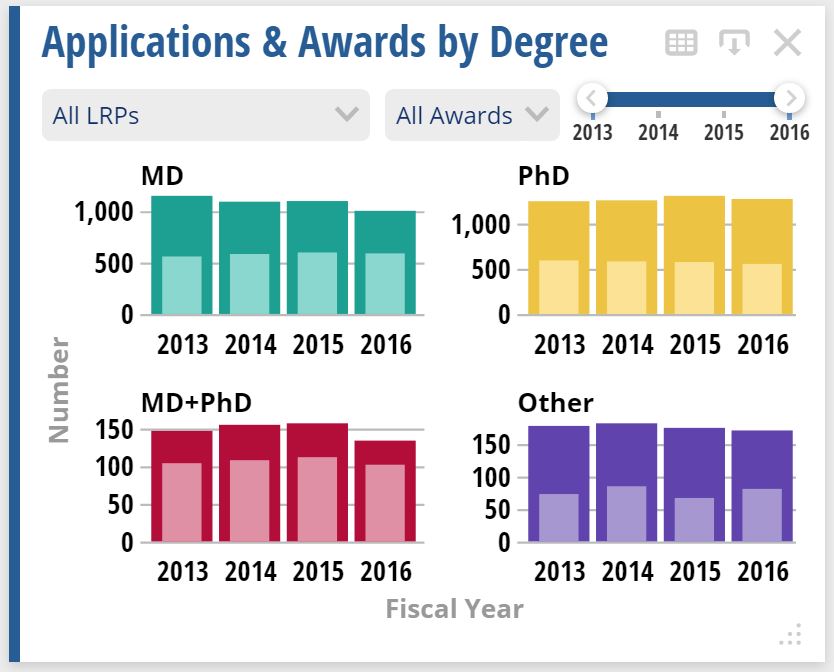 The dashboard provides information regarding program funding (total and by IC), program success rates, the number of annual program applications and awards (by program and degree status, e.g. M.D., Ph.D., M.D./Ph.D., etc., as shown in Figure 1), and an interactive map highlighting the number of awardees by state (Figure 2).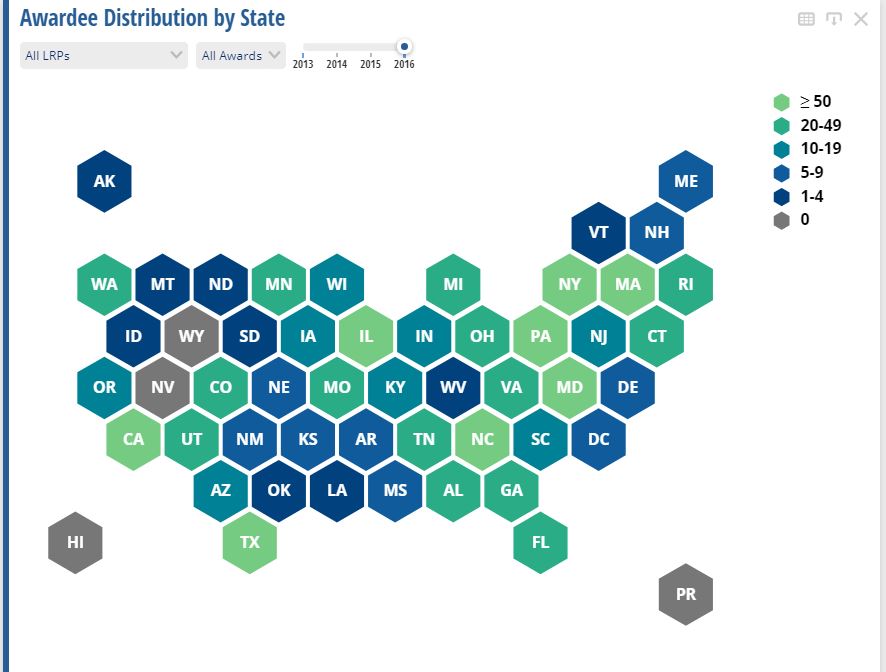 Second, just like when diplomats foster relationships between the United States and other countries, LRP ambassadors serve as a personalized link between the NIH LRPs and investigators in the extramural community. Consisting of a nationwide network of current and former LRP recipients, these talented individuals share their personal experiences, provide advice on the application process, and support the perspective within their local scientific community. We invite you to search the directory to locate a nearby LRP ambassador if you are interested in applying.
Already an awardee and wish to serve your community further as an Ambassador? Feel free to visit the Directory as well for more information on the process and resources. There are currently already over 500 individuals like you across the country energized and committed to extolling the benefits of these invaluable NIH programs.
The LRP online application is open each year from September 1 to November 15. We recommend potential applicants begin by first engaging with LRP program officers within the NIH institutes and centers (ICs) before submitting their application. These individuals can help you understand the potential benefits of these programs to your career, explain eligibility criteria, as well as discuss the research and funding priorities for LRPs at their IC. These staff regularly attend scientific conferences as well to interact directly with the community and address any questions you may have.
We continue to spotlight these important programs facilitating career stability for investigators struggling with high levels of educational debt. Instead, our awardees can spend their time building a stable research career and making important biomedical contributions to improve public health – ultimately benefiting us all in the long run.