Developing ways to support early career researchers has been a key goal at NIH for many years. As I've discussed here in the past, we have a commitment to support new investigators as they become independent scientists. But there are multiple ways NIH supports people as they transition through the various stages of their research career.
One such type of support is our Loan Repayment Programs (LRPs). For over 10 years, the LRPs have repaid the educational debt of investigators who commit to at least two years of nonprofit biomedical or behavioral research. Program participants receive up to $35,000 per year as long as they pursue clinical, pediatric, health disparities or contraception and infertility research as allowed by the LRP legislation. Initial payments are for two years, and participants may apply for one- or two-year renewals as long as they meet eligibility requirements. These programs are competitive, and participants are evaluated on the research they propose through peer review. Twenty-three of our institutes and centers participate, and LRP funds go directly to our participants' lenders.
The 2012 application cycle has just been completed. Out of 3,100 applicants, 50% received awards.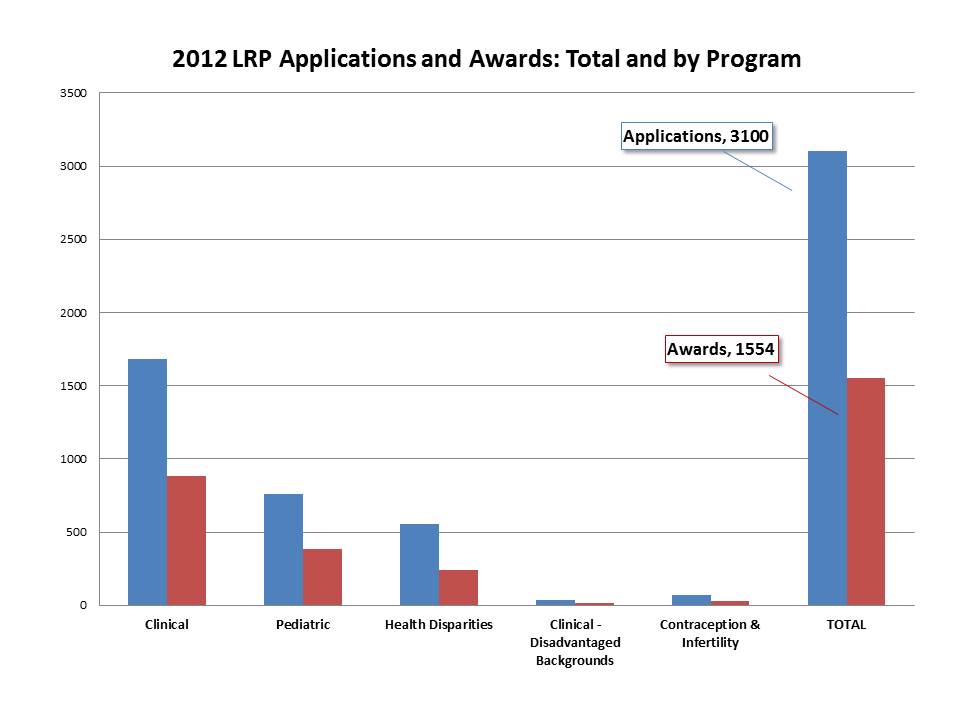 The programs had 706 first-time awardees, and the average debt for each new recipient was approximately $101,000. As you can see from the chart below, most new recipients had $50,000 or more of educational debt.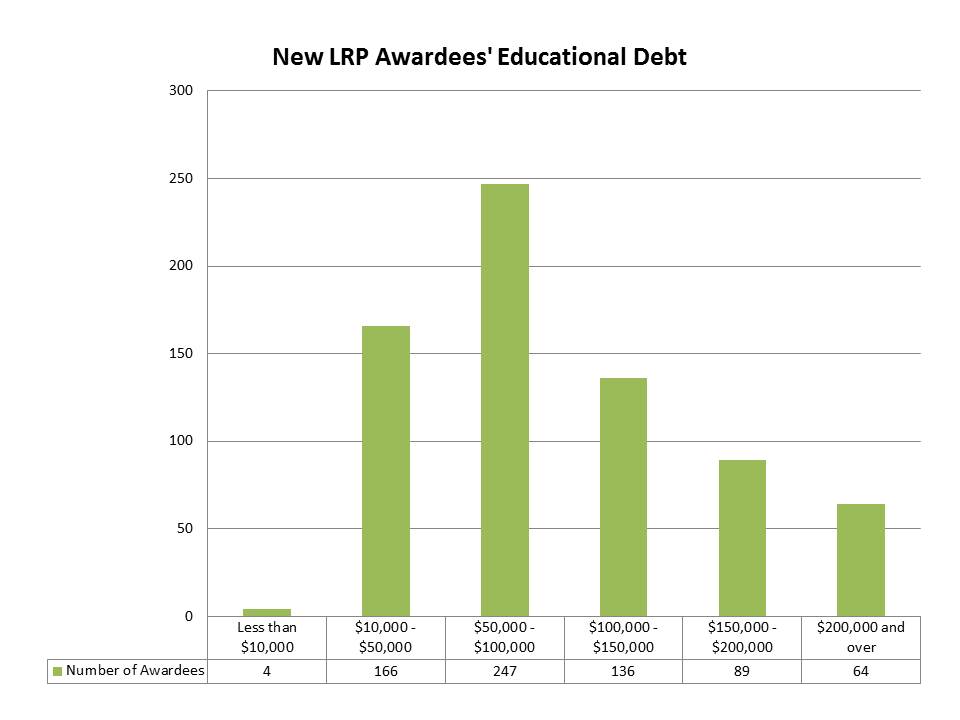 While the LRPs support a variety of doctoral-level researchers, my colleagues at NIH and I have long known that educational debt hits especially hard for medical school graduates, who in 2011 had a median student loan debt of $162,000 according to the Association of American Medical Colleges. Medical doctorate training complements health research, yet only 15% of MDs enter research careers post-training. An intermediate evaluation suggests that the LRPs are meeting their intended goals. Participants stay in research careers longer, apply for and receive more research grants, and are more likely to become independent investigators.
I'm proud to report that since the beginning of the LRPs, over 15,000 awards have been made for an investment of more than $700 million in this next generation of researchers. If you are eligible for these awards, the 2013 application cycle is open now through November 15 at 8 p.m. ET. To apply or learn more about these programs, visit www.lrp.nih.gov.
We're in the business of supporting the next generation of biomedical researchers and the LRP program continues to serve as an important avenue for doing this and giving scientists a jump start in their careers.