While NIH policies focus on early stage investigators, we also recognize that it is in our interest to make sure that we continue to support outstanding scientists at all stages of their career. Many of us have heard mid-career investigators express concerns about difficulties staying funded. In a 2016 blog post we looked at data to answer the frequent question, "Is it more difficult to renew a grant than to get one in the first place?" We found that new investigators going for their first competitive renewal had lower success rates than established investigators. More recently, my colleagues in OER's Statistical Analysis and Reporting Branch and the National Heart Lung and Blood Institute approached the concerns of mid-career investigators in a different way – by looking at the association of funding with age. Today I'd like to highlight some of the NIH-wide findings, recently published in the PLOS ONE article, "Shifting Demographics among Research Project Grant Awardees at the National Heart, Lung, and Blood Institute (NHLBI)"

.
Using age as a proxy for career stage, the authors analyzed funding outcomes for three groups: principal investigators (PIs) aged 24 – 40, 41-55 (the mid-career group), and 56 and above. The figure below shows the proportion of research project grant awardees in each of these three groups. The proportion of NIH investigators falling into the 41-55 age group declined from 60% (1998) to 50% (2014).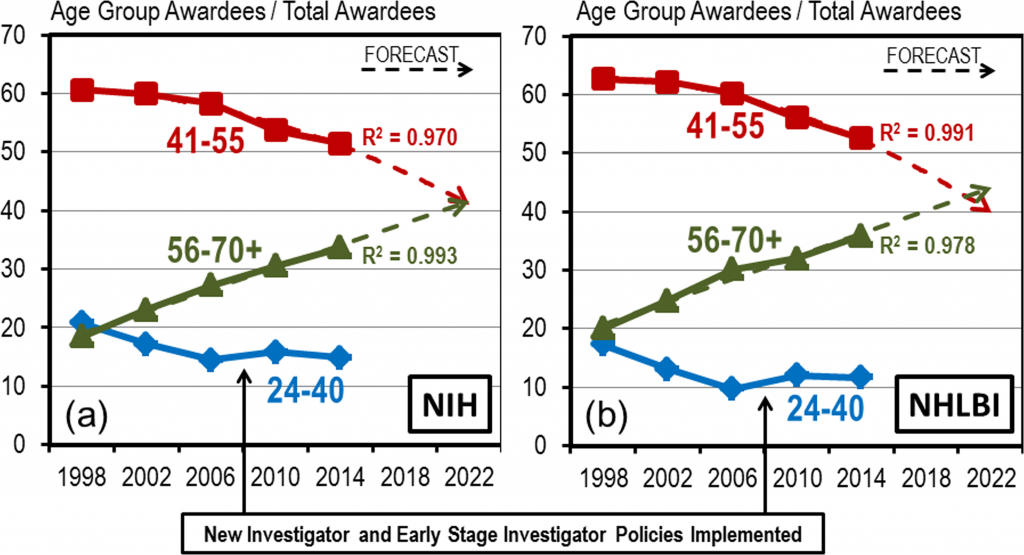 Interestingly, regardless of age, applicants have an approximately equal chance of having a new or renewal application funded.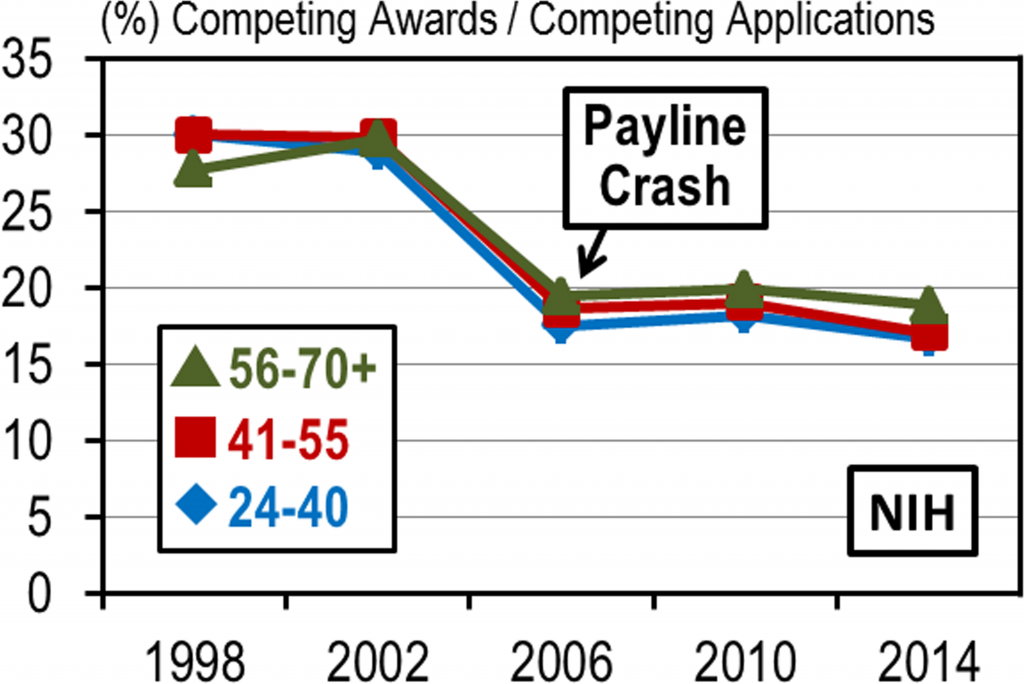 What then, might contribute to the decline in the proportion of mid-career NIH-supported investigators seen in the earlier figure? The authors propose two factors: multiple grants and average RPG award funding.
The authors argue that having multiple grants may confer an "enhanced survival benefit", as PIs with multiple grants have a salary-support buffer that enables them to remain in the academic research system. If an investigator holds zero or one grant, an application failure could well mean laboratory closure, whereas an investigator who holds multiple grants can keep the laboratory open. Moving from younger to mid-career to older investigators, the average number of RPG awards per awardee increased

from 1.28 to 1.49 to 1.54. Consistent with this, the amount of total RPG funding per awardee (looking at direct costs, specifically) is highest for PIs 56 and over: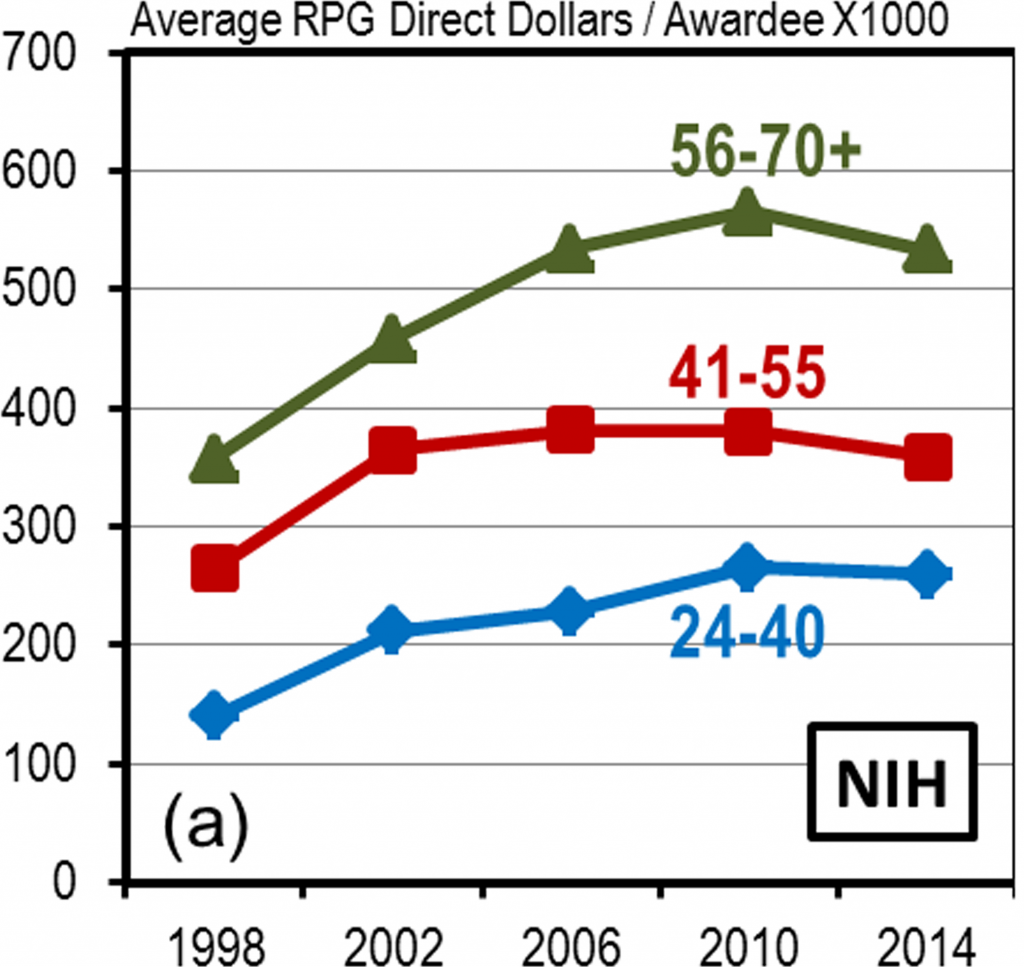 The funding spread is further enhanced by the distribution of certain types of research programs, such as P01 awards, which support multi-project research projects. The figure below shows the age group distribution of P01 funding (direct costs only) from 1998-2014. As noted by the authors, by 2014, NIH PIs age 56 and over, who represent just 34% of the total NIH RPG awardee population, receive 70% of competing P01 funding.
In their discussion, the authors suggest that their analyses should stimulate alternate explanations about why funding is being increasingly distributed to well-established investigators. They write, "For instance, a widely held belief within the academic research community is that the scientific workforce is aging because more established investigators are simply better scientists. In this belief we are all 'Darwinists', in that, during stressful times our first presumption is that the best survive and the merely good fall away. But what if that is not the full situation?" Of note, two recent papers in Science (here and here

) present evidence that scientific impact does not necessarily increase with experience; the policy implication is that it may make more sense to maximize stable funding to meritorious scientists throughout the course of their careers.
I encourage you to take a look at the full paper, which contributes to our ongoing discussion of the age of the biomedical research workforce, and contributes to past, present, and future studies of how we can sustain the careers of those we fund as trainees and early-stage investigators.