On my first day on the job as NIH Deputy Director for Extramural Research, one of my colleagues asked me a question: Is it true that it is more difficult to renew a grant than it is to get one in the first place? Some people wonder whether NIH's interest in supporting new investigators who are trying to get their first grant negatively impacts the other investigators' attempts to renew their grants.
To address this question we gathered data on R01-equivalent success rates for new and experienced investigators seeking funding in fiscal years (FY) 2013 through 2015. We define success rates as the percentage of reviewed grant applications that receive funding (note that applications having one or more submissions for the same project in the same fiscal year are only counted once). We define new investigators as investigators named as project director/principal investigator (PD/PI) on R01 applications who have not had a major competing research award (such as an R01 or a program project grant). For the purpose of this analysis, we also included investigators who had received their first R01 within the last six years and submitted a competing renewal R01 application in FYs 2013, 2014, or 2015
In 2013, new investigators submitted 11,386 applications for new grants, and investigators within 6 years of their first R01 grant submitted 854 competing renewal applications. Experienced investigators submitted 11,488 applications for new  grants, 1210 applications for a 1st renewal, 1060 applications for a 2nd renewal, and 1240 applications for a 3rd (or more) renewal.
The figures for 2014 and 2015 were similar.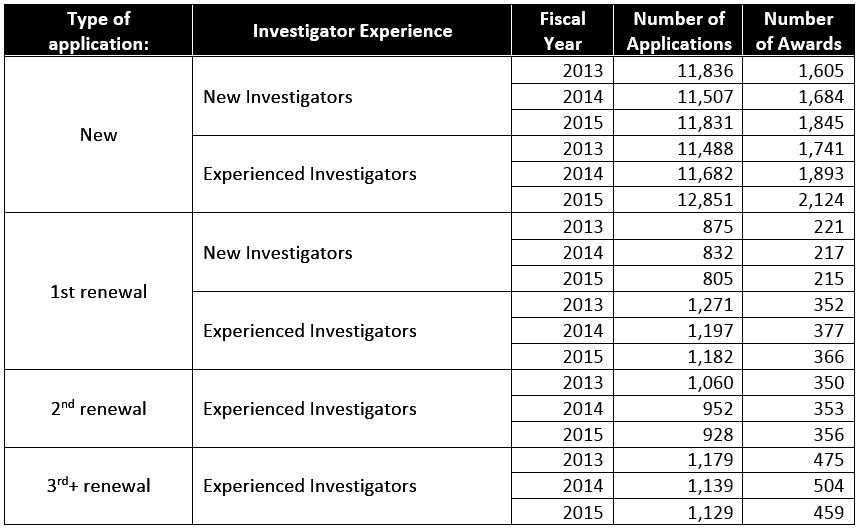 The graph below shows our main findings. New investigators were almost as successful as experienced investigators in obtaining type 1 awards (14% vs 15% in 2013, 15% vs 16% in 2014, 16% vs 17% in 2015).  The difference between new investigator and experienced investigator success rates widens when looking at competing renewals. Success rates of new investigators' first renewals were lower than those of experienced investigators (25% vs 28% in 2013, 26% vs 32% in 2014, 27% vs 31% in 2015).  Finally, when looking at those applying for 2nd and 3rd renewals, experienced investigators had higher success rates (33% and 39% in 2013, 37% and 44% in 2014, 38% and 41% in 2015).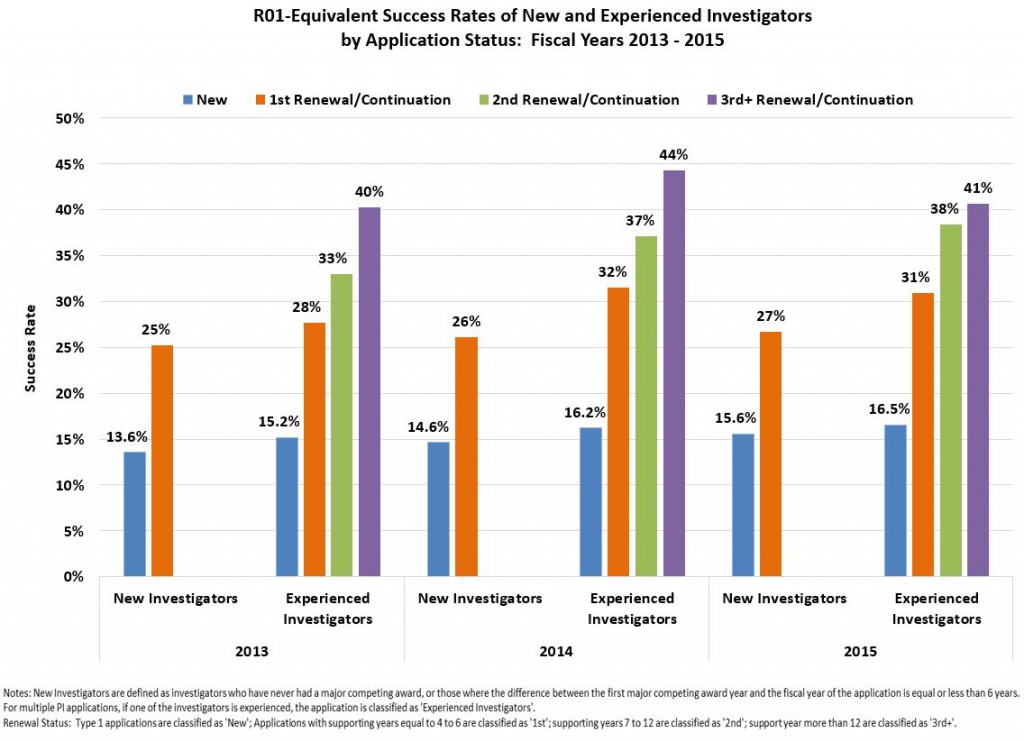 When considering only new applications, and applications for a first renewal, applications for a first renewal were much more likely to be successful (odds ratio 2.2, 95% CI 2.1 to 2.3, P<0.001). Experienced investigators were slightly more likely than new investigators to be successful (odds ratio 1.2, 95% CI 1.1 to 1.2, P<0.001).
To answer the question we began with: renewal applications have higher success rates than new applications, and that this pattern is true for both new and experienced investigators.  We will continue to monitor these trends across NIH as part of our efforts to understand new and early stage investigators' experiences in seeking NIH support.
PS – Many thanks to the OER staff in the Division of Planning, Analysis and Evaluation who helped assemble and analyze these data. These data are also posted to the report archive on RePORT.