Many thanks for your terrific questions and comments to last month's post, Research Commitment Index: A New Tool for Describing Grant Support. I'd like to use this opportunity to address a couple of key points brought up by a number of commenters; in later blogs, we'll focus on other suggestions.
The two points I'd like to address here are:
Why use log-transformed values when plotting output (annual weighted relative citation ratio, or annual RCR) against input (annual research commitment index, or annual RCI).
What is meant by diminishing returns.
We use log-transformed values because scientific productivity measures follow a highly skewed, log-normal distribution.  This is well described and therefore log-transformed plots are the norm in the literature (see here 

, here 

, and here

 for examples).
Figures 1 and 2 show the highly skewed distributions of annual RCI and annual weighted RCR in our sample of over 70,000 unique investigators who received at least one NIH research project grant (RPG) between 1995 and 2014.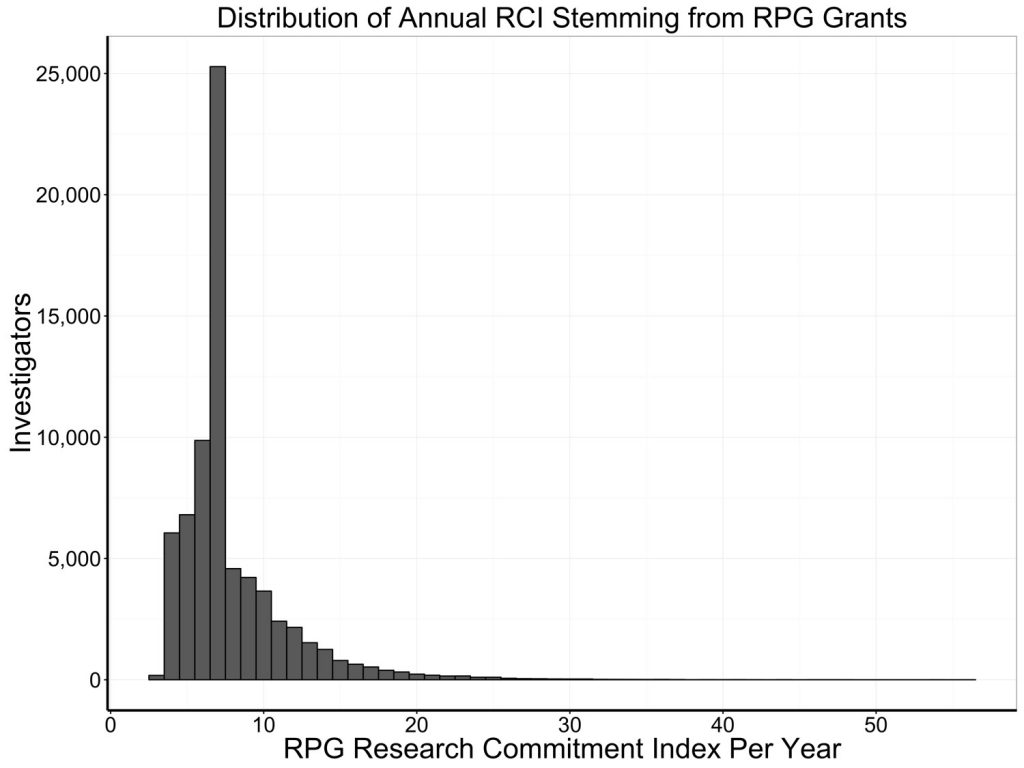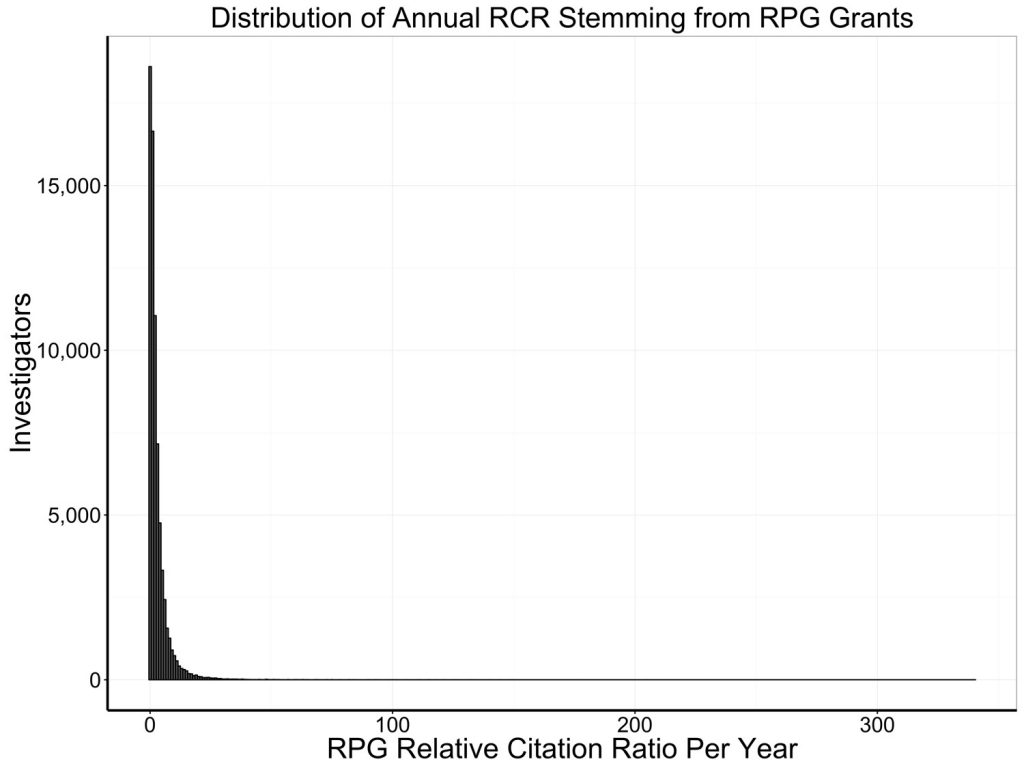 When we and others 

refer to "diminishing returns," what we mean is that we see diminishing marginal returns. Marginal returns are incremental returns on input associated with incremental increases in input. Mathematically, we talk about the slope (or more precisely first derivative) of the production plot that relates annual RCR to annual RCI.
Figure 3 is the log-log plot; it is the same as the prior blog's figure 5, except that the axis labels show log values. I've added dotted tangent lines that illustrate how the slope decreases at higher values of annual RCI.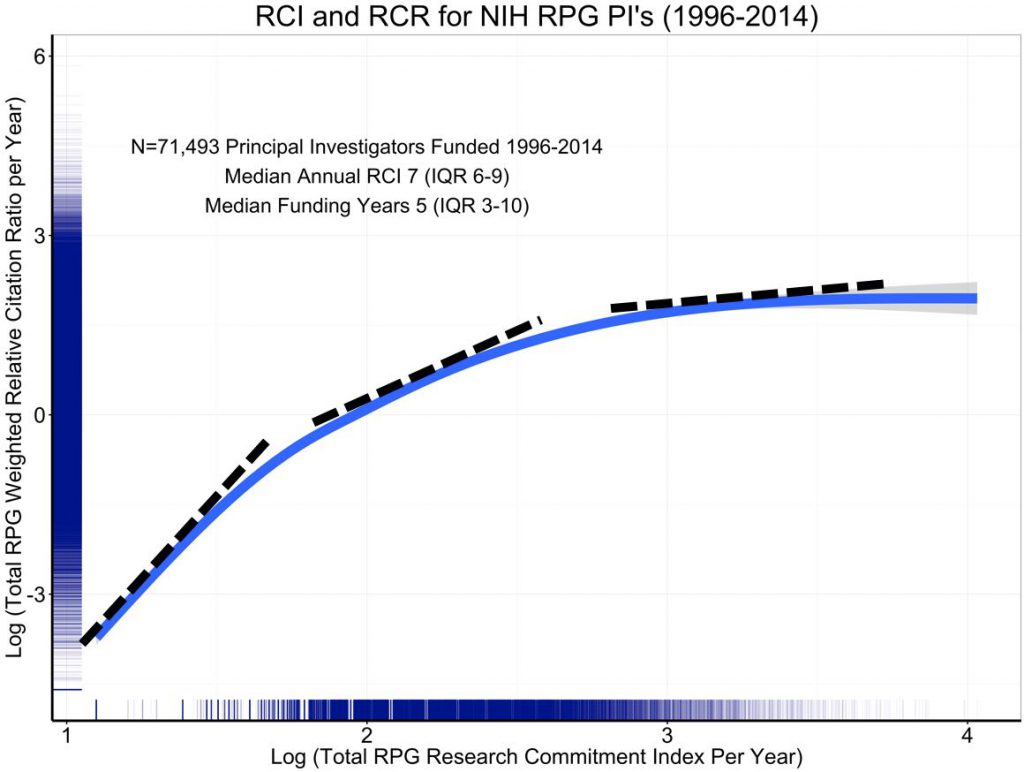 Another way to visualize this is to look directly at marginal productivity, at how RCR changes compare in respect to changes in RCI – in other words, how the instantaneous slopes shown in Figure 3 (aka first derivative) change as RCI increases. Figure 4 shows the first derivative of the association of log annual RCR to log annual RCI with values of log annual RCI.  As annual RCI increases, the marginal productivity decreases – this is what is meant by diminishing returns.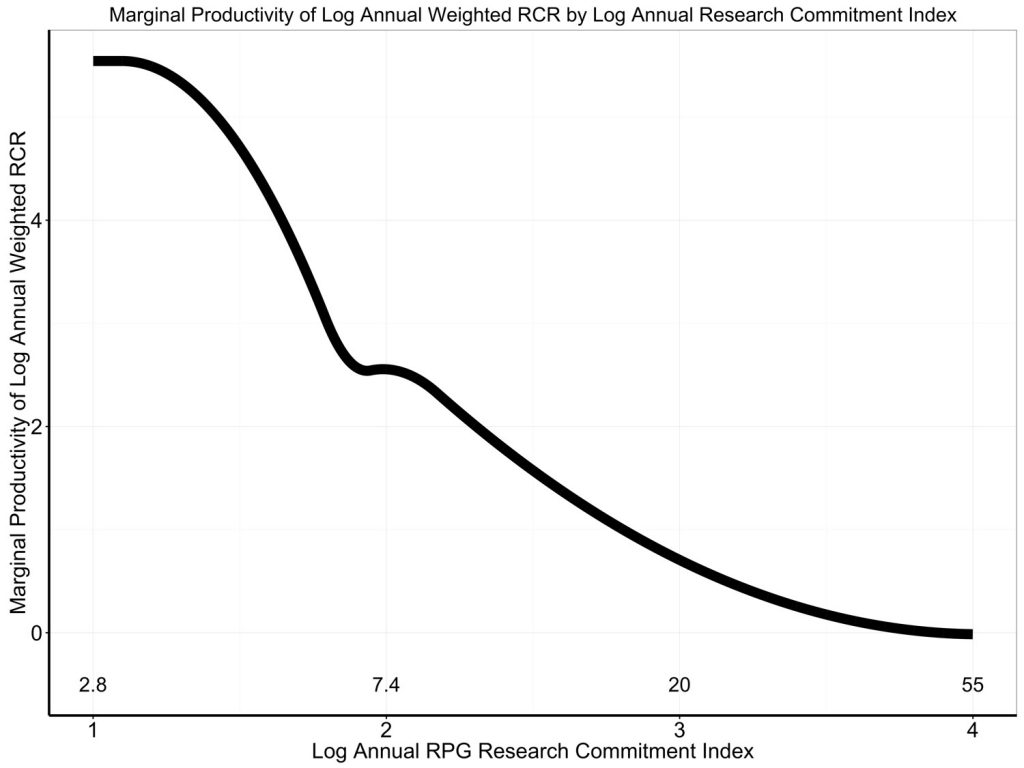 Figure 5 shows a non-transformed plot relating annual RCR to annual RCI. It's technically incorrect – since both annual RCR and annual RCI follow highly skewed, log-normal distributions. Nonetheless, the dotted tangent lines show that the slope (marginal productivity) decreases with increasing RCI, again consistent with the phenomenon of diminishing marginal returns.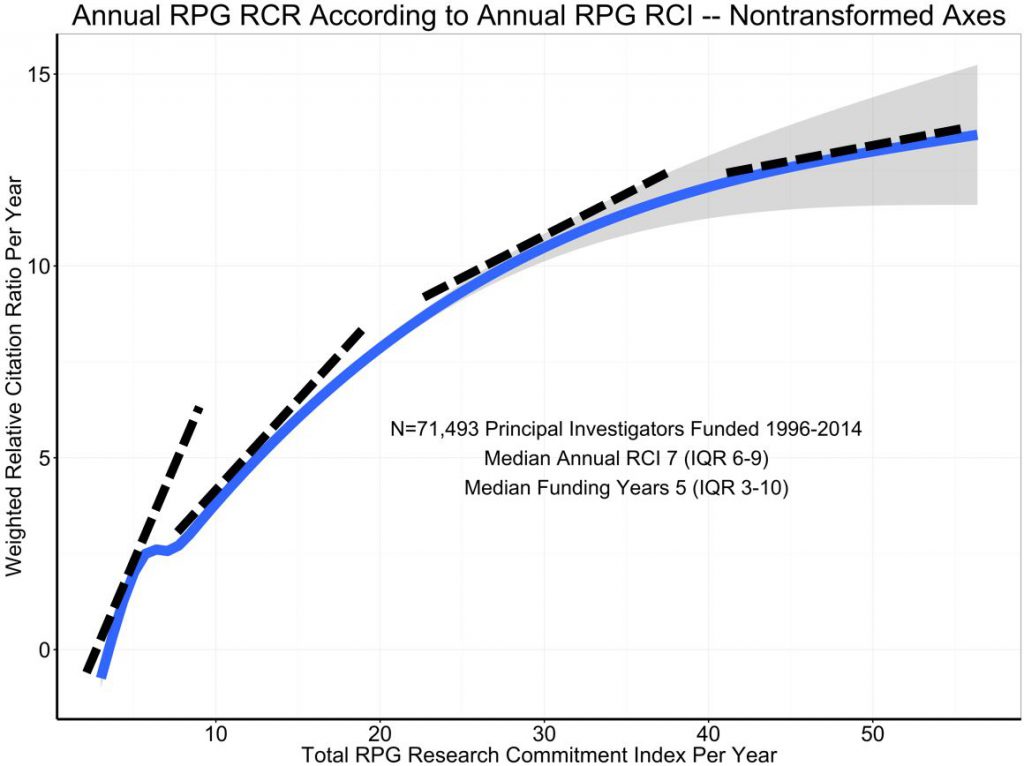 The phenomenon of diminishing returns is one that is well known across many fields of human endeavor. It's important to recognize that diminishing returns does not mean negative returns. If we, as a funding agency, choose to increase funding to a laboratory, there is a high likelihood that the increased funding will lead to increased productivity. But the incremental increase in productivity may be less than the incremental increase in support 

; if baseline funding is already high, the incremental returns may be less than if baseline funding is lower. Alberts and colleagues

 pointed this out in their essay.  Others from Canada

 and Germany

 have put forth similar arguments: funding agencies might maximize their impact by funding a larger, and more diverse, group of investigators with the limited resources available.
Again, many thanks for your terrific comments. We look forward to addressing other points (including basic and clinical science and changes over time) in future posts.