Please note: the table used on this page does not reflect the finalized Grant Support Index values, discussed in the May 2 2017 blog, "Implementing Limits on Grant Support to Strengthen the Biomedical Research Workforce". Community input will be used in developing the final Grant Support Index. – Open Mike blog team, May 8, 2017.
———————————————————————————————————————–
On this blog we previously discussed ways to measure the value returned from research funding. The "PQRST" approach (for Productivity, Quality, Reproducibility, Sharing, and Translation) starts with productivity, which the authors define as using measures such as the proportion of published scientific work resulting from a research project, and highly cited works within a research field.
But these factors cannot be considered in isolation. Productivity, most broadly defined, is the measure of output considered in relation to several measures of inputs. What other inputs might we consider? Some reports have focused on money (total NIH funding received), others on personnel. And all found evidence of diminishing returns with increasing input: among NIGMS grantees receiving grant dollars, among Canadian researchers receiving additional grant dollars, and among UK biologists overseeing more personnel working in their laboratories.
It might be tempting to focus on money, but as some thought leaders have noted, differing areas of research inherently incur differing levels of cost. Clinical trials, epidemiological cohort studies, and research involving large animal models are, by their very nature, expensive. If we were to focus solely on money, we might inadvertently underestimate the value of certain highly worthwhile investments.
We could instead focus on number of grants – does an investigator hold one grant, or two grants, or more? One recent report noted that more established NIH-supported investigators tend to hold a greater number of grants. But this measure is problematic, because not all grants are the same.  There are differences between R01s, R03s, R21s, and P01s that go beyond the average amount of dollars each type of award usually receives.
Several of my colleagues and I, led by NIGMS director Jon Lorsch – chair of an NIH Working Group on Policies for Efficient and Stable Funding – conceived of a "Research Commitment Index," or "RCI." We focus on the grant activity code (R01, R21, P01, etc) and ask ourselves about the kind of personal commitment it entails for the investigator(s). We start with the most common type of award, the R01, and assign it an RCI value of 7 points. And then, in consultation with our NIH colleagues, we assigned RCI values to other activity codes: fewer points for R03 and R21 grants, more points P01 grants.
Table 1 shows the RCI point values for a PI per activity code and whether the grant has one or multiple PIs.
Table 1:
| | | |
| --- | --- | --- |
| Activity Code | Single PI point assignment | Multiple PI point assignment |
| P50, P41, U54, UM1, UM2 | 11 | 10 |
| Subprojects under multi-component awards | 6 | 6 |
| R01, R33, R35, R37, R56, RC4, RF1, RL1, P01, P42, RM1, UC4, UF1, UH3, U01, U19, DP1, DP2, DP3, DP4 | 7 | 6 |
| R00, R21, R34, R55, RC1, RC2, RL2, RL9, UG3, UH2, U34, DP5 | 5 | 4 |
| R03, R24, P30, UC7 | 4 | 3 |
| R25, T32, T35, T15 | 2 | 1 |
Figure 1 shows by a histogram the FY 2015 distribution of RCI among NIH-supported principal investigators. The most common value is 7 (corresponding to one R01), followed by 6 (corresponding to one multi-PI R01). There are smaller peaks around 14 (corresponding to two R01s) and 21 (corresponding to three R01s).
Figure 1: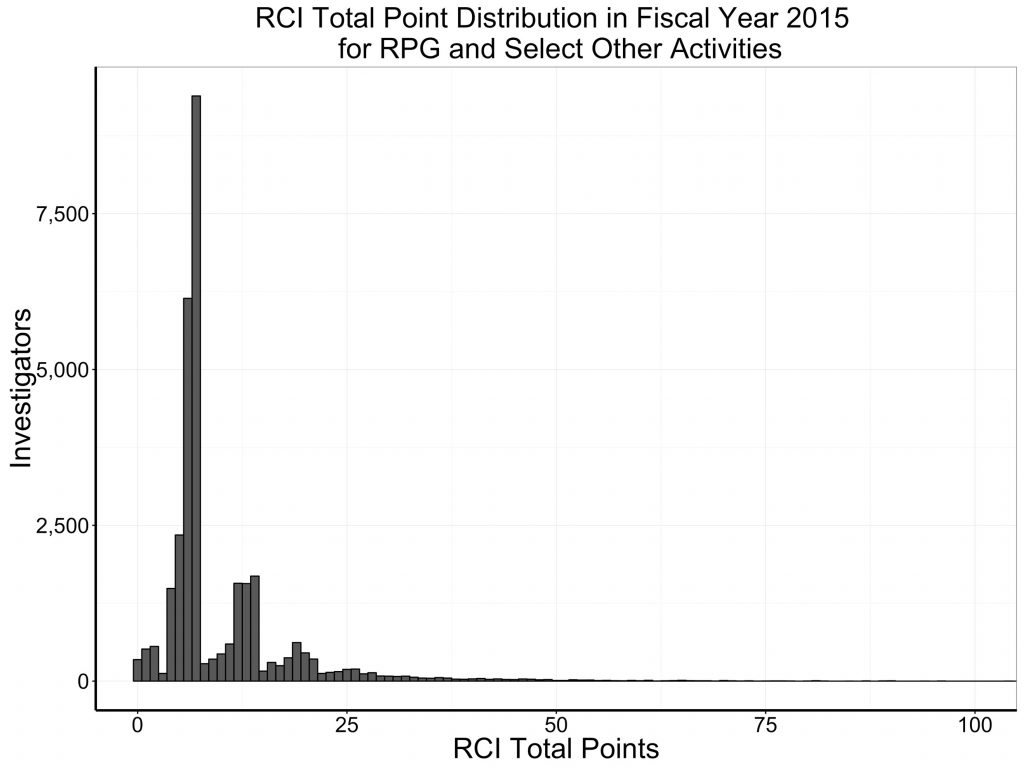 Figure 2 uses a box-plot format to show the same data, with the mean indicated by the larger dot, and the median indicated by the horizontal line. The mean of 10.26 is higher than the median of 7, reflecting a skewed distribution.
Figure 2: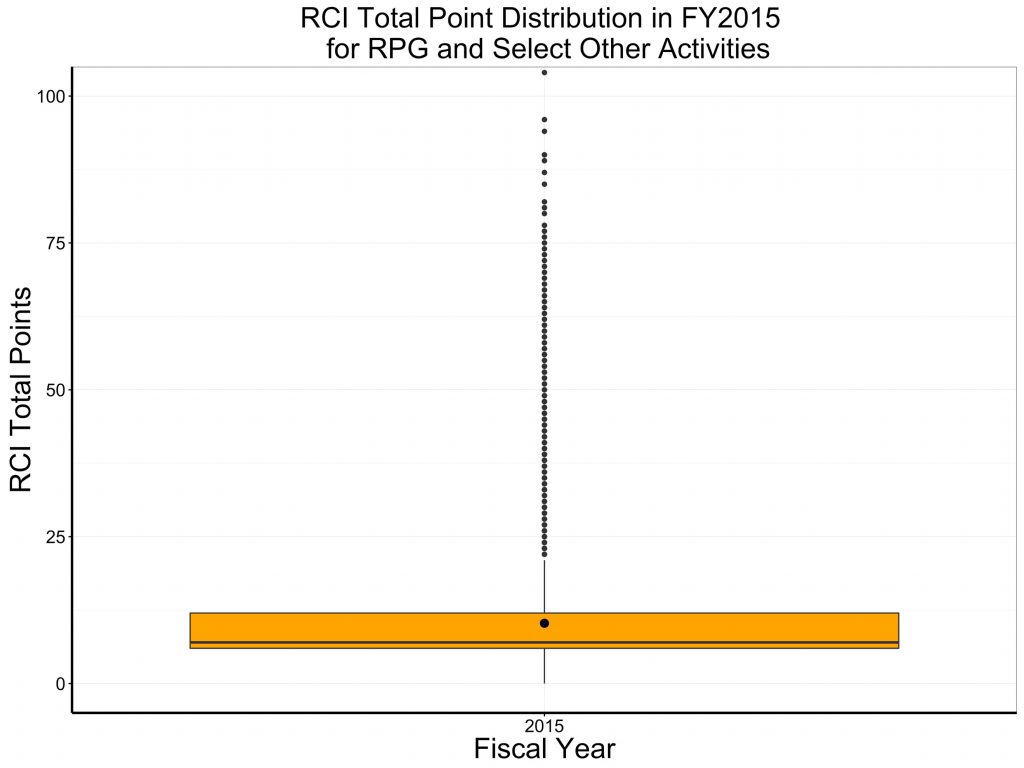 From 1990 through 2015 the median value of RCI remained unchanged at 7 – the equivalent of one R01. But, as shown in Figure 3, the mean value changed – increasing dramatically as the NIH budget began to increase just before the time of the NIH doubling.
Figure 3: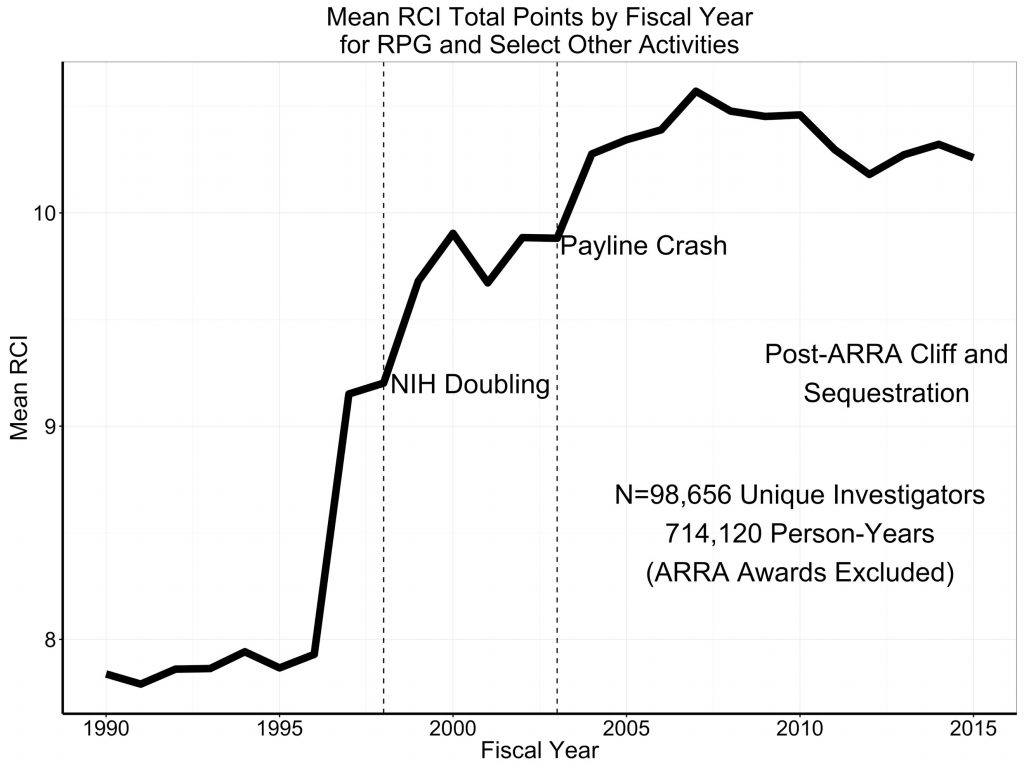 Figure 4 shows the association of RCI and the age of PIs; the curves are spline smoothers. In 1990, a PI would typically have an RCI of slightly over 8 (equivalent to slightly more than one R01) irrespective of age. In 2015, grant support, as measured by RCI, increased with age.
Figure 4: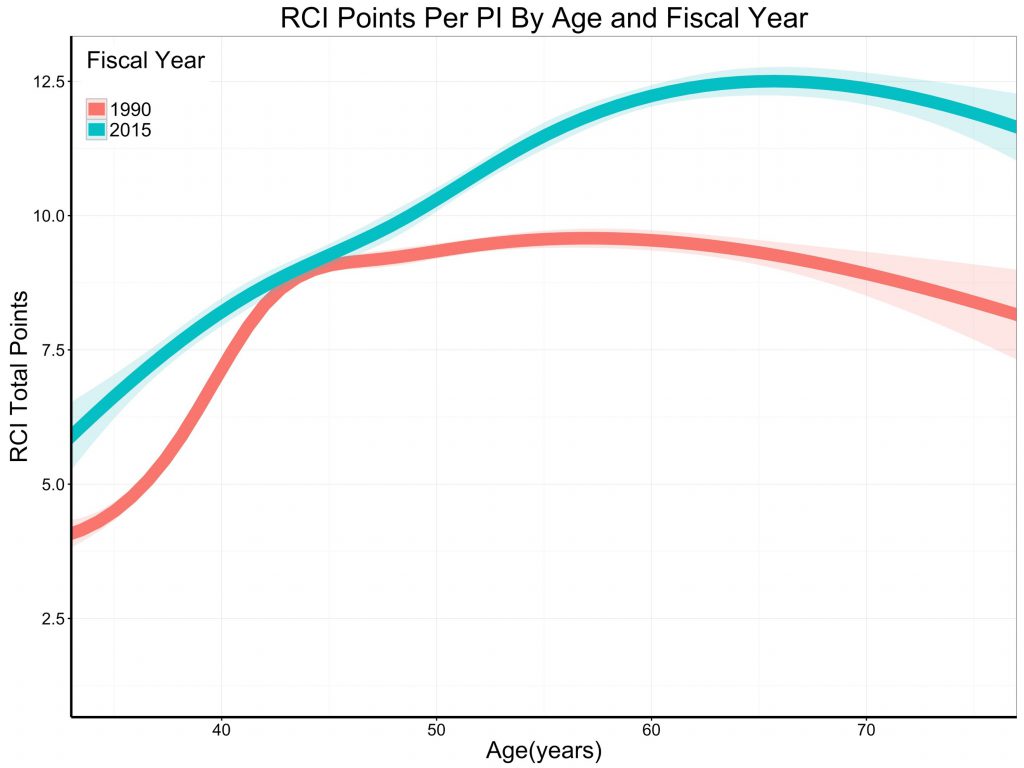 We now turn to the association of input, as measured by the RCI, with output, as measured by the weighted Relative Citation Ratio (RCR). We focus on 71,493 unique principal investigators who received NIH research project grant (RPG) funding between 1996 and 2014.  We focus on RPGs since these are the types of grants that would be expected to yield publications and because the principal investigators of other types of grants (e.g. centers) won't necessarily be an author on all of the papers that come out of a center. For each NIH RPG PI, we calculate their total RCI point values for each year, and divide it by the total number of years of support. Thus, if a PI held one R01 for 5 years, their RPG RCI per year would be  7 ((7 points * 5) / (5 years). If a PI held two R01s for 5 years (say 2000-2004) and during the next two years (say 2005 and 2006) held one R21, their RPG RCI per year would be 11.43 [(14 points * 5) + (5 points * 2)] / (7 years).
Figure 5 shows the association of grant support, as measured by RPG RCI per year, with productivity, as assessed by the weighted Relative Citation Ratio per year. The curve is a spline smoother. Consistent with prior reports, we see strong evidence of diminishing returns.
Figure 5: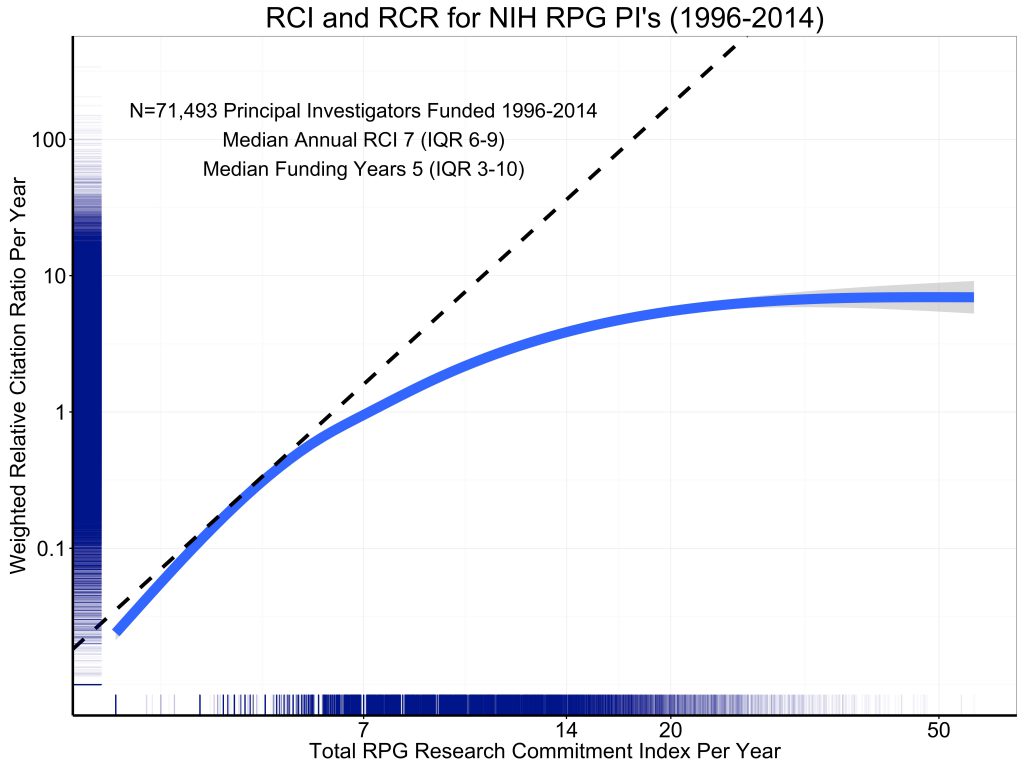 A limitation of our analysis is that we focus solely on NIH funding.  As a sensitivity test, we analyzed data from the Howard Hughes Medical Institute (HHMI) website and identified 328 unique investigators who received NIH RPG funding and HHMI funding between 1996 and 2014.  Given that these 328 investigators received both NIH grants and HHMI support (which is a significant amount of long term person-based funding), they would be expected to be highly productive given the additive selectivity of receiving support from both NIH and HHMI.  As would be expected, HHMI investigators had more NIH funding (measured as total RCI points, annual RCI, number of years with NIH funding) and were more productive (more NIH-funded publications, higher weighted RCR, higher annual RCR, and higher mean RCR).
Figure 6 shows annual weighted RCR by annual RCI, stratified by whether the PI also received HHMI funding.  As expected, HHMI investigators have higher annual weighted RCR for any given RCI, but we see the same pattern of diminishing returns.
Figure 6: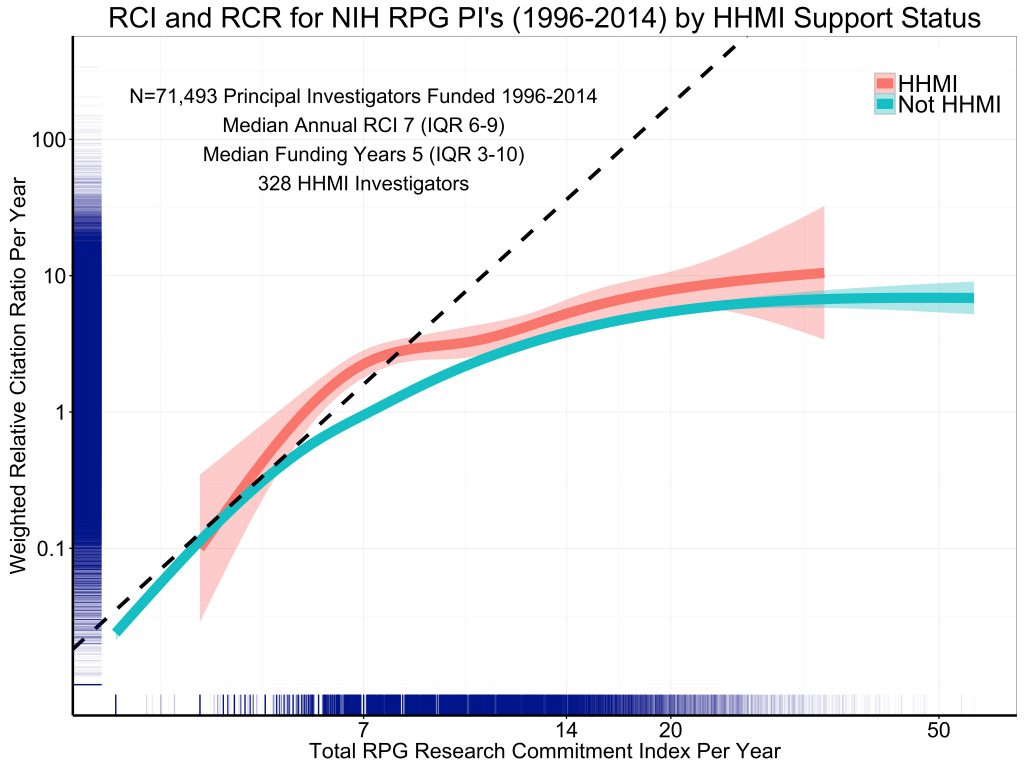 Putting these observations together we can say:
We have constructed a measure of grant support, which we call the "Research Commitment Index," that goes beyond simple measures of funding and numbers of grants. Focusing on funding amount alone is problematic because it may lead us to underestimate the productivity of certain types of worthwhile research that are inherently more expensive; focusing on grant numbers alone is problematic because different grant activities entail different levels of intellectual commitment.
The RCI is distributed in a skewed manner, but it wasn't always so. The degree of skewness (as reflected in the difference between mean and median values) increased substantially in the 1990s, coincident with the NIH budget doubling.
Grant support, as assessed by the RCI, increases with age, and this association is stronger now than it was 25 years ago.
If we use the RCI as a measure of grant support and intellectual commitment, we again see strong evidence of diminishing returns: as grant support (or commitment) increases, productivity increases, but to a lesser degree.
These findings, along with those of others, suggest that it might be possible for NIH to fund more investigators with a fixed sum of money and without hurting overall productivity.
At this point, we see the Research Commitment Index as a work in progress and, like the Relative Citation Ratio, as a potentially useful research tool to help us better understand, in a data-driven way, how well the NIH funding process works. We look forward to hearing your thoughts as we seek to assure that the NIH will excel as a science funding agency that manages by results.
I am grateful to my colleagues in the OER Statistical Analysis and Reporting Branch, Cindy Danielson and Brian Haugen in NIH OER, and my colleagues on the NIH Working Group on Policies to Promote Efficiency and Stability of Funding, for their help with these analyses.