As described on our grants website, the R21 activity code "is intended to encourage exploratory/developmental research by providing support for the early and conceptual stages of project development." NIH seeks applications for "exploratory, novel studies that break new ground," for "high-risk, high-reward studies," and for projects that are distinct from those that would be funded by the traditional R01. R21 grants are short duration (project period for up to 2 years) and lower in budget than most R01s (combined budget over two years cannot exceed $275,000 in direct costs). NIH institutes and centers (ICs) approach the R21 mechanism in variable ways: 18 ICs accept investigator-initiated R21 applications in response to the parent R21 funding opportunity, while 7 ICs only accept R21 applications in response to specific funding opportunity announcements. As mentioned in a 2015 Rock Talk blog, we at NIH are interested in trends in R01s in comparison to other research project grants, so today I'd like to continue and expand on looking at R01 and R21 trends across NIH's extramural research program.
Figure 1 shows trends in R21 and R01 de novo ("Type 1") applications since 2001. Numbers of applications have increased substantially for both activity codes, but the rate of growth has been much greater for R21s. In 2001, NIH received six R01 applications for every R21 application received; while in 2015 the ratio of R01 applications to R21 applications less than 2. In using the new investigator policy definition to identify new investigators, we see that, on average across the last five fiscal years, approximately 35% of R01 applications, and 50% of R21 applications, are submitted by new investigators. In case of awards, 35% of R01 awards and 34% of R21 awards are made to new investigators.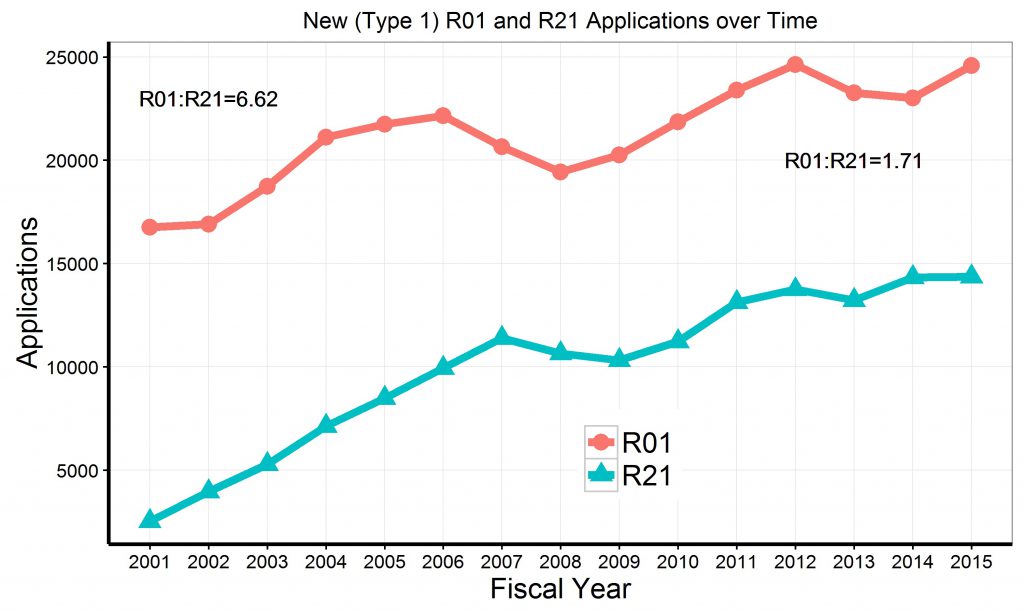 Figure 2 shows trends in de novo ("Type 1") R21 and R01 awards since 2001. Over time, the number of R01 awards has gradually declined, while the number of R21 awards has substantially increased.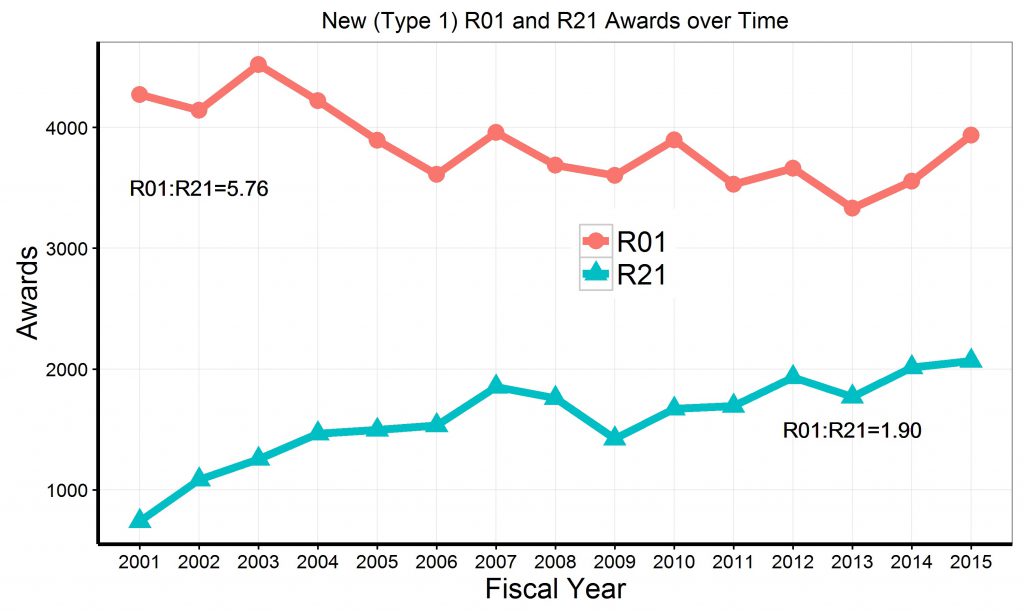 Figure 3 shows trends for success rates for de novo ("Type 1") R21 and R01 applications. While in 2001 the success rates for R21 applications were somewhat higher, over time R21 application success rates have been either equivalent or less than R01 application success rates. In FY2015, the success rates for Type 1 R21 applications were only 14%, compared to 16% for Type 1 R01 applications.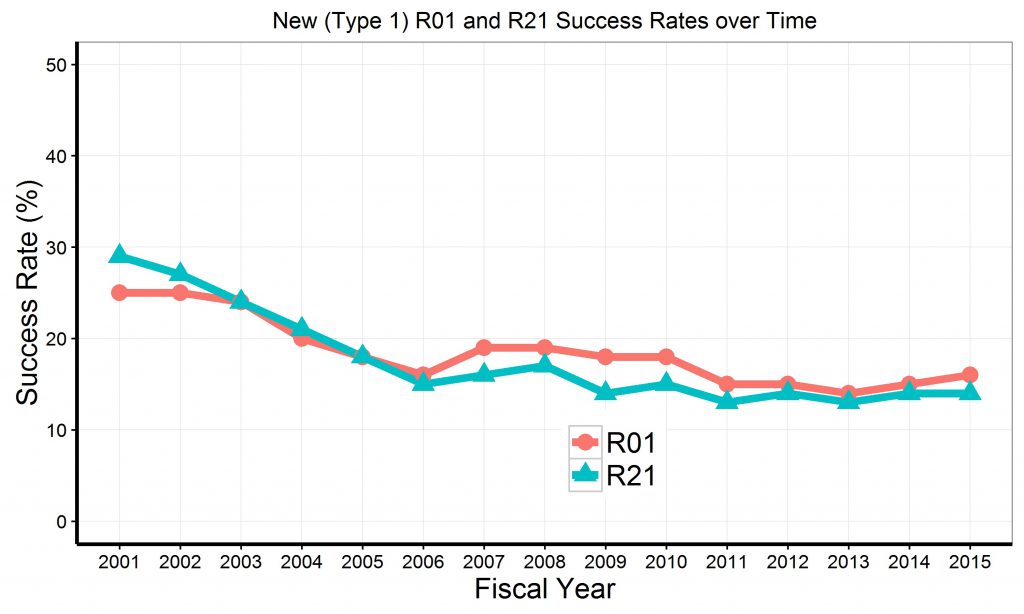 Since R21 projects are intended to be exploratory, we used text-mining software to see how often R21 awardees subsequently submitted related R01 applications. We used a text matching algorithm similar to what we used for our previous analyses of "virtual A2 applications." For R21 awards that were active in fiscal years 2012-2014, we looked for subsequent R01 applications that were at least 60% textually similar
Figure 4 shows our findings. For 5,719 unique R21 awards, there were 4,237 R21 awards (74%) that were followed by least one application from the same PI, but there were only 964 R21 awards (17%) which were followed by at least one subsequent similar R01 application. Correspondingly, for the 5,719 unique R21 awards, there were 230 R21 awards (4%) which were followed by at least one similar funded R01 project.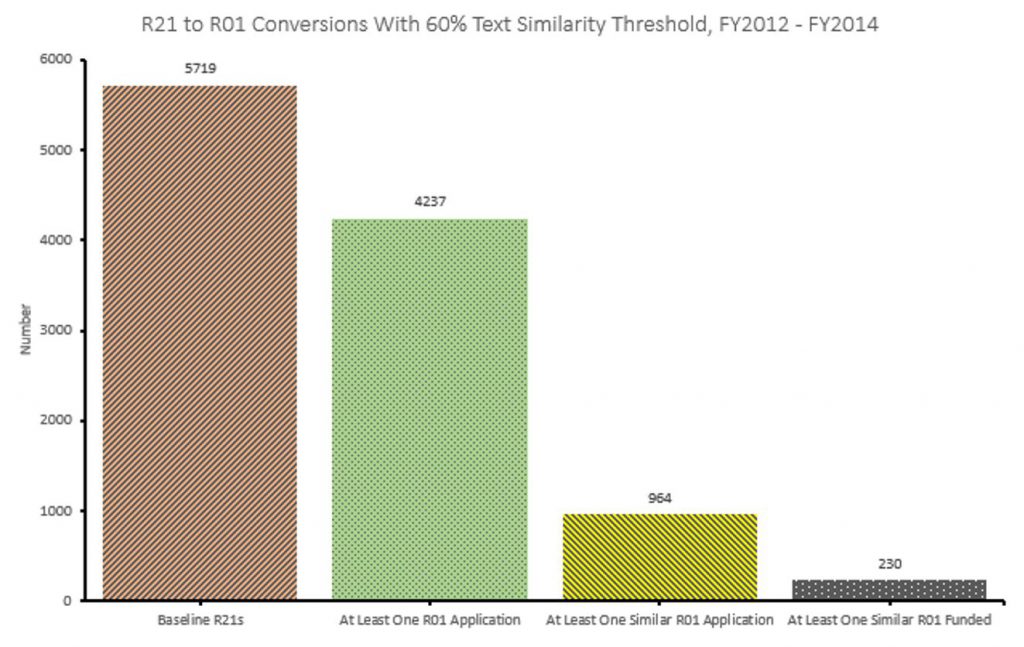 Figure 5 shows the same data except broken down by the Fiscal Year in which the baseline R21 was funded.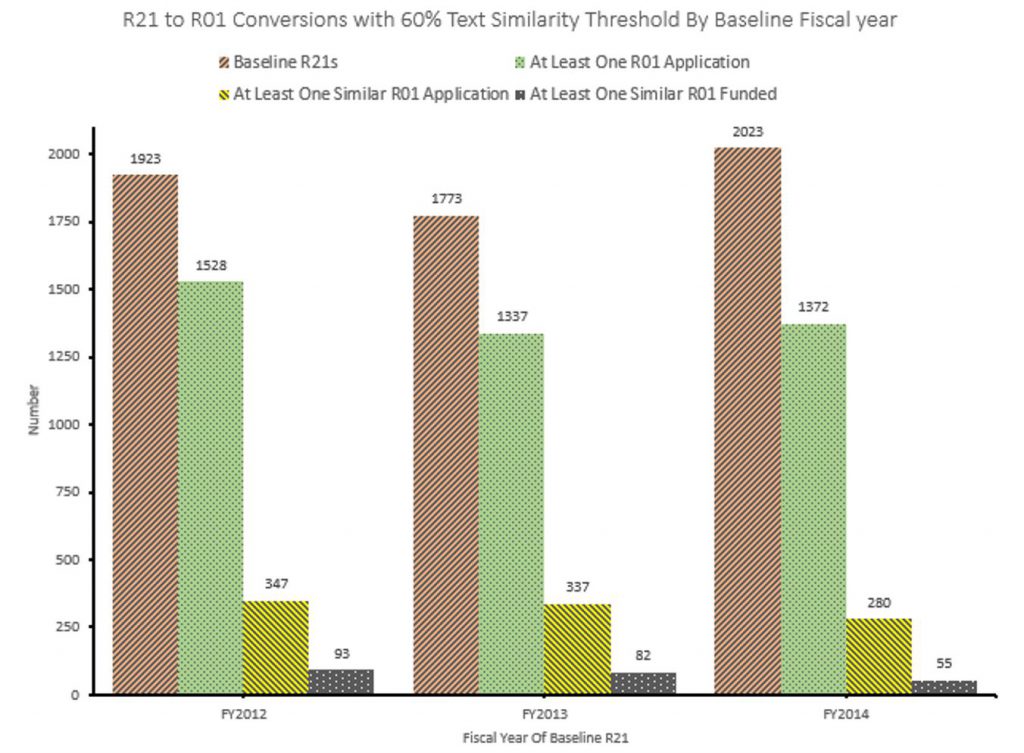 As a quality check, we pulled out a 15% sample of R21-R01 application pairs in which our text-mining software indicated at least a 60% similarity. Our subject matter experts found that in over 80% of cases, there was a plausible relationship between the two projects.
Putting these findings together, we see that:
The R21 mechanism is increasingly popular – we are seeing many more applications and awards, with growth rates exceeding those of R01 grants – but also highly competitive.
Most R21 applicants and awardees have previously received some NIH funding; only 34% of R21 awardees were new NIH investigators.
Over 15% of R21 awards are followed by at least one similar R01 application, but fewer than 5% of R21 awards are followed by at least one similar funded R01 project.
I am grateful to my colleagues in the OER Statistical and Analysis Reporting Branch (SARB), in the OER Research Condition and Disease Category (RCDC) Branch, and the OER Office of Extramural Programs (OEP) for assistance with these analyses. I also thank Dr. Rebekah Rasooly, program director at the National Institute of Diabetes and Digestive and Kidney Disease; Dr. Sherry Mills, chair of a trans-NIH committee examining the R21 at NIH; and the R21 committee members.