In one of my earlier blog posts, I described an analysis looking at whether attempts at renewal are successful. We looked at data from fiscal years 2013-2015, and found that renewal applications have higher success rates than new applications, and that this pattern is true for both new and experienced investigators. In response to your comments and queries, we wanted to follow up on the analysis with some historical data that looks are whether success rates of competing renewals decreased disproportionately compared to new grant applications' success rates.
The first figure shows the numbers of Type 1 (de novo) research program grant applications and awards that we received and issued since 1995. The number of awards has increased from 3,799 in 1995 to 7,735 in 2015. However, the number of applications has markedly increased, from 18,439 in 1995 to over 47,000 in 2015.  Thus, the Type 1 success rate has fallen from a peak of 27.1% in 2001 (shortly before the doubling ended) to 16.3% in 2015; the lowest success rate was 14.6% in 2013.
The second figure shows analogous data for Type 2 (competing renewal) research program grant applications and awards. We have seen a decline in the number of applications (from 6,621 in 1995 to 4,740 in 2015) and in the number of awards (from 2,898 in 1995 to 1,773 in 2015). The success rates have been consistently higher than seen with Type 1 applications, but they too have fallen from 54.2% in 1999 to 37.4% in 2015; again the lowest success rate occurred in 2013 (at 35%).
The third figure again shows the Type 1 and Type 2 success rates in comparison to each other.  The trajectories have been similar; Type 1 success rates dropped by almost 4% between 1995 and 2006, while Type 2 success rates dropped by 7%. Of note, most of these drops occurred after 2003, when the doubling ended.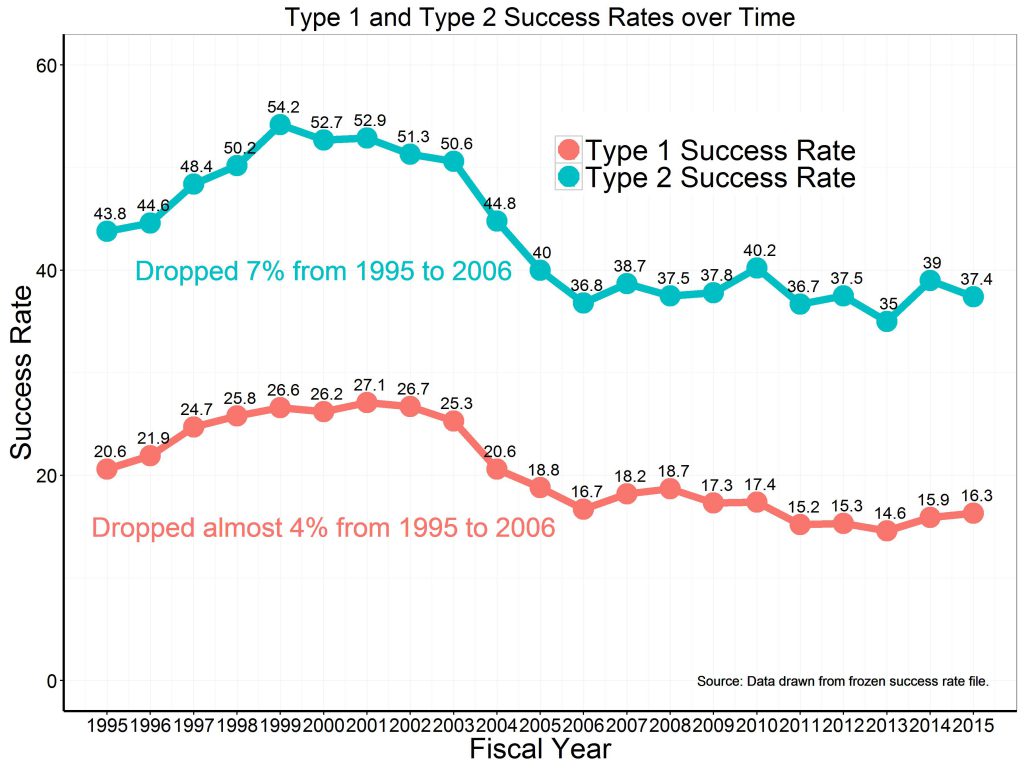 Putting it all together, these data show that competing renewals, while still challenging, have higher success rates than new applications. Both renewals and new applications have seen marked declines in success rates since the end of the doubling.
I would like to thank the OER Statistical Analysis and Reporting Branch for their work with me on this analysis.