A question that I hear often from investigators is: are my chances of funding increased or decreased by submitting a multi-PI application? It was seven years ago that NIH implemented the Multiple Principal Investigator Policy to encourage interdisciplinary and team approaches to biomedical research, and give scientists the option to apply with their peers and allow for equal credit for leadership of the research program. While the single-PI model works well, and continues to be the model for most of NIH's research grants, the multi-PI option recognizes that as health research grows in scale and complexity, scientific teams may better reflect the intellectual and scientific leadership within a given grant application.
So, let's look at some data on how multi-PI applications fare in comparison to single-PI applications. Looking at data on new competing research project grant applications from 2010 through 2013, overall we see no significant difference in the award rates of single-PI applications versus multi-PI applications: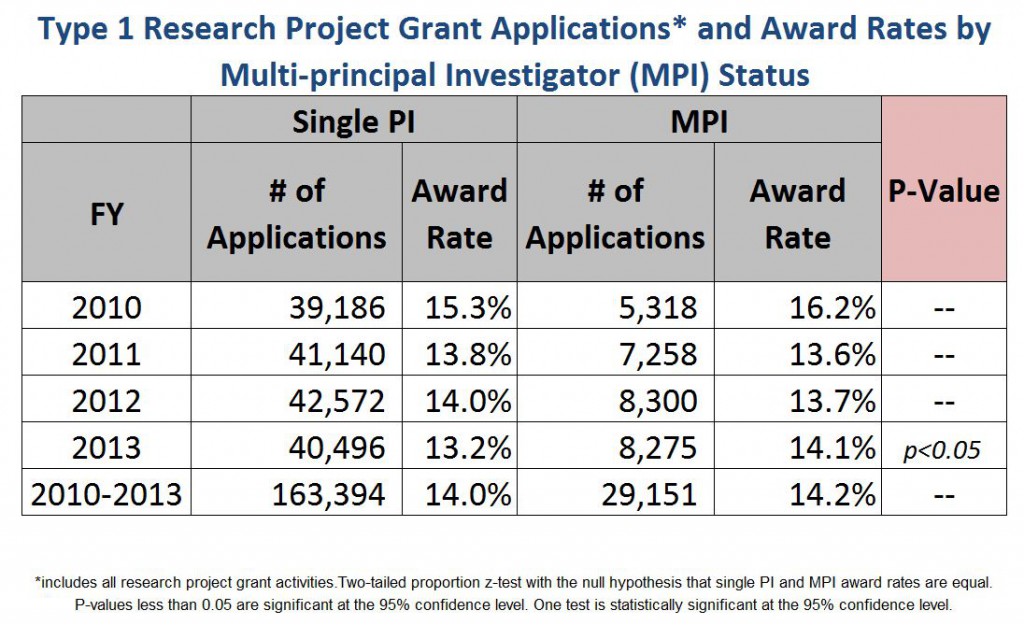 Only in 2013 is there a significant difference in award rate between single PI and multi-PI award rates, and this is in favor of multi-PI awards. But for most years, and overall, there doesn't seem to be a trend indicating that multi-PI applications are more (or less) likely to be awarded than single PI applications.
So, when you're applying to NIH for research funding, while there are many other considerations to take into account in deciding whether to submit a multiple-PI application, preference for funding is not one of them. As always, the key questions to ask is:  what would best address the science being proposed? Would a single- or multiple-PI model best ensure optimal leadership of this research project? Additionally, when considering the multi-PI option, be sure to consider how you will structure the roles of the investigators to meet the goals of your proposed research.
If you're looking for more information on the multi-PI policy and how it works, visit our website and frequently asked questions on the multi-PI policy.