Here we discuss how inflation has been relevant to NIH Research Project Grants (RPG), the largest component of extramural NIH funding.
We can start with a straightforward question: What is inflation? The US Federal Reserve defines inflation as "the increase in the prices of goods and services over time." Prices for research project grants may increase over time for a variety of reasons:
Background inflation: Prices increase across the economy due to increases in the money supply and/or economy-wide demand and supply stresses; these are reflected in general price indices, such as the Gross Domestic Product (GDP) price index and the Consumer Price Index.
Research-specific inflation: Prices increase specifically in the biomedical research and development enterprise; these are reported as the Biomedical Research and Development Price Index (or BRDPI). The BRDPI measures changes in the weighted average of the prices of all the inputs (e.g., personnel services, various supplies, and equipment) purchased with the NIH budget to support research. The weights used to construct the index reflect the actual pattern, or proportions, of total NIH expenditures on each of the types of inputs purchased. Theoretically, the annual change in the BRDPI indicates how much NIH expenditures would need to increase, without regard to efficiency gains or changes in government priorities, to maintain NIH-funded research activity at the previous year's level. Figure 1 shows the BRDPI and GDP Price Index from 1998 to 2021. Until 2012, the BRDPI was generally higher than the GDP Price Index; since then the BRDPI has been equivalent to or lower, likely due to caps on senior faculty salary support.
Figure 1: Inflation indices FY1998 to FY2021.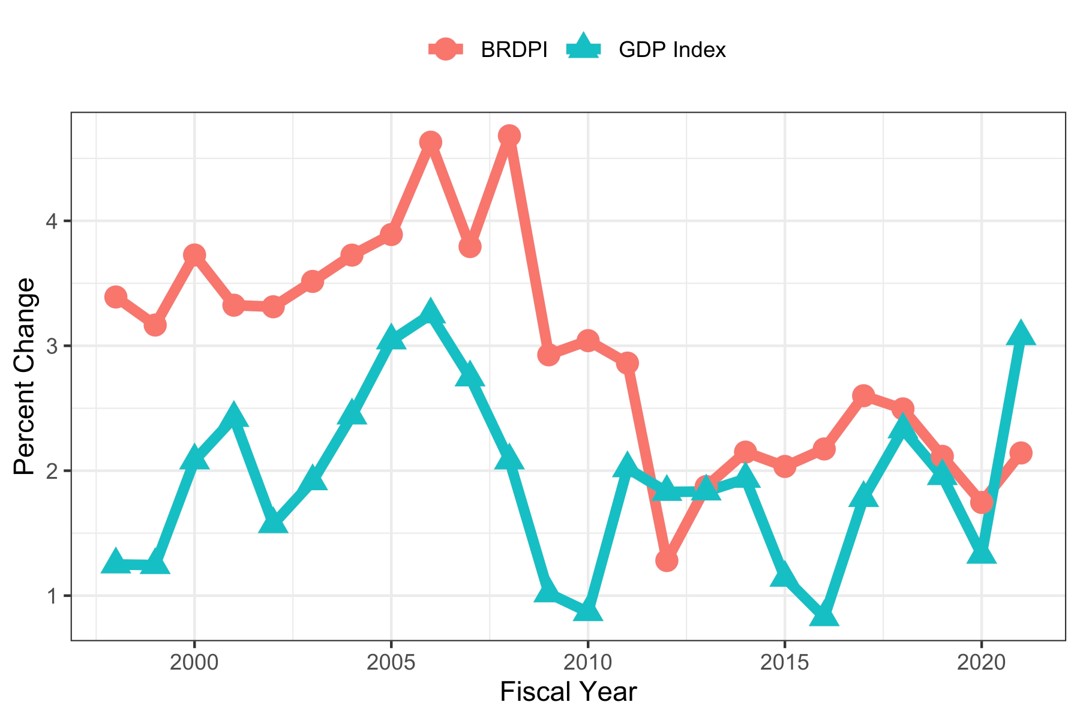 Changes in agency purchasing decisions (or compositional effects): We might imagine an automobile-rental firm that starts one year purchasing 10 mid-size sedans. The following year, it might choose to purchase instead 10 luxury mid-size sedans; costs increase not because of background inflation because of the firm's decisions about what it wants to buy. Alternatively, the firm may purchase 2 large vans, 4 mid-sized sedans, and 4 compact cars. Overall and median costs might not change (compared to the baseline of 10 mid-size sedans), but the firm's management will be acutely aware of the costs of the 2 large Similarly, NIH Institutes and Centers (IC's) may choose to issue investigator-initiated R01 awards, R01 awards that cost more (e.g. >500K in direct costs) because of use of large-scale clinical trials, or different size awards (program project grants, cooperative agreements, or small exploratory R21 or R03 awards).
We will focus on real (as opposed to nominal) costs of NIH RPG awards, that is total costs per RPG indexed for the FY2021 BRDPI. First, though, we'll review a high-level history of NIH RPGs. Figure 2 shows the number of unique competing and non-competing RPGs awarded each year. Between 1998 and 2021, NIH issued 827,815 RPG awards of at least $25,000 per year (BRDPI-indexed to 2021). The 3 vertical dotted lines refer to the beginning and end of the NIH-doubling (1998 and 2003) and the year of budget sequestration (2013). The number of RPGs increased during the doubling, decreased gradually between the end of the doubling and 2015, and rose again with recent NIH budget increases.
Figure 2: Number of unique funded competing and noncompeting RPG awards and designated Principal Investigators ("Awardees") FY1998 to FY2021.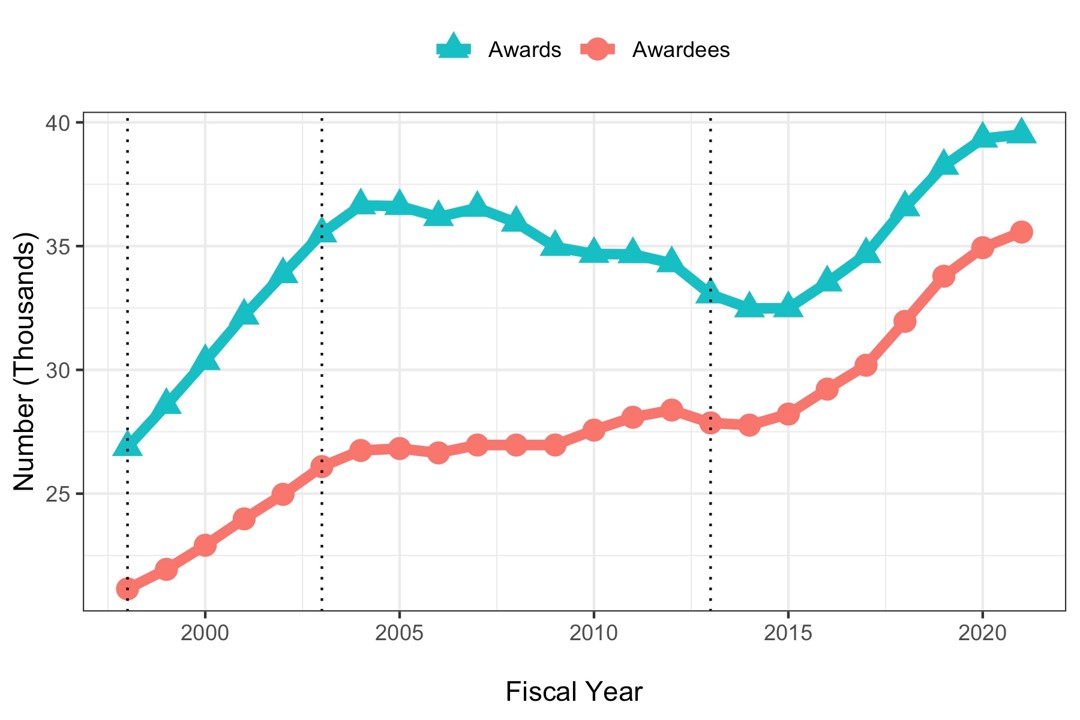 Figures 3 and 4 show mean and median costs per RPG in both nominal (red lines with circles) and FY2021 BRDPI-adjusted (teal lines with triangles) values. The real (that is FY2021 BRDPI-adjusted) costs of RPGs increased during the doubling (from average values of about $530,000 to about $610,000), fell to a nadir of about $520,000 in 2013, and after a quick rebound in 2014 has remained relatively stable at about $570,000 since.
Figure 3: Average costs (namely total costs, including both direct and indirect costs) for funding RPGs FY1998 to FY2021.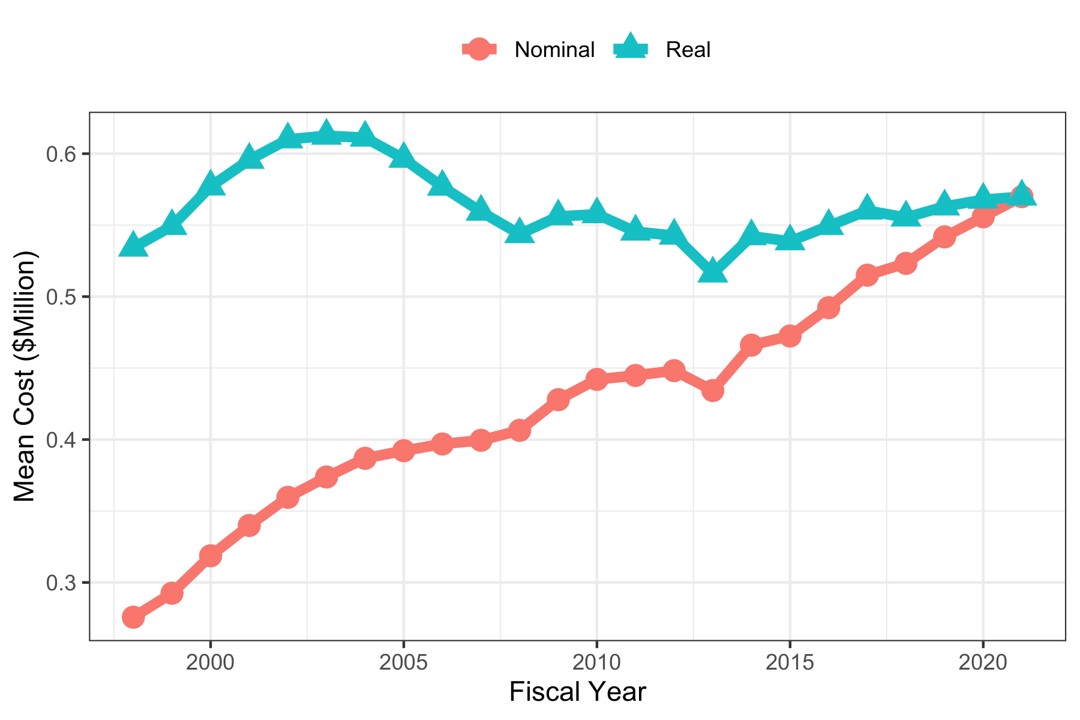 Figure 4: Median costs (namely total costs, including both direct and indirect costs) for funding RPGs FY1998 to FY2021.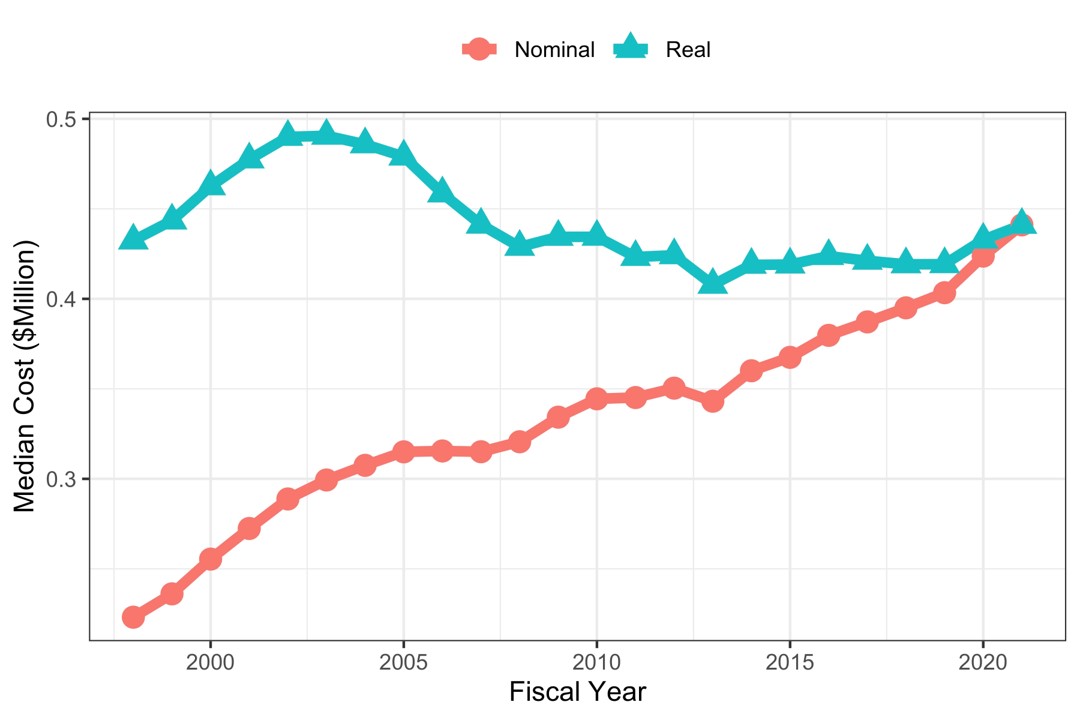 Figures 3 and 4 only shows central tendencies (mean and median). Figure 5 shows the yearly distribution of costs using box plots. The means (shown as diamonds) and medians (central lines) correspond to the data shown in Figures 3 and 4. The means are much greater than the medians, consistent with highly skewed distributions. The whiskers are also quite long, consistent with "fat-tailed" distributions.
Figure 5: Box plots showing year-by-year distribution of RPG costs (in FY2021 BRDPI-adjusted dollars) from FY1998 to FY2021.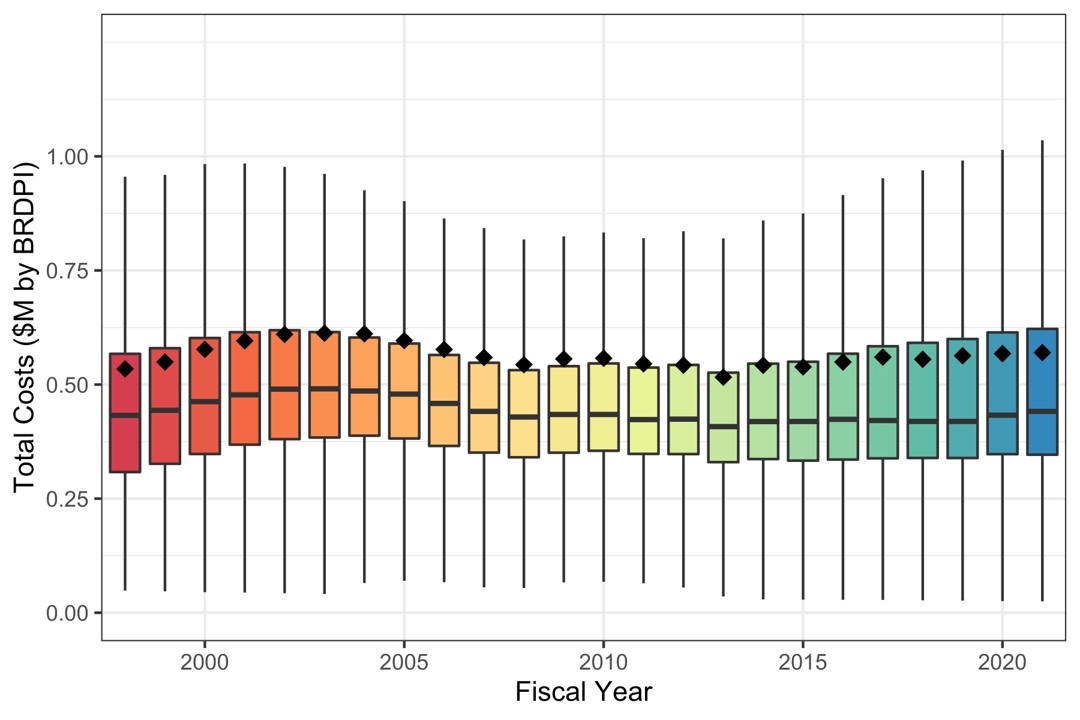 Careful inspection of Figure 5 reveals an interesting pattern in variation. From the time of the doubling until about 2010, the distance between the whisker tips decreased. We can call this distance the "whisker range." From 2012 through 2021 whisker ranges increased, exceeding levels for the doubling. We can think of the upper (and lower) whisker tips as the most extremely expensive (inexpensive) award that is not an outlier; the distance of the tips from the center (median) reflects the agency's general willingness to vary its funding instruments. Figure 6 shows the whisker ranges declined from $920,000 to $750,000 between FY2002 and FY2010 and increased to over $1 million in FY2021.
Figure 6: Distance from box-plot whisker tips (from Figure 5) FY1998 to FY2021.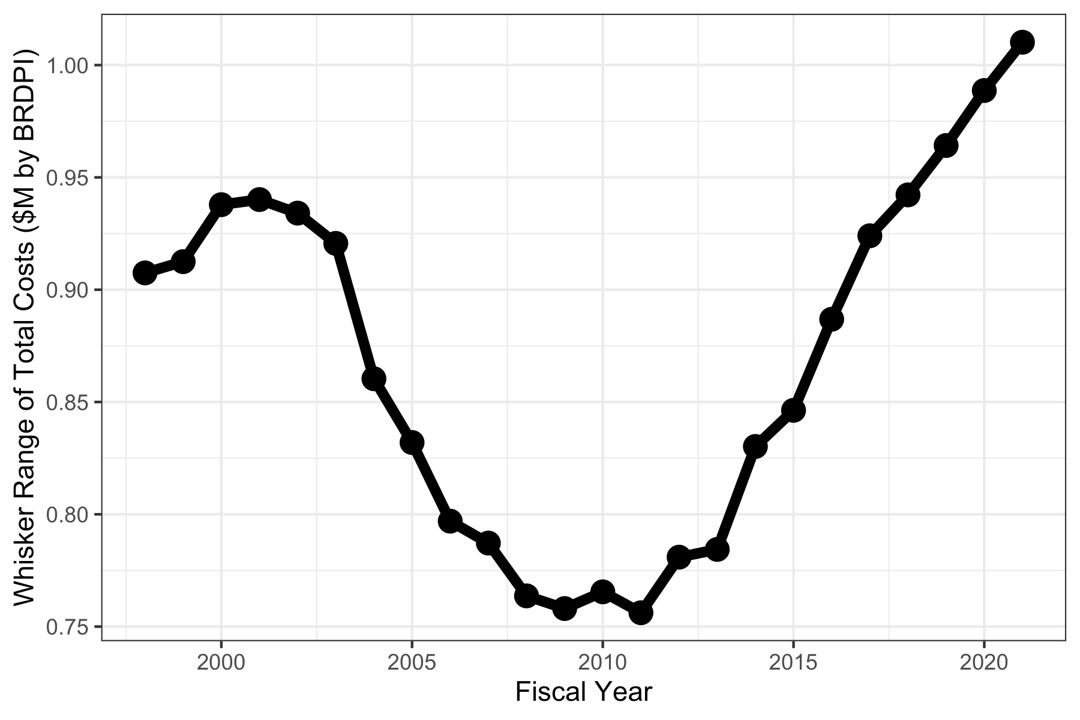 What's behind these trends? Table 1 shows characteristics of funded RPGs in select fiscal years 1998 (begin of budget doubling), 2003 (end of budget doubling), 2013 (sequestration), 2019 (before the pandemic), and 2021 (most recent year). Over time a greater proportion of RPGs are funded from IC solicitations, involve high total costs (defined here as >$ 5 million is 2021 inflation-adjusted dollars), cooperative agreements, and R03 or R21 mechanisms.
Table 1: Characteristics of funding competing and noncompeting RPGs in select fiscal years.
Characteristic
1998
2003
2013
2019
2021
Total N (%)
26882 (15.5)
35513 (20.5)
33047 (19.1)
38241 (22.1)
39513 (22.8)
Total Costs ($M BRDPI)
Mean (SD)
0.53 (0.58)
0.61 (0.76)
0.52 (0.70)
0.56 (0.88)
0.57 (0.90)
Unsolicited
N (%)
21905 (81.5)
25913 (73.0)
23300 (70.5)
24153 (63.2)
23471 (59.4)
R01-Equivalent
N (%)
21543 (80.1)
30124 (84.8)
26199 (79.3)
29341 (76.7)
31258 (79.1)
R21 or R03
N (%)
1424 (5.3)
3920 (11.0)
4805 (14.5)
5478 (14.3)
4949 (12.5)
Program Grant
N (%)
811 (3.0)
984 (2.8)
595 (1.8)
374 (1.0)
328 (0.8)
Cooperative Agreement
N (%)
623 (2.3)
1493 (4.2)
1709 (5.2)
2437 (6.4)
2404 (6.1)
Costs > $5 million BRDPI
N (%)
38 (0.1)
102 (0.3)
70 (0.2)
140 (0.4)
135 (0.3)
Clinical Trial
N (%)
2389 (7.2)
3706 (9.7)
4176 (10.6)
Human or Animal
Neither (%)
5715 (21.3)
6799 (19.1)
6197 (18.8)
7207 (18.8)
7627 (19.3)
Animal (%)
11357 (42.2)
14877 (41.9)
14842 (44.9)
16231 (42.4)
16633 (42.1)
Human (%)
7063 (26.3)
10529 (29.6)
9424 (28.5)
11275 (29.5)
11820 (29.9)
Both (%)
2747 (10.2)
3308 (9.3)
2584 (7.8)
3528 (9.2)
3433 (8.7)
In summary, these analyses show that:
The rate of inflation for NIH-funded research (that is the BRDPI) was higher than the general rate of inflation from 1998 until 2012; since then, the rate of inflation for NIH-funded research has been similar to or even lower than the general rate of inflation. The more recent declines in the BRDPI may be related to caps on compensation of extramural
Despite increases in nominal costs, recent years have seen increases in the absolute numbers of RPG and R01-equivalent awards.
Real (BRDPI-adjusted) average and median RPG costs increased during the NIH-doubling (1998 to 2003), but has remained stable since.
The degree of variation of RPG costs has changed over time, with more marked extremes observed on both higher and lower levels of cost. On the higher end, over time NIH has been funding more cooperative agreements, more projects exceeding $5 million (in FY2021 BRDPI, not nominal, values), and more clinical trials. On the lower end of cost, over time the agency has been funding more low-cost mechanism awards (R03 and R21). On both ends, the agency is funding a greater proportion of solicited projects, with nearly half of RPG money going towards solicited projects.
Recalling the automobile rental firm analogy, NIH may be pursuing the strategy of simultaneously purchasing more expensive (large vans) and less expensive (compact cars) vehicles.
If you want to learn more about these analyses, please see this more detailed report.
I am grateful to my colleagues in the OER Division of Statistical Analyses and Reporting for their help in conducting and reporting these analyses.
*The post was updated to correct the order of figures.