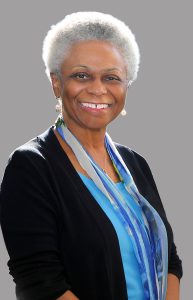 Guest post by Marie A. Bernard, M.D., NIH Chief Officer for Scientific Workforce Diversity, originally posted on the NIH Chief Officer for Scientific Workforce Diversity Office Blog.
In the COSWD Office, we continually explore ways to foster inclusive excellence in the biomedical research enterprise. As such, I have decided to hold all COSWD seminars, conferences, and meetings entirely online throughout 2022.
The COVID-19 pandemic-induced shift to online events has led to a growing body of research on the impacts of virtual scientific convenings. A review of this literature suggests that an entirely or primarily virtual format can enhance meeting access, diversity, and climate.
Impacts on Meeting Access, Diversity, and Climate
Scientific conferences and meetings are critical to a scientist's professional development, historically offering in-person opportunities to disseminate research, engage with colleagues, and develop vital networks. Yet these on-location events are not always inclusive of groups underrepresented in science.
For example, a 2021 Nature Human Behaviour study examined 270 in-person conferences hosted by scientific societies and organizations in 2018 and 2019. The analyses revealed most of these were organized in ways that led to exclusionary practices based on gender, career stages, and ethnic, racial, socioeconomic, and geographical backgrounds. The authors suggest that a shift to fully or primarily virtual conferences can minimize many of these practices.
A virtual format can promote diversity, equity, and inclusion (DEI) at science and engineering conferences, according to a recent Nature Sustainability study. The authors reached this conclusion after exploring how the change from in-person to online conferences impacted event DEI participation. The authors advocate for a shift to virtual convenings, in part because they reduce the economic and travel-related barriers that often discourage women, individuals with disabilities, and early-career researchers from attending in-person events.
Another recent study affirms that online meetings can promote participant diversity by minimizing barriers to attendance. The authors analyzed the demographics of attendees at scientific conferences before and after the adoption of a virtual format. They observed a significant increase in attendees from underrepresented groups at the virtual events and suggest online platforms may be more inclusive by offering increased accessibility and programming flexibility compared to in-person convenings.
Virtual conferences may also enhance scientific workforce diversity by providing a more accessible, welcoming environment for students, early-career investigators, and members of underrepresented groups. For example, those who find in-person conferences unwelcoming or intimidating may feel more comfortable contributing to discussions at virtual convenings by using the chat or comment features. Thus, the inclusiveness of virtual conferences can encourage members of underrepresented groups to participate, fostering their professional growth.
There are also developing data suggesting that virtual conferencing may be associated with a smaller carbon footprint than would be expected if participants traveled to a physical meeting location.
Shortcomings of Virtual Convenings
Although virtual convenings have advantages that may help close equity gaps, they also have shortcomings. For example, some virtual conference attendees perceive online opportunities to network and make social connections less engaging or effective. In addition, online convenings can present a challenge for groups including individuals with disabilities if appropriate accommodations are not provided, as well as those who lack sufficient internet bandwidth and anyone with simultaneous caregiving responsibilities.
I am concerned about these issues, yet the ability of virtual convenings to bring greater equity to the scientific endeavor supports their continuation. It is my hope that all scientific meetings will have a virtual option going forward to allow more participation than was the case pre-pandemic. Of course, hybrid meetings bring with them challenges that require focus and creativity: balancing the needs of in-person and remote attendees. My office will continue exploring ways to ensure accessibility and inclusivity in every aspect of our virtual events and share our findings with the scientific community.