An extensive literature demonstrates that socioeconomic status is one of the strongest predictors of health, on par with typical risk markers like smoking, physical inactivity, hypertension, and diabetes. An intriguing graphic shows life expectancy according to stops on the London subway system – as described in a news story, "if you travel eastbound between Lancaster Gate and Mile End – 20 minutes on the Central line – life expectancy decreases by 12 years." This association of strong links between socioeconomic status and health is remarkably reproducible – including on subway maps of the Washington DC area and in a study of Northeastern Ohio patients undergoing stress testing at the Cleveland Clinic.
This same pattern – low socioeconomic status and poor outcome – applies to educational outcomes: if anything, the differences are even more striking. A study of 2002 high-school sophomores found that 10 years later, in 2012, 60% of those from a high socioeconomic status received a bachelor's degree compared to only 29% of those from a middle socioeconomic status and 14% of those from a low socioeconomic status. These differences are enormous – coming from a high socioeconomic status background doubles to quadruples the likelihood of receiving a bachelor's degree. Furthermore, among students who do attend college, lower socioeconomic status predicts a much lower likelihood of choosing a "STEM" major. Even among those students who make it all the way to securing a position as a full-time professor, low socioeconomic status background continues to present barriers to success.
NIH recognizes it needs to encourage and enable careers of biomedical scientists with disadvantaged backgrounds. In a 2018, Guide Notice (NOT-OD-18-210) describing our interest in diversity, we stated that "NIH encourages institutions to diversify their student and faculty populations to enhance the participation of individuals from groups that are underrepresented in the biomedical, clinical, behavioral and social sciences (NOT-OD-18-210), such as:
Individuals from racial and ethnic groups that have been shown by the National Science Foundation to be underrepresented in health-related sciences on a national basis…
Individuals with disabilities …, and individuals from disadvantaged backgrounds …"
Despite our calling out "individuals from disadvantaged backgrounds," less than 1% of investigators on diversity supplement applications in FY2018 came in under the disadvantaged background category, category C (see Figure 1).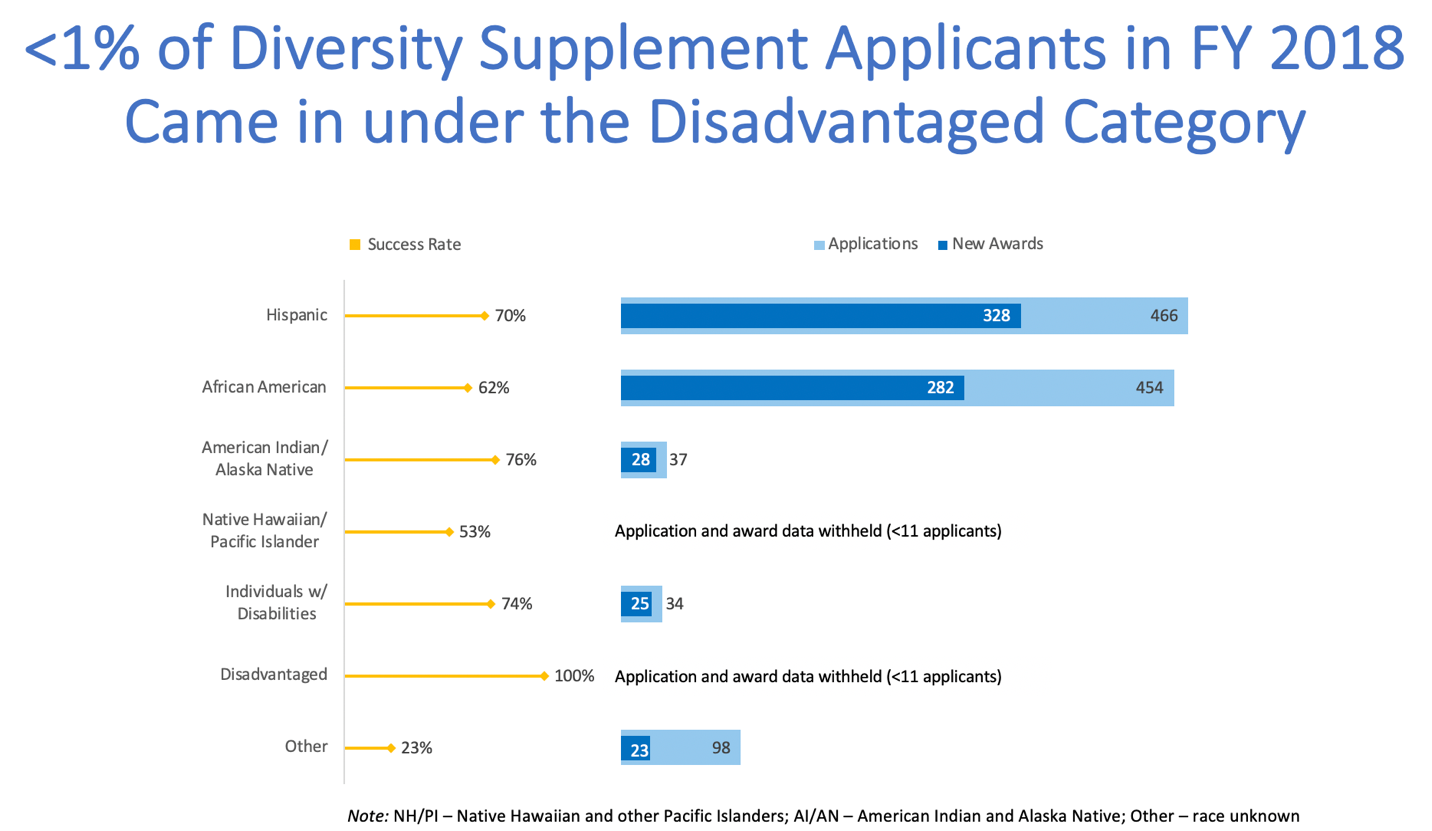 Why so few? We suspect that a critical reason is our definition of a disadvantaged background. Looking at NOT-OD-18-210 in detail, we offer two criteria for defining a disadvantaged background:
Individuals who come from a family with an annual income below established low-income thresholds
Individuals who come from an educational environment such as that found in certain rural or inner-city environments that has demonstrably and directly inhibited the individual from obtaining the knowledge, skills, and abilities necessary to develop and participate in a research career.
On careful inspection, that first item is extraordinarily narrow – the annual threshold for a family of 4 is only $25,750. For the United States, that's severe poverty and represents an overly strict threshold. In fact, most US government programs typically use a threshold that are twice the values listed.
The second bullet has the opposite problem – it might be broad and inclusive but is nearly impossible to evaluate. What does "certain rural or inner-city environments" mean?
Given these difficulties, NIH has considered a different approach to defining scientists from disadvantaged backgrounds (which we announce in the NIH Guide NOT-OD-20-031). We reviewed a wide variety of criteria, looking for those that are relatively easy to self-evaluate and that capture a large proportion of affected people. Now, through this Guide Notice which supersedes current diversity language in existing funding opportunities, we will consider scientists to have come from a disadvantaged background if they meet at least two of the following criteria.
Were or currently are homeless, as defined by the McKinney-Vento Homeless Assistance Act
Were or currently are in the foster care system, as defined by the Administration for Children and Families;
Were eligible for the Federal Free and Reduced Lunch Program for two or more years;
Have/had no parents or legal guardians who completed a bachelor's degree (see the U.S. Department of Education);
Were or currently are eligible for Federal Pell grants;
Received support from the Special Supplemental Nutrition Program for Women, Infants and Children as a parent or child;
Grew up in one of the following areas: a) a U.S. rural area, as designated by the Health Resources and Services Administration Rural Health Grants Eligibility Analyzer, or b) a Centers for Medicare and Medicaid Services-designated Low-Income and Health Professional Shortage Areas (qualifying zip codes are included in the file). Only one of the two possibilities in #7 can be used as a criterion for the disadvantaged background
This revised definition should better capture many scientists with a disadvantaged background, and be relatively easy to assess, ensuring we continue enhancing the diversity of the biomedical research workforce.
We encourage scientists with a disadvantaged background to apply to our diversity programs.  We look forward to seeing your applications!
Update (2/19/20): Want more on NIH's interest in diversity, supplement programs, and the revised definition? Listen to this NIH All About Grants podcast with Dr. Jon Lorsch, Director of the National Institute of General Medical Sciences (MP3 / Transcript).