In response to questions about career development (K) award policies, NIH issued a Guide Notice NOT-OD-17-094, to clarify percent effort requirements for K award principal investigators (PIs), and acceptable sources of research support. We'd like to provide some additional details to put the recent Guide Notice in context with existing K award policies on percent effort.
For most K award programs, the K award PI (K awardee) must commit at the minimum 9 person months, equivalent to 75% full-time professional effort, directly to their research project and career development activities. The remaining effort (up to 25%) can be devoted to additional research, teaching, clinical work, or other efforts complementary to career development of the K awardee. NIH provides some salary support as part of the K award, and often institutions will supplement the salary of these K award PIs up to a level that is consistent with the institution's salary scale.  NOT-OD-17-094 clarifies that salary supplementation for the K awardee's time spent devoted to the career development award and directly related to the research project is allowable, but must be from non-Federal sources, which can include institutional sources, and must not require extra duties or responsibilities that would interfere with the goals of the K award.  For additional research projects, the effort not directly committed to the K award (commonly up to 25%), K award recipients may devote effort, with compensation, from Federal or non-Federal  research projects as principal investigator, or in another role (e.g., co-Investigator), as long the specific aims of the other supporting grant(s) differ from those of the K award (see Figure 1). K awardees may also be compensated for effort devoted to teaching or clinical activities.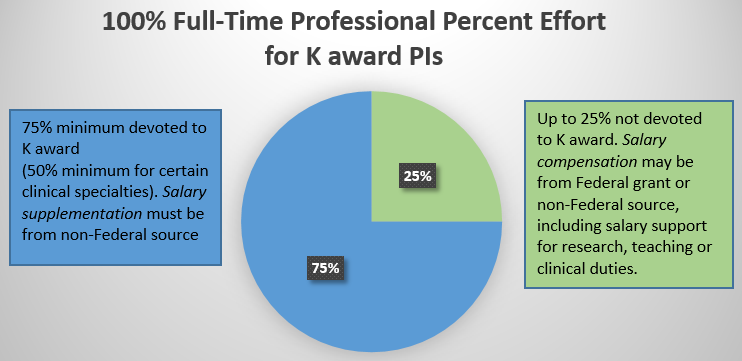 Most K programs are mentored career development awards, where a faculty mentor provides guidance to support transition of the K award recipient to independence. On mentored K awards of a 3-5 year duration, NIH policy provides a transitional period to permit the K award PI to apply for and if awarded, lead, an independent research project. If the mentored K awardee successfully becomes a PD/PI of a peer-reviewed research award from NIH or any other Federal agency during the final two years of their K award, they are permitted to reduce the effort devoted to the aims of the K award project from a minimum of 75% to a minimum of 50%. As described in NOT-OD-08-065, at the time the new research grant is awarded, this reduced effort on the K award may be replaced by effort and corresponding salary from the research award, so that the combined total research commitment of the PI remains 75% or more for the duration of the mentored K award (see Figure 2).
Have additional questions about percent effort and K awards for your K award, or for a specific K award PI at your institution? Contact the grants specialist listed on the notice of award for guidance specific to you. General policy questions may be directed to the Division of Biomedical Research Workforce at NIHTrain@mail.nih.gov.
[Note: edited text to clarify that "For most K award programs, the K award PI (K awardee) must commit at the minimum 9 person months, equivalent to 75% full-time professional effort, directly to their research project and career development activities." 10/12/2017 NIH staff]