Working with NIH applicants and awardees as an extramural program division director, I often shared the NIH RePORTER resource as a tool for exploring the research topics NIH supports.  Learning what projects we support, using a robust database of historical and newly-funded projects (updated weekly), provides researchers valuable insight as they consider developing their own research programs and applications for funding.
Another valuable tool which you might be familiar with is Federal RePORTER, which expands the RePORTER concept to support searching over 800,000 projects across 17 Federal research agencies, with trans-agency data updated annually. As Federal RePORTER recently received an update to introduce some new functions and additional agency data we'd like to highlight some of the ways it helps both the public and scientific researchers alike understand the government's research portfolio and trace its impact through published articles and patents.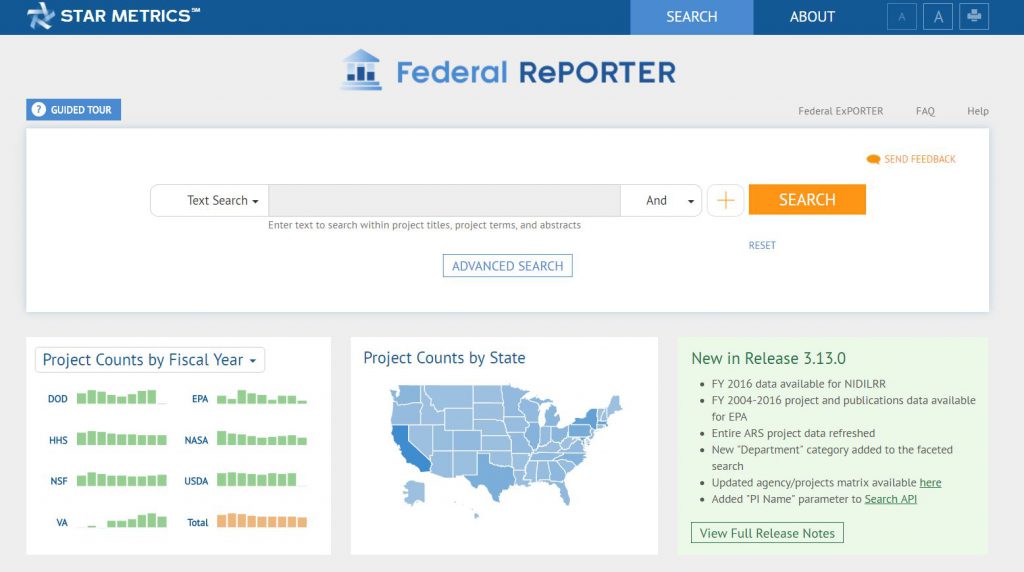 Search or browse data across agencies: Federal RePORTER is designed for ease-of-use. The homepage offers quick search tools for the most commonly used fields, or you can skip the search and use the interactive bar charts and maps on the home page to quickly drill down to projects funded by a certain agency or projects occurring in a particular state. We've also added easy-to-follow walkthroughs as "Guided Tour" links on the home page, advanced search page, and results page to learn more. From your search results, you can refine results through links on the sidebar, or read more about individual projects (including a description, and details on the investigator, research organization, and funder.)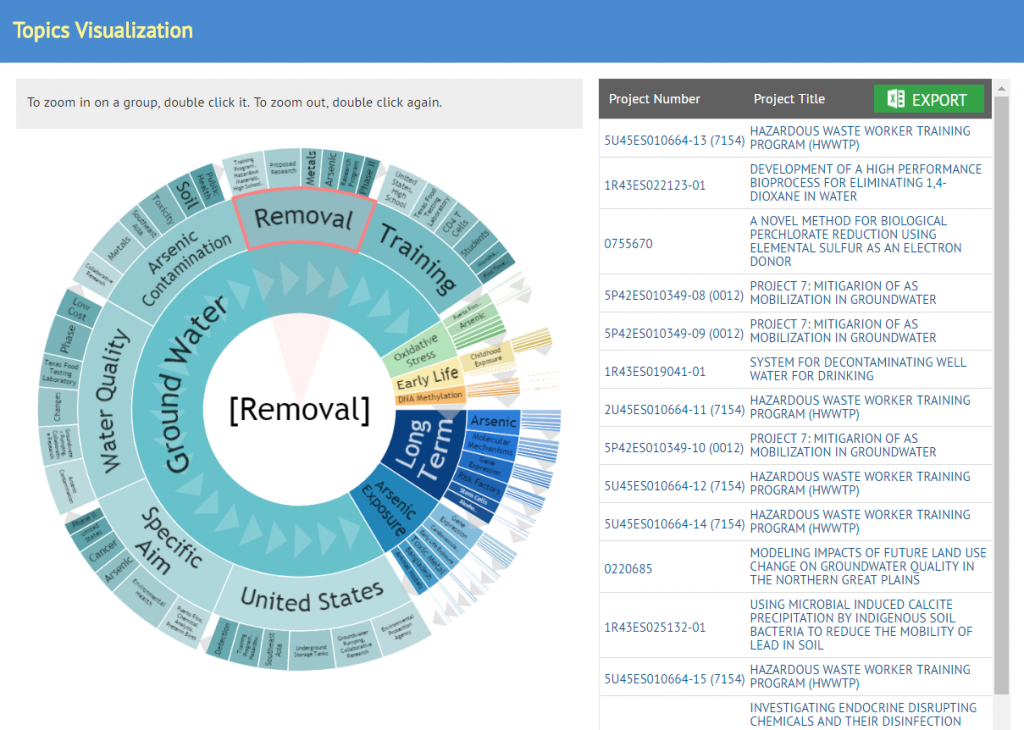 Explore search results even further:  As with NIH RePORTER, you can export the results for further exploration and analysis, or use the built -in "Charts", "Map", or "Topics" tools from the sidebar to learn more about the projects, as in the examples shown below. For example, you can summarize the projects by agency, state, or fiscal year (Figure 2), or map where the research is taking place (Figure 3). You can also explore groups of scientific topics within your search results (for example, a search for "lead" and "drinking water" returns groups of projects covering "ground water", " early life", "arsenic exposure", and more.) From there, you can drill down into subgroups, to generate lists of projects in that group (Figure 4).
Identify research outcomes: Federal RePORTER aims to link Federal funding to the outcomes of research including publications and patents. Using agency-supplied information, the public can trace the impact of the funding by seeing what academic publications and patents cited the project funding.
With growing resources for identifying agency-supported publications, future plans include expanded coverage of these two important measures of research impact.
These are just a few of the excellent Federal RePORTER features that can help you find collaborators, get to know the research interests of federal science-funding agencies, understand your institution's sources of support, and prepare your applications and research plan equipped with additional knowledge. We are grateful to all of the federal agencies and offices that provide data and support to Federal RePORTER and make this resource possible.  These new functions, additional agency data, and modernized user interface make it easier for you – and all stakeholders in the U.S. scientific enterprise – to learn about the Federal science and engineering portfolio.