Measuring the impact of NIH grants is an important input in our stewardship of research funding. One metric we can use to look at impact, discussed previously on this blog, is the relative citation ratio (or RCR). This measure – which NIH has made freely available through the iCite tool – aims to go further than just raw numbers of published research findings or citations, by quantifying the impact and influence of a research article both within the context of its research field and benchmarked against publications resulting from NIH R01 awards.
In light of our more recent posts on applications and resubmissions, we'd like to go a step further by looking at long-term bibliometric outcomes as a function of submission number. In other words, are there any observable trends in the impact of publications resulting from an NIH grant funded as an A0, versus those funded as an A1 or A2? And does that answer change when we take into account how much funding each grant received?
First, let's briefly review long-term historical data on R01-equivalent applications and resubmissions.
Figure 1 shows the proportions of over 82,000 Type 1 R01-equivalent awards by resubmission status. We see dramatic shifts: 20 years ago, and during the doubling, the majority of awards came from A0 applications. By the time of the payline crash (~2006), most awards came from A1 and A2 applications. In 2016, several years after A2s were eliminated, half of awards came from A0 applications and half from A1 applications.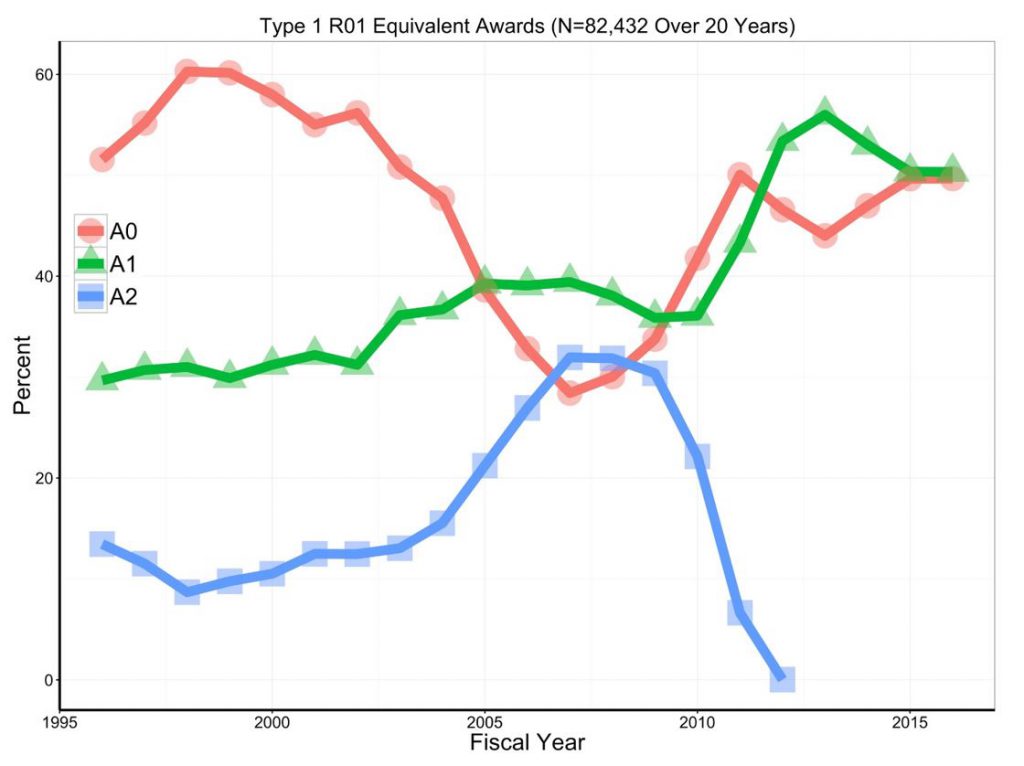 Figure 2 shows award rates. Over the years, resubmissions consistently do better; in 2016, A1 submissions were three times more likely to be funded than A0s.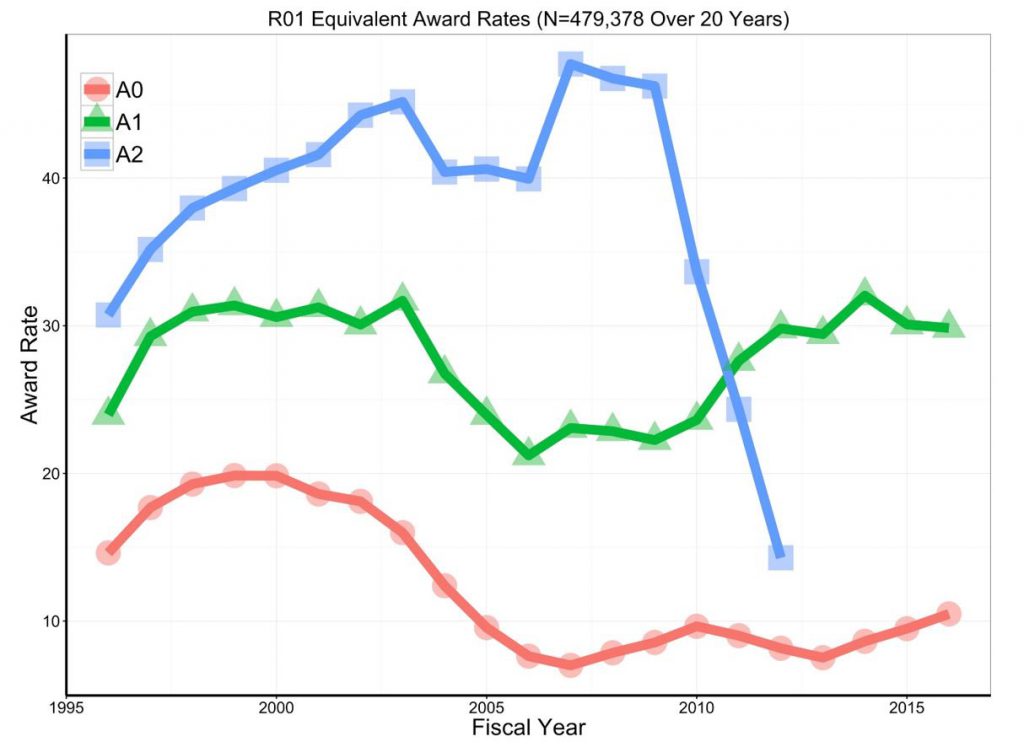 Now we'll "switch gears," and look at long-term grant bibliometric productivity as associated with resubmission status. We'll focus on 22,312 Type 1 R01-equivalent awards first issued between 1998-2003: this was a time when funds were flush (due to the NIH budget doubling) and substantial numbers of awards were given as A0s (N=11,466, or 51%), A1s (N=8,014, or 36%), and A2s (N=2,832, or 13%). By looking at grants that were first awarded over 14 years ago, we've allowed all projects plenty of time to generate papers that then had time to receive citations.
Table 1 shows grant characteristics according to resubmission status at the time of award. Characteristics were generally similar except that a smaller proportion of A0 awards involved human subjects.
 

Table 1

A0

(N=11,466)

A1

(N=8,014)

A2

(N=2,832)

Percentile
15 (7-21)
14 (8-21)
14 (8-20)
Human study
34%
42%
42%
Animal study
50%
50%
51%
Total costs ($B-M)
2.2 (1.4-3.7)
2.0 (1.4-3.4)
1.9 (1.4-3.1)
Duration (years)
5 (4-10)
5 (4-9)
5 (4-6)
Continuous variables are shown as median (25th-percentile – 75th percentile) while categorical variables are shown as percent.
Table 2 shows selected bibliometric outcomes – total number of publications, number of publications adjusted for acknowledgement of multiple grants (as described before), weighted relative citation ratio (RCR), weighted relative citation ratio per million dollars of funding, and mean relative citation ratio. Figures 3, 4, and 5 show box plots for weighted RCR, weighted RCR per million dollars of funding, and mean RCR, with Y-axes log-transformed given highly skewed distributions. We see a modest gradient by which productivity is slightly higher for grants awarded at the A0 stage than for grants awarded on A1 or A2 resubmissions.
 

Table 2

A0

(N=11,466)

A1

(N=8,014)

A2

(N=2,832)

Papers
10 (4-21)
9 (4-19)
9 (4-17)
Papers adjusted*
5.1 (2.1-11.5)
4.9 (2.0-10.5)
4.8 (2.0-9.9)
Weighted RCR*
6.3 (1.8-17.3)
5.7 (1.7-15.2)
5.2 (1.5-13.6)
Weighted RCR*/$Million
2.93 (1.00-6.55)
2.66 (0.92-6.09)
2.60 (0.88-5.94)
Mean RCR
1.29 (0.76-2.04)
1.22 (0.74-1.91)
1.16 (0.68-1.83)
*Accounting for papers that acknowledge multiple grants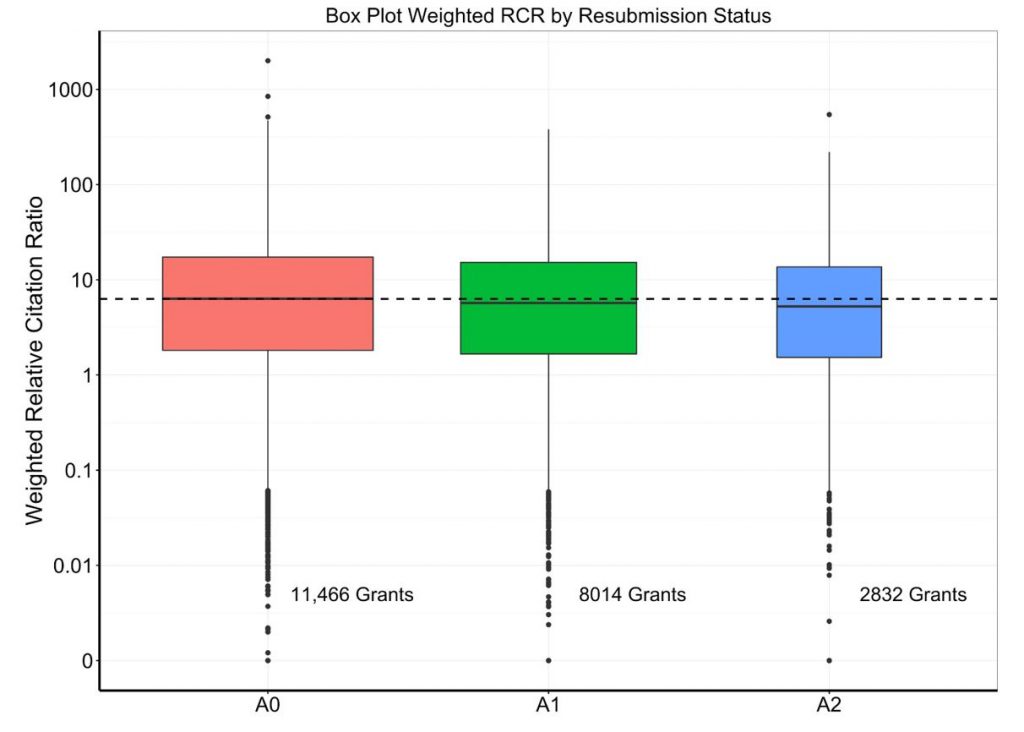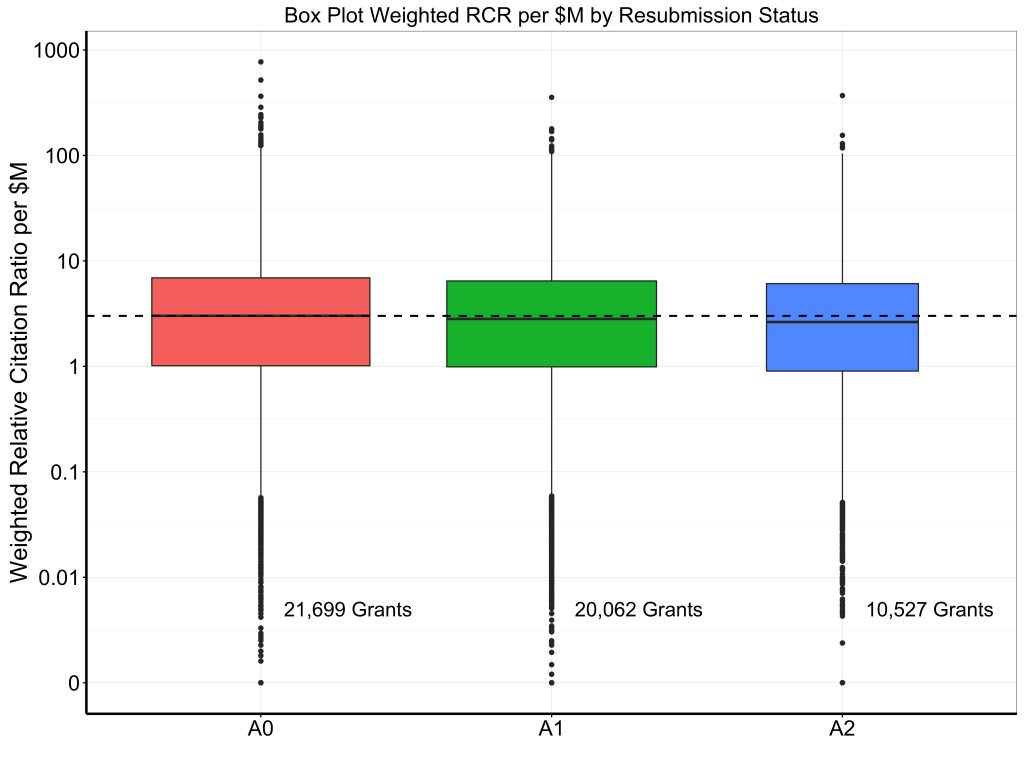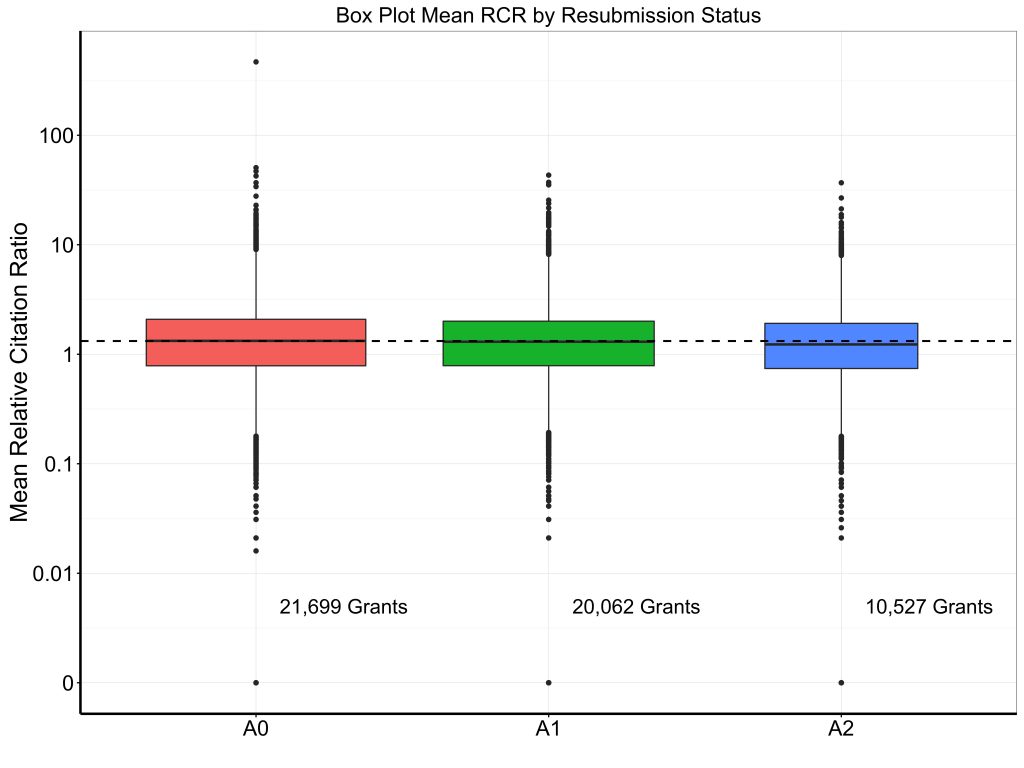 In summary, over the past 20 years we have seen marked oscillations in application and resubmission status, reflecting changes in policy (e.g. end of A3's in 1997, end of A2's in 2011, permission for "virtual A2s" in 2014) and changes in budget (e.g. doubling from 1998-2003, stagnation in the years following, increase in 2016). In 2016, about three-quarters of applications are A0 and one-quarter are A1s; half of awards stem from A0 applications, while half stem from A1 applications. We see no evidence of improvements in bibliometric productivity among grants that were awarded after resubmission; if anything, there's a modest gradient of higher productivity for grants that were funded on the first try.