In 2014, the NIH announced that it was going to distribute the NIH postdoctoral benefits survey to collect information on benefits available to postdoctoral researchers at different institutions. The survey was launched in response to a report on the biomedical research workforce from an Advisory Committee to the Director (ACD) working group. The report included recommendations for improving graduate student and postdoctoral research training through a number of measures that included increasing postdoctoral NRSA stipends and considering adjustments to policies related to benefits like health insurance.
With regard to benefits, the report recommended:
"NIH should require and adjust its own policies so that all NIH-supported postdoctoral researchers on any form of support (training grants, fellowships or research project grants) receive benefits that are comparable to other employees at the institution. Such benefits include paid time off, health insurance, retirement plans, maternity leave etc."
As a first step in the gathering information from NIH stakeholders pursuant to the report, OER staff members issued a request for information (RFI) inviting comments on several of the recommendations. Respondents to the RFI who commented on postdoctoral benefits expressed concerns about differences in benefits available across different classes of postdocs and supported the idea that all postdocs should have comparable benefits including: health insurance, dental insurance, vision insurance, disability insurance, retirement plans, as well as annual, sick and parental leave As many readers know from firsthand experience, in accordance with the NIH grants policy statement, NIH trainees and fellows "generally are supported for 12-month full-time training appointments for which they receive a stipend as a subsistence allowance to help defray living expenses during the research training experience. The stipend is not "salary" and is not provided as a condition of employment with either the federal government or the recipient organization." This non-employment status associated with Ruth L. Kirschstein National Research Service Awards (NRSA) was identified as a potential contributor to the observed differences in benefits of NRSA recipients compared with postdocs supported on NIH research grants who, at some institutions are considered as employees. Several commenters offered personal examples of challenges or hardships stemming from the lack of benefits at their institutions.
The NIH postdoctoral benefits survey was designed to collect more structured and reliable data on the types of benefits offered to postdocs and how those benefits might differ across different forms of support at different institutions. The survey was conducted in collaboration with the National Council of University Research Administrators (NCURA), which helped identify administrators at member institutions. The institutions invited to take the survey included 334 unique educational institutions, research institutes and research hospitals. All institutions had received at least one NRSA award and/or supported at least one postdoctoral researcher on an NIH research grant during fiscal year 2013.
In total, the NIH received 167 responses (including partial responses) for a response rate of 50%. Respondent institutions reported that 91% of postdocs received health insurance and 88% received dental insurance that was similar to comparable employees like staff scientists. However, postdocs were much less likely to participate in retirement plans that were comparable to other employees or to have similar leave benefits (55 and 70 percent, respectively). The survey showed that institutions with smaller numbers of postdocs were more likely to have similar health and/or retirement benefits than institutions with more postdocs.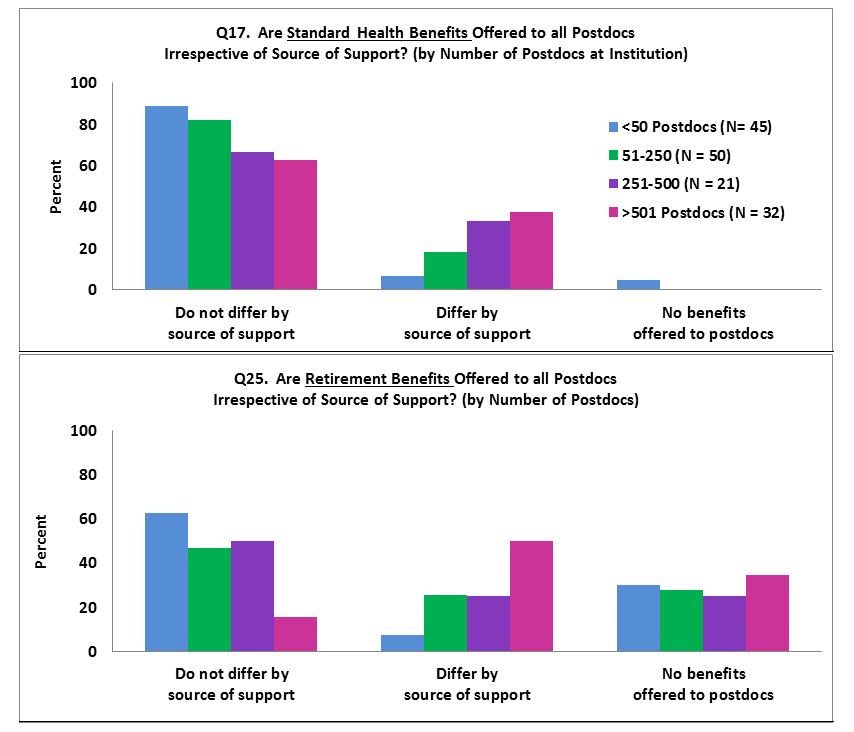 Among those institutions that reported offering different retirement benefits to postdocs supported on NIH grants compared with postdocs on NRSA support, only three institutions provided retirement benefits to NRSA recipients. Forty-four (29 percent) of the institutions reported that none of their postdocs receive retirement benefits.
Several of the respondents reported that the survey was difficult, requiring collaboration across multiple offices within the same institution. In some cases the complexity of the survey may have influenced the response rate and the quality of the information provided. Nevertheless, the results largely track with information collected by Sigma Xi, the Federal Demonstration Partnership (FDP) and the National Postdoctoral Association (NPA) and suggest that concerns described in the Biomedical Research Workforce Report are realistic. Although many institutions have identified ways to offer a standard benefit package to all of their postdocs, standardization appears to be difficult for other institutions, especially those with large numbers of postdocs. And, as previously reported, many NRSA recipients enjoy a less complete benefit package than those employed on research projects.
Considering the age, career stage, the duration of postdoctoral experiences, the ACD felt that all postdocs should have a full, standard benefit package. Over the next several months, the NIH will consider various policy approaches that will help institutions adjust benefits accordingly. Thanks again to the research institutions participating in the benefits survey; NIH looks forward to working alongside all its grantee institutions, and the research community as a whole, on this very important issue.