We have seen increased interest in the biomedical workforce by Congress and especially by our community. From our end we've in particular observed heightened attention to how the dynamics of the workforce impact researchers in the early stages of their careers. So the topic definitely deserves our continued attention and I thought in light of this it'd be a good time to share some of NIH's analyses on one specific aspect of this that my office has been closely examining.
We know that over time investigators are, on average, 42 years old when receiving their first R01, which is older than it was than before the doubling of the NIH began. And, we know that funding rates for both first-time NIH investigators and experienced NIH investigators alike have declined. So we wondered, of those first-time recipients of NIH R01-equivalent funding, how many years after their first year of R01 funding to they receive additional research grant funding? And furthermore, given the changes in NIH's budget over the years, does the year they received their first R01 – and the rise of fall of NIH funding – correlate with whether or not they remained an NIH-supported researcher in subsequent years?
Here is a graph of the amount of funding NIH had available for competing research project grant awards from 1986 through 2013. In blue are the actual dollar costs, and in red are constant dollars, normalized to the value of a dollar in 1986.
We chose three cohorts of first-time R01-equivalent awardees — those who received their first R01-equivalent award in 1989, 1997, or 2003. We looked at these three time periods because of their relation to the NIH budget when their initial award was coming to end, i.e., what was the budget like when they would need to re-compete. For the cohort with an initial award in 1989, four years later (1993), the NIH budget took a dip with little to no growth for a few years. For the cohort with an initial award in 1997, four years later (2001) the NIH budget was in the midst of doubling. Finally, for the cohort with an initial award in 2003, four years later (2007) the NIH budget was not growing and was actually losing purchasing power.
First, let's look at how these cohorts compare:

We used data on these three cohorts for a Kaplan-Meier analysis to look at rates of retention. Kaplan-Meier is a type of statistical analysis used to determine the likelihood that a specific event will occur (in this case, dropping out of the RPG funding pool) over the course of time. So we used this to analyzing the number of years between the first year of R01-equivalent funding, and the last time an individual receives any additional research project grant (RPG) funding – whether it be from the non-competing continuation of their 1st R01 or another RPG award.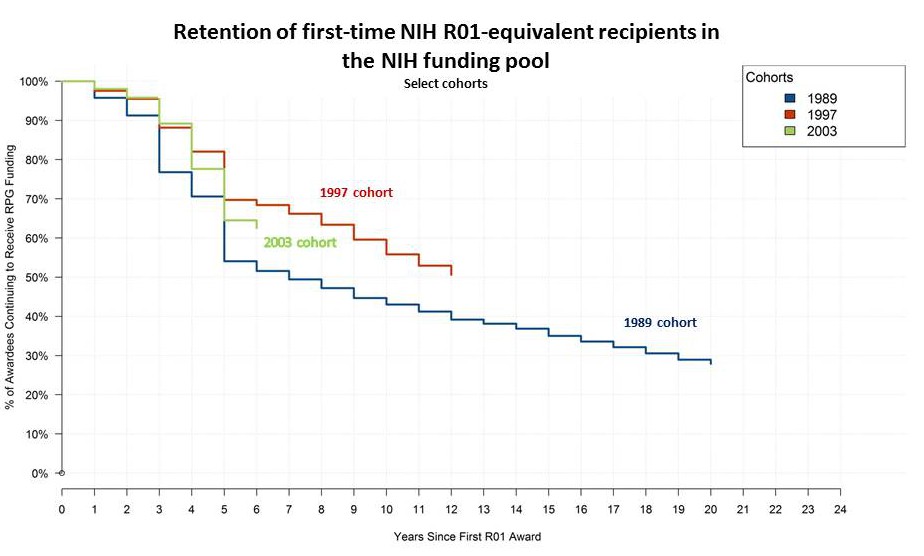 These retention curves tell us that for all three cohorts many PIs stop receiving NIH RPG funding about three to five years after they receive their first year of R01 funding. For the 1989 cohort, PIs drop out of the NIH RPG pool most markedly at years 3 and 5, with a sharp drop after year 5 followed by a steady slow subsequent decline. For the 1997 cohort, the drop between years 5 and 6 was much less precipitous, indicating that more PIs in this cohort were able to maintain competitive funding. This is not surprising given that they were re-competing during the NIH budget doubling. Indeed, 12 years later, over half of the PIs in the 1997 cohort still had RPG funding.
Now, let's look at the 2003 cohort. Again we see a drop between years 4 to 6, but it is not as severe as the 1989 cohort, yet not as buoyant as the 1997 cohort. As we complete the award data for FY 14, it will be interesting to see if the 2003 cohort continues to drop more sharply (because of the recent NIH budget) or if it moves into a more steady and slow decline similar to the earlier cohorts.
This of course leads to the question – do these PIs disappear from NIH's pool of RPG awardees because they never came back to apply for another grant? So, we performed a similar analysis with these cohorts, following the individuals through FY2013 but this time looking at the last year they submitted an RPG and drop out of the RPG applicant pool.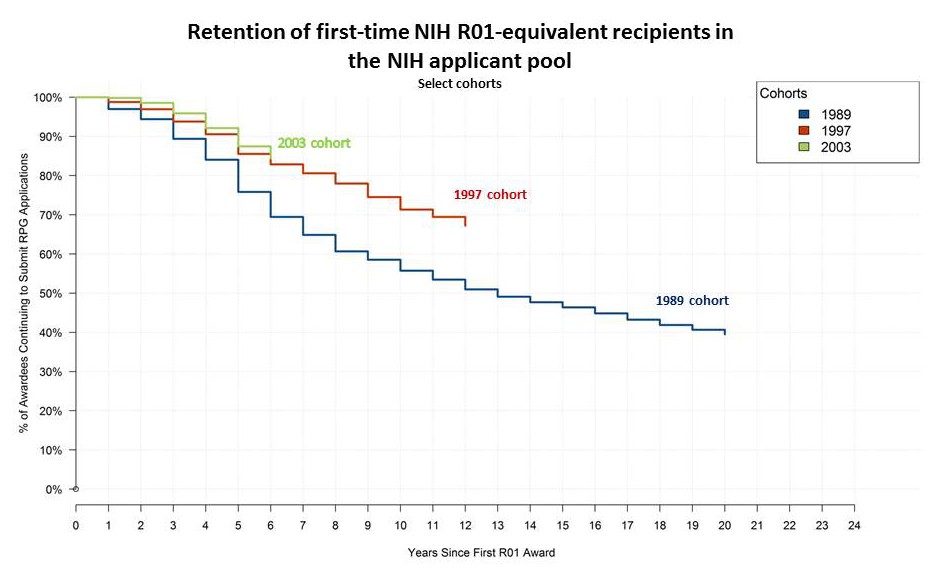 Interestingly, the 1989 cohort didn't return for funding persistently after their first R01, but the 1997 and 2003 cohorts did continue to submit RPG applications. While we can't use this data alone to determine why the 1989 cohort dropped out of the applicant pool at a faster rate than the '97 and 2003 cohorts, it is interesting to note the difference between the 1989 and later cohorts.
Looking at these three cohorts, there are a couple of take-away messages. First, a significant number of first time PIs appear to drop out of RPG funding status following their initial award regardless of the economic times; all three cohorts had dropped between 30 to nearly 50% within 5 years of the initial award. For the 1989 cohort, the drop out closely tracked with their lack of persistence in submitting application whereas both the 1997 and 2003 cohorts showed a more gradual decline in submitting RPGs. Second, the rate of drop out corresponds to the NIH budget climate at the time of re-competition with more PIs staying in the system during the period of the doubling than the period of time prior to the doubling. Although it is too soon to see the longer term retention of the 2003 cohort, the data to-date suggest that their retention is worse than those who recompeted during the doubling, yet slightly better than those who were recompeting in the late 90's, before the NIH doubling. Time will tell if this "between the extremes" status continues into the future.
These data seem to support the concept that if there is an intervention needed in retaining scientists in research, it would need to come at the renewal stage of the first award, or as some call it the "second" award. Indeed, we are giving increased focus to this stage through some of our new award mechanisms, such as the National Cancer Institute's Outstanding Investigator award, and will continue to seek ways of keeping our talent from leaking out of the pipeline.