In an earlier post we examined the number of competing applications for investigator-initiated research project grants (RPGs) over time and found that, in the past decade or so, most of the increase in submitted applications is due to more applicants rather than more applications per investigator. Nevertheless, we did see a slight rise in the average number of applications per applicant (from 1.3 in 1998 to 1.5 per year in 2011).
Looking at the average of the entire population of applicants could mask interesting variations in the data. To try to reveal such variations we decided to delve a little deeper into the top 100 NIH-supported institutions using the same data set as in the previous post (i.e., only investigator-initiated competing applications for RPGs, Recovery Act excluded). The figure below shows a scatter plot of the average number of applications per principal investigator (PI) at those institutions over 5 years, from fiscal year 2007 to fiscal year 2011 (each point represents an institution). We used the average number of applications/PI at each institution so that the analysis would not be skewed by differences in the number of investigators at each institution. The first thing you can see is that although the average number of applications per PI is quite variable, it clusters between 2.5—4 applications/PI over the 5 year period.
We also considered the question of what correlation might exist between the number of applications submitted and the percentage of funded applications at each institution. It is evident from the data that, even within our top 100 funded organizations, institutions with similar averages of submitted applications per PI can have very different levels of success. For example, among institutions with an average of 2.9—3.1 applications/PI, anywhere from 11% to 30% of the applications were funded.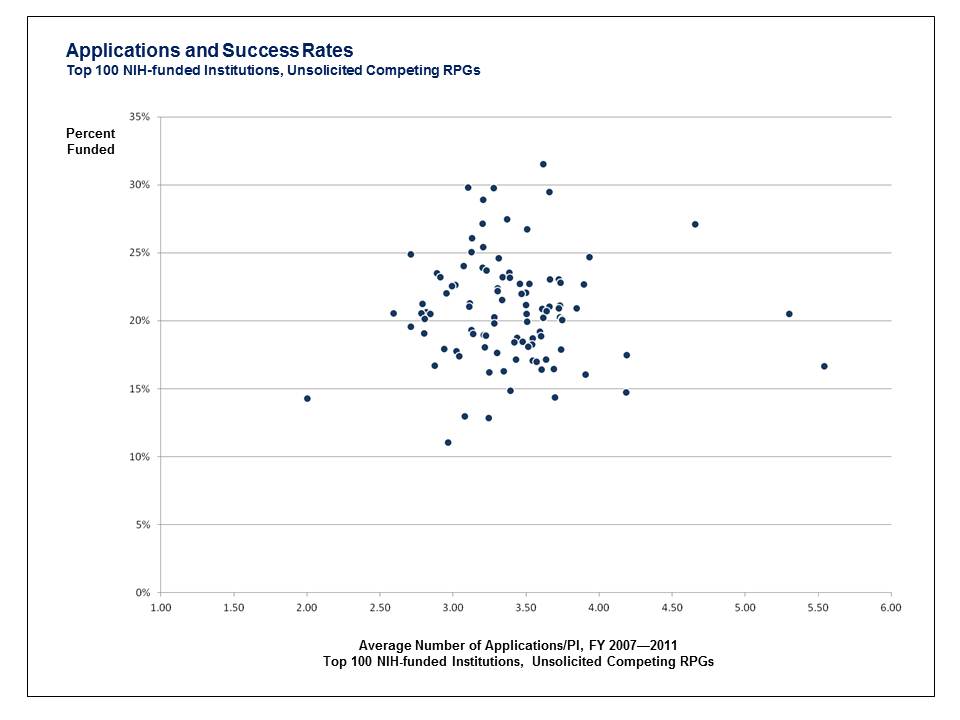 Of course, there may be many reasons for this variability in funding rates, such as differences in the types of science conducted at different institutions and the capabilities of the applicants. Another possibility is that that there are differences in the management practices of each institution and how institutions review or vet applications before submission. Whatever the reason, we don't see a strong correlation between the average number of applications submitted per PI and the percent of funded applications.