A few blogs ago, I provided information about investigators and different institution types. Let's cut the data a couple additional ways. We've seen that investigators with a PhD tend to do slightly less well when competing for NIH funding. When you break out investigators by degree and the type of institution they work at, there isn't really a big difference that pops out between those with an MD, PhD, or MD/PhD.
What if we compare the funding rate of investigators with a PhD from different institution types to each other? What you see is that investigators with a PhD at medical schools and research institutes fare better (by several percentage points) when compared to investigators with a PhD at institutions of higher education (not including medical schools).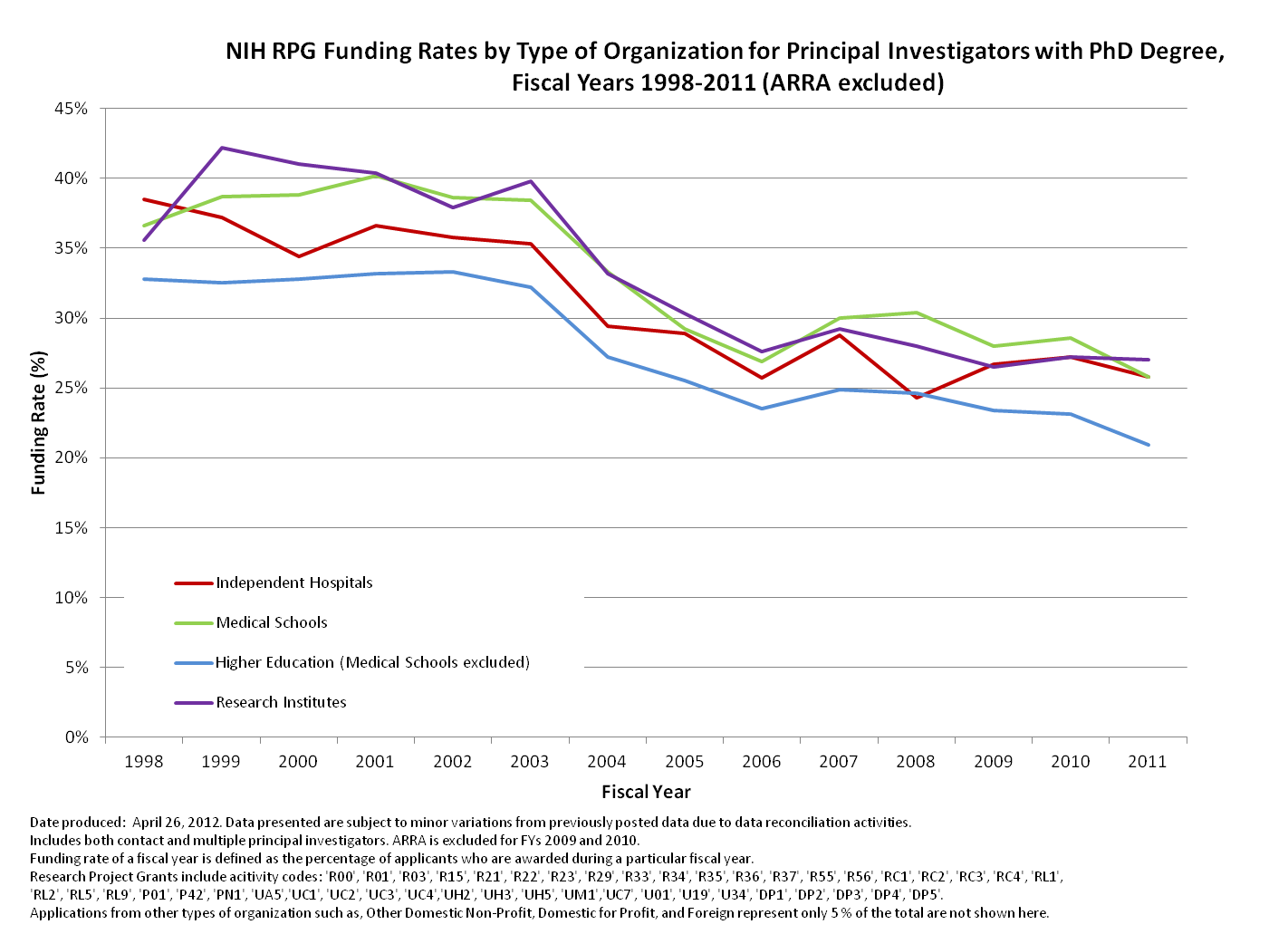 If we look at funding rates broken out by type of organization, all investigators combined, we see a similar pattern. Overall, institutions of higher education (not including medical schools) have a lower funding rate when compared to independent hospitals, medical schools, and research institutes.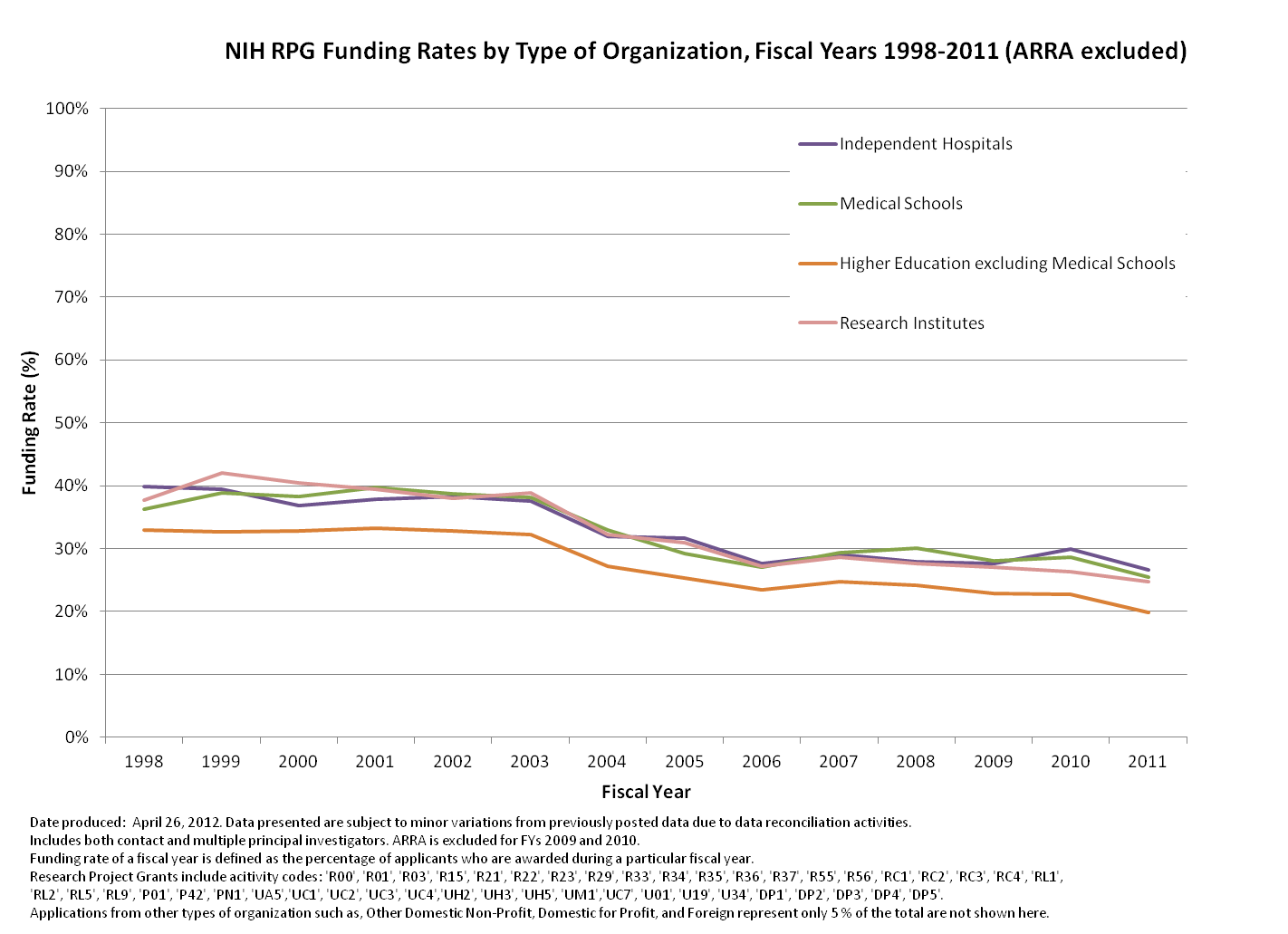 In the two graphs, there are differences in funding rates by institution, with higher education institutions having a lower funding rate, and there are differences by degree, with PhDs at a lower rate. Two weeks ago when we looked at rates by degree and institution type, we saw that, in general, PIs had the same funding rates regardless of degree type within each institution type. Medical schools had nearly identical rates for each degree type. So why do PhDs appear to have lower funding rates than other degree types? It is because they are most heavily concentrated in the institution type that fares least well—institutions of higher education (not including medical schools), see table 1 below. Remember, PhDs at medical schools do as well as MDs or MD/PhDs.
While these data are interesting, we have not tried to explain the cause of the differences as many institutional and situational factors contribute to PI funding rates. More food for thought.
| | | | | | |
| --- | --- | --- | --- | --- | --- |
| Fiscal Year | Organization | MD | MD/PhD | PhD | Total |
| | | Applicants(%) | Applicants(%) | Applicants(%) | Applicants(%) |
| 2011 | Higher Education excluding Medical Schools | 8.6% | 14.9% | 46.3% | 37.2% |
| 2011 | Independent Hospitals | 13.9% | 12.0% | 5.0% | 7.1% |
| 2011 | Medical Schools | 69.5% | 65.5% | 41.1% | 48.0% |
| 2011 | Research Institutes | 8.1% | 7.7% | 7.6% | 7.7% |
| 2011 Total | | 100.0% | 100.0% | 100.0% | 100.0% |
Table 1. Percentage Distribution of NIH Research Project Applicants by Organization within a Degree Type
Notes:  Research Project Grants in FY 2011 include activity codes: 'R00', 'R01', 'R03', 'R15', 'R21', 'R22', 'R23', 'R29', 'R33', 'R34', 'R35', 'R36', 'R37', 'R55', 'R56', 'RC1', 'RC2', 'RC3', 'RC4', 'RL1', 'RL2', 'RL5', 'RL9', 'P01', 'P42', 'PN1', 'UA5′,'UC1', 'UC2', 'UC3', 'UC4′,'UH2', 'UH3', 'UH5', 'UM1′,'UC7', 'U01', 'U19', 'U34', 'DP1', 'DP2', 'DP3', 'DP4', 'DP5'
Excludes ARRA, Superfund, reimbursables
Applications from other types of organization such as, Other Domestic Non-Profit, Domestic for Profit, and Foreign, that represent only 5 % of the total, are not shown