As a part of our series on the NIH RePORT website, today we're featuring a new tool called Funding Facts. This tool allows you to run detailed reports of NIH funding-related data in a matter of clicks. Whether you are searching for NIH funding by various budget mechanisms, dollars awarded by specific activity codes during a particular fiscal year, or application success rates, to name but a few possibilities, this site is your gateway to the information you need.
A user-friendly search interface lets you specify search criteria for six categories: Topic, Institute/Center, Funding Mechanism, Activity, Type, and/or Fiscal Year.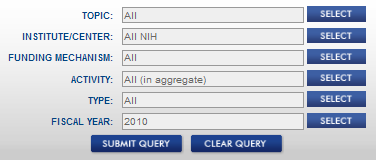 For each category, a "Select" button opens a window with choices. Once you've made your selections and clicked on the "Submit Query" button, a list of results appears on the page, easily exportable to an Excel document through the Export feature

.
So what won't you find? Funding awarded through the American Recovery and Reinvestment Act of 2009 is not included on this site yet. Also, it is important to note that this site is currently in beta mode, so the data are being checked and changes will occur. Finally, though the cost of each award is attributed to the IC administering the grant or contract, some or all of the funding for the award may have been provided by the NIH Office of the Director, another IC, or another source.
Learn about additional RePORT features and find out how to sign up for the RePORT listserv by reading the inaugural issue of the RePORT ReSource newsletter.