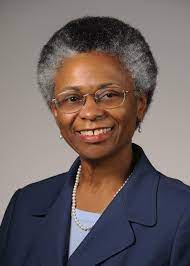 Guest post by Marie A. Bernard, M.D., Chief Officer for Scientific Workforce Diversity also released on the NIH Chief Officer for Scientific Workforce Diversity Office Blog.
The NIH Chief Officer for Scientific Workforce Diversity (COSWD) Office is hosting a seminar and virtual forum on faculty cohort recruitment programs and other evidence-based strategies as tools to foster diversity. The first event will be on December 8, while the second will be in February 2022 (date TBD). Both events are open to NIH staff and the public.
Seminar: Achieving Equity in Faculty – Pros and Cons of Cohort Recruitment
Registration is open for "Achieving Equity in Faculty – Pros and Cons of Cohort Recruitment," being held on Wednesday, December 8, from 1:00–2:00 p.m. ET. During this third seminar in our ongoing NIH Scientific Workforce Diversity Seminar Series (SWDSS), I will moderate a discussion on the science behind faculty cohort recruitment and how such programs promote diversity, equity, inclusion, and accessibility (DEIA) in science and medicine.
The following scholars will join me for the discussion:
Virtual Forum: Fostering Cohort Recruitment
The December 8 seminar is a precursor to an intensive two half-day event—Fostering Cohort Recruitment (FCR) Virtual Forum—scheduled for February 2022. Hosted by the COSWD Office, the forum will introduce attendees to faculty cohort programs that have successfully enhanced diversity both within and outside of the NIH and delve deeper into the science behind why these programs are successful.
The FCR will include presentations, break-out discussion groups, and report-out sessions; the event will be especially relevant for those implementing or considering faculty cohort recruitment activities. The FCR is free, and registration will open in early 2022.
What is Cohort Recruitment?
Cohort recruitment or cluster hiring refers to enlisting faculty into multiple academic departments to enhance workforce diversity and promote institutional culture change. In 1998, the University of Wisconsin-Madison became the first to use the practice to foster collaborative research, education, and outreach.
Evidence from faculty cluster hiring at academic institutions suggests that the cohort model is an effective strategy for enhancing diversity at the institutional and individual levels. The approach can be successful, in part, by improving recruitment and retention of faculty from underrepresented groups and increasing feelings of community belonging by providing a built-in support network.
Today, a range of faculty cohort recruitment programs are helping to make science and medicine more inclusive. The NIH is piloting faculty cohort models in its Intramural Research Program through its Distinguished Scholars Program (DSP) and universities and academic medical centers through the new Faculty Institutional Recruitment for Sustainable Transformation (FIRST) program. DSP and FIRST are expected to provide evidence-based strategies that significantly impact DEIA in research environments and enhance diversity within the biomedical research workforce.
Dr. Bernard's Reflections
I encourage you to join me for both the seminar and the virtual forum to learn about the impact of cohort recruitment. As an academic, I valued seminars that focused on innovative approaches to various challenges. The ideas discussed accelerated local thinking and approaches to the topic. I suspect you will be similarly enriched by this seminar and the follow-up forum. You can register today for the seminar and stay up to date on the virtual forum and other COSWD Office activities by following us on Facebook (@COSWD) and Twitter (@NIH_COSWD) and subscribing to the COSWD mailing list.