Last year, Kimble et al. published the findings of a workshop held at the University of Wisconsin on proposed strategies to rescue biomedical research in the US. The workshop organizers brought to together a number of stakeholders, who concluded that the research community faces two chief problems: "Too many researchers vying for too few dollars; too many postdocs competing for too few faculty positions." These conclusions raises at least two questions: How many scientists, or more specifically how many principal investigators, does NIH fund? And how many scientists (more specifically aspiring principal investigators) want to receive NIH funding?
Today I'd like to discuss two ways to examine these questions, by looking at the number of principal investigators awarded funding, not just on a yearly basis, but also in a way that captures a broader view of NIH-supported scientists over a window of time. NIH leadership and other groups external to NIH have looked at extramural support of the broader biomedical research workforce, and this remains an active area of interest to us. In this post however, I'd like to focus on an analysis of those individuals named as principal investigators, or individuals seeking major, independent research awards.
We first looked at all research project grants (RPGs) funded between 2003 and 2015. For each year, we identified unique principal investigators who were named on at least one RPG award in that year. Figure 1 shows that the number of NIH-supported investigators has increased only slightly, and has remained fairly constant at about 27,500 over the past thirteen years.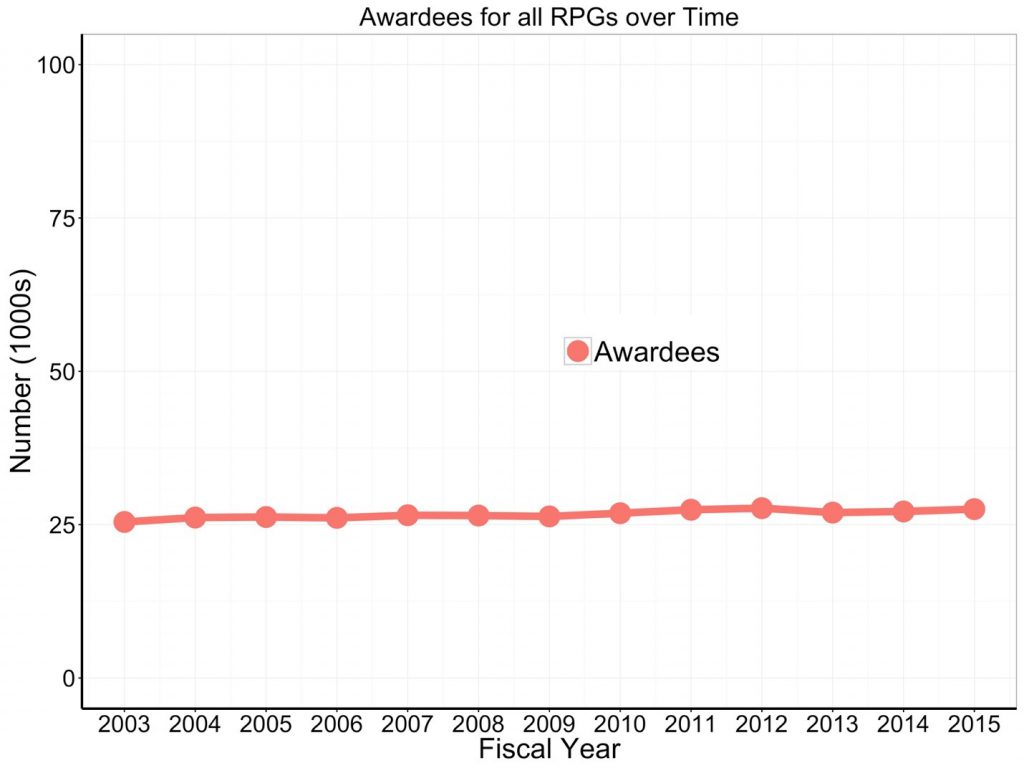 To determine how many unique researchers want to be funded, we identified unique applicants over 5-year windows. We chose to look at a multi-year window for two reasons: most research grants last for more than one year and most applicants submit applications over a period of time measured in years, not just 12 months, that may overlap with their periods of funding, if they are funded. Figure 2 shows our findings for applicants as well as awardees: the number of unique applicants has increased substantially, from about 60,000 investigators who had applied during the period from 1999 to 2003 to slightly less than 90,000 in who had applied during the period from 2011 to 2015.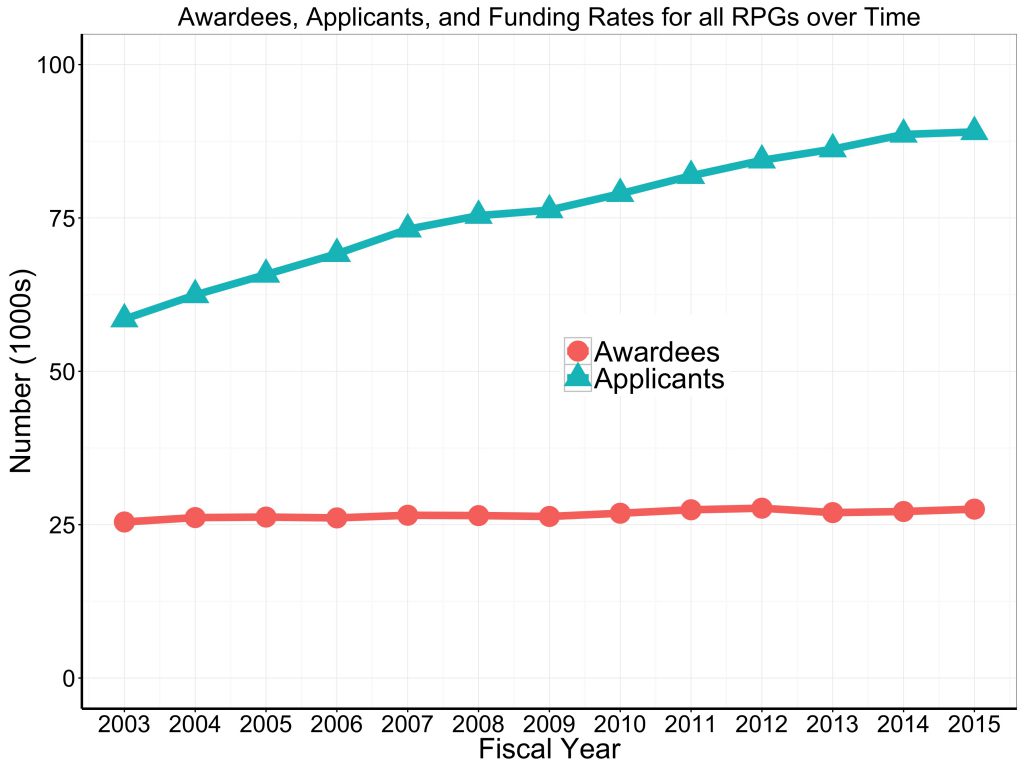 Using these two variables we can calculate a "cumulative investigator rate," that is: the likelihood that unique investigators are funded over a 5 year window. Figure 3 adds this cumulative investigator funding rate and shows a decline from 43% to 31%.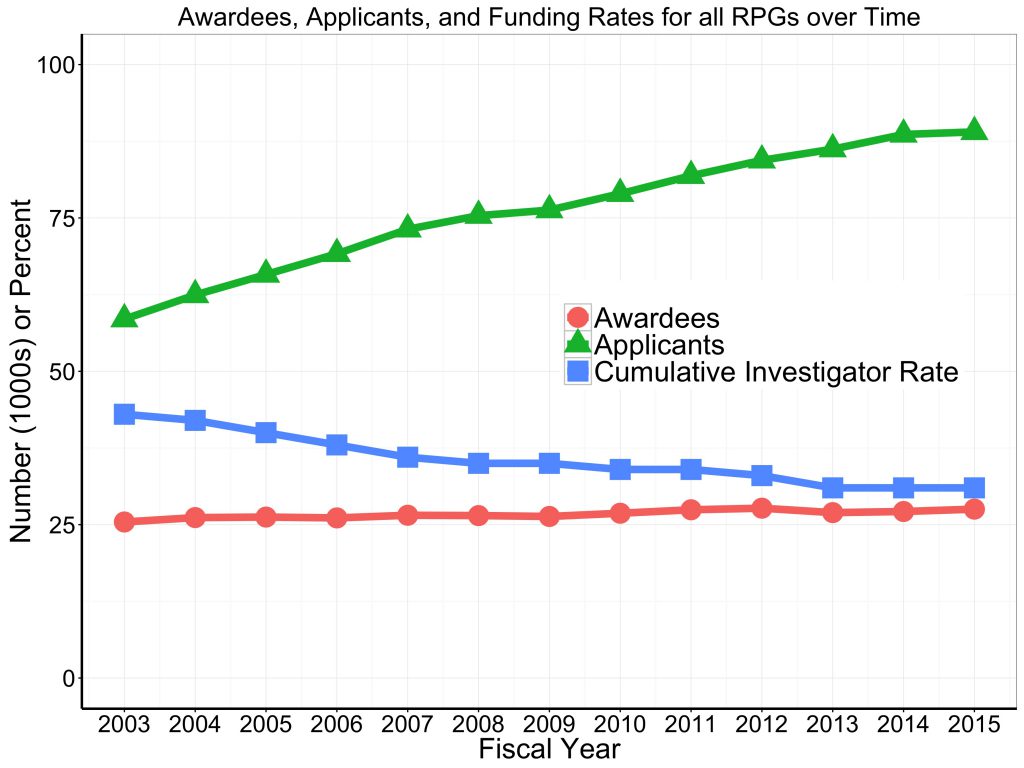 We were curious to see these data for R01s and R21s, the two predominant activity codes that make up NIH's RPG portfolio. Figure 4 shows analogous data for R01 grants: the red line shows the number of unique researchers holding at least one competing or non-competing R01, while the green line shows the number of unique researchers seeking to obtain funding over a 5-year window. The number of unique R01 awardees has actually declined over time, specifically by about 5% between 2011 and 2015. Meanwhile, the number of unique R01 applicants has substantially increased. The cumulative R01 investigator rate has declined from 45% to 34% between 2003 and 2015.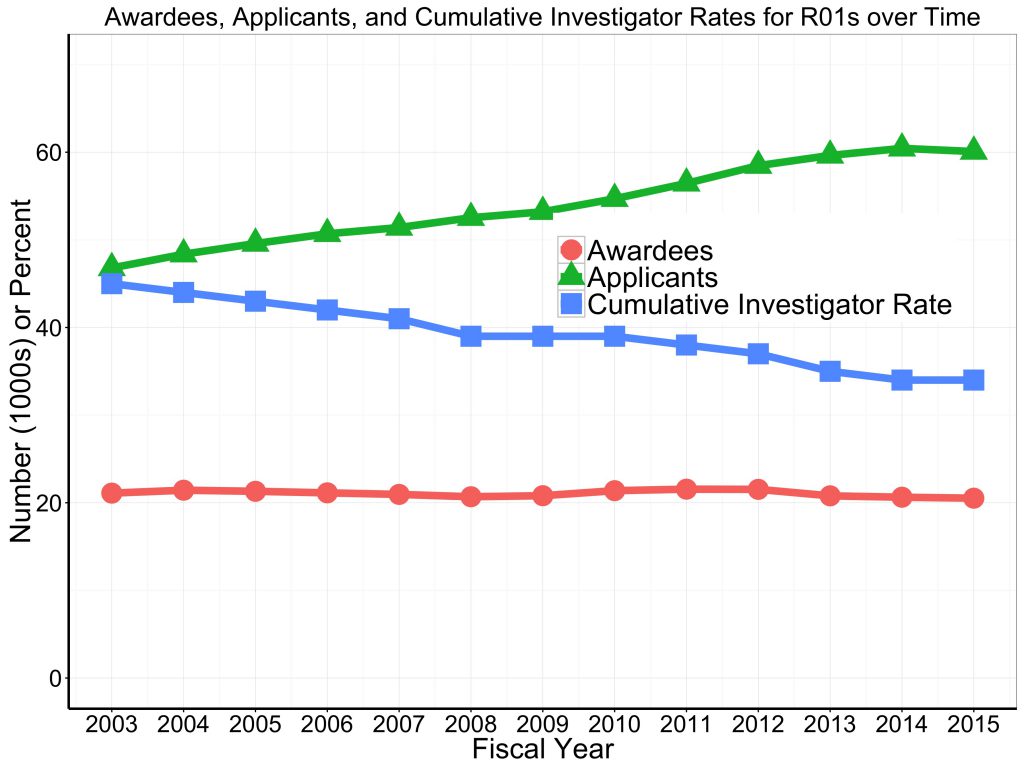 In Figure 5, we show analogous data for R21 grants, which compared to R01 grants offer less money over less time. The number of unique awardees has increased over time, but so have the number of unique applicants, yielding cumulative investigator rates that are actually lower than those seen with R01s.
Finally, in Figure 6 we show findings for P01 grants: the number of applicants has increased slightly, while the number of awards and the cumulative investigator rates have declined.
These findings, when put together, support Kimble et al.'s conclusion, and the observations of many other voices in the research community: that a core problem faced by the biomedical research enterprise is an increasing number of researchers vying for limited dollars. We find that the overall number of unique awardees has remained largely constant, while the number of unique applicants has markedly increased. Furthermore, we are supporting fewer unique awardees of investigator-initiated "long-term" grants like R01s and P01s, but are supporting more unique awardees of "short-term" grants like R21s. The number of awardees receiving cooperative agreements, which are often institute-initiated, has increased.
The question is what NIH and the biomedical research community should do? Kimble et al. offer a number of recommendations, including limits on salary support, use of alternative investigator-oriented funding mechanisms (like the R35), limits on the maximum amount any one laboratory can receive, and decreases in the proportion of NIH funding dedicated to RFAs, R & D contracts, and intramural research. Pickett et al. summarized recommendations in the literature, categorizing them according to whether they are targeted towards NIH, institutions, or the scientific community in general. These recommendations focus on overall levels of funding, research regulation, compensation for postdocs, length of and funding for training, and use of staff scientists. NIH leadership is currently engaged in efforts to explore which policies or policy options best assure efficient and sustainable funding given the current hypercompetitive environment. These efforts include funding opportunity announcements for R35 awards which focus on programs, rather than highly specific projects; new models for training graduate students and postdoctoral fellows; establishment of an office of workforce diversity; and even what we are doing here, namely drawing attention to numbers of unique investigators and applicants. We realize the difficulties and challenges brought on by the current hypercompetitive NIH funding environment, and look forward to working with all stakeholders to determine how best to meet them.
I would like to thank the OER Statistical Analysis and Reporting Branch for their work with me on this analysis.