Let's delve a bit deeper into one of your and my favorite topics: success rates. Most of you monitor success rates as an indicator of NIH funding trends but also as the main way to determine your chances of receiving an NIH award. But what exactly do these rates mean? Our official success rates for the fiscal year – as defined here – are based on the number of awards made divided by the sum of the applications reviewed that fiscal year where revisions submitted in the same fiscal year are collapsed and counted as one application. We calculate success rates this way because historically we have been interested in the success of a project or an idea getting funded, rather than of the success of the individual application submission. But what is the likelihood of an individual application submission getting funded? This is pertinent because applicants often hear about individual institutes or centers with much lower paylines than the overall NIH success rate, and paylines are based on all the application submissions being considered by an institute or center. We call this an "award rate" – the number of awards made in a fiscal year divided by the absolute number of applications where we don't combine resubmissions (A1s) that come in during the same fiscal year. The award rate calculation obviously increases the denominator (applications) for the same number of awards (in the numerator).
Another related term that I've discussed before is funding rate, which references the number of individual investigators that are seeking and getting funding, in a given fiscal year. As a person-based rather than application-based statistic, this metric counts applicants as funded whether they receive one or multiple awards in the same fiscal year. The numerator is the number of applicants receiving any funding that fiscal year, and the denominator is the number of applicants for that fiscal year. Funding rates, which are higher than either award or success rates, paint a more promising picture for your prospects of receiving NIH funding. You can find funding rate data for RPGs and R01-equivalents below and in the NIH Data Book.
Here are graphs of funding, success, and award rates for Research Project grants and for R01-equivalents only: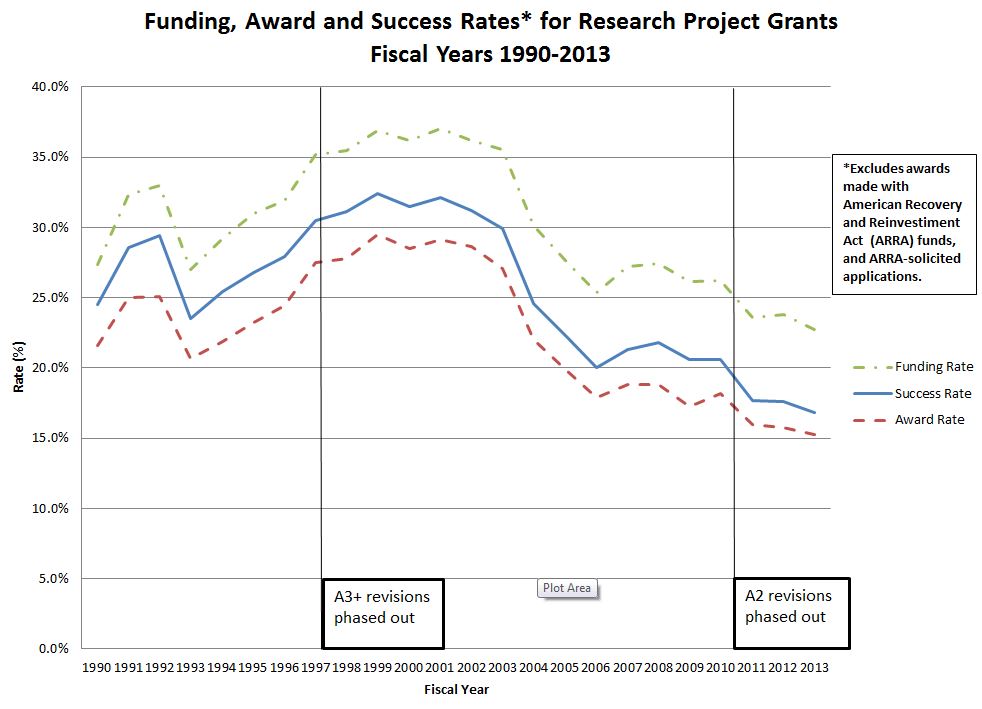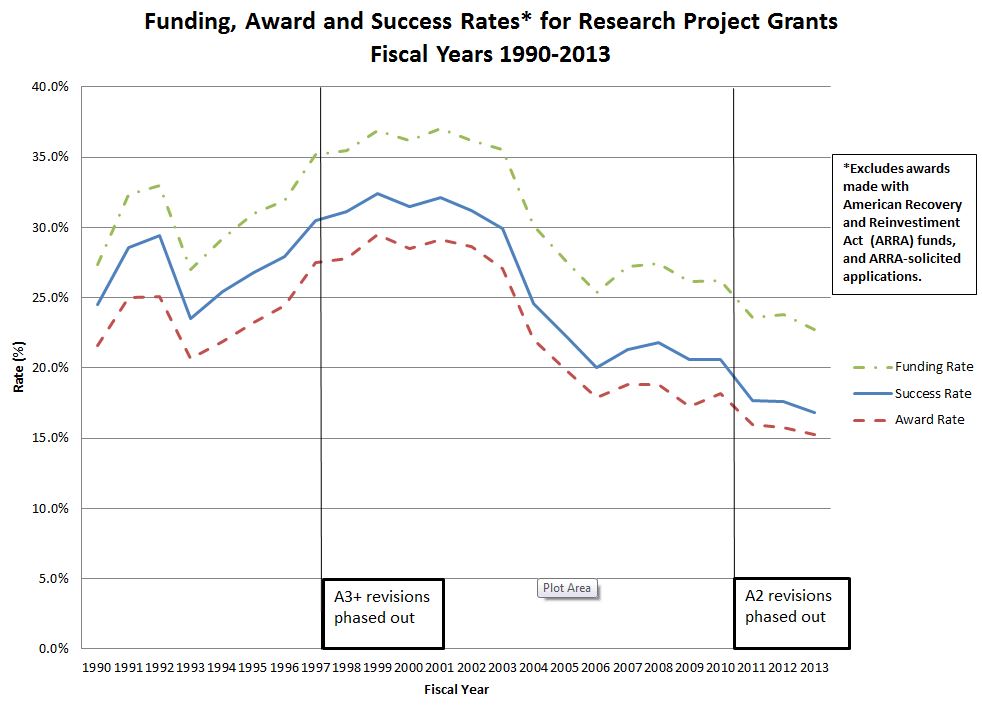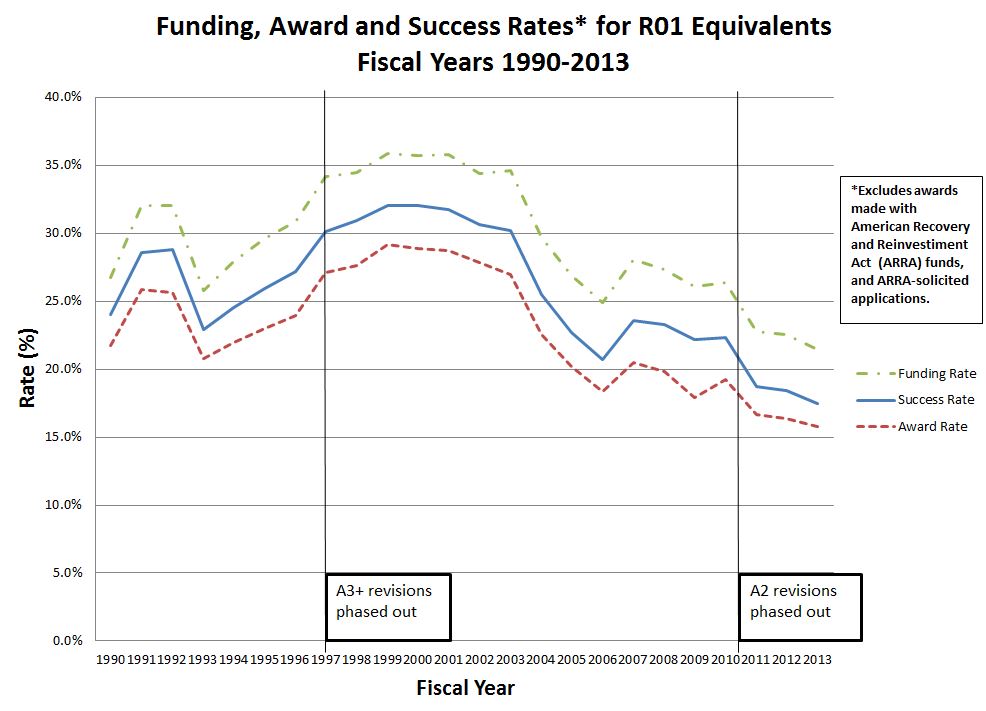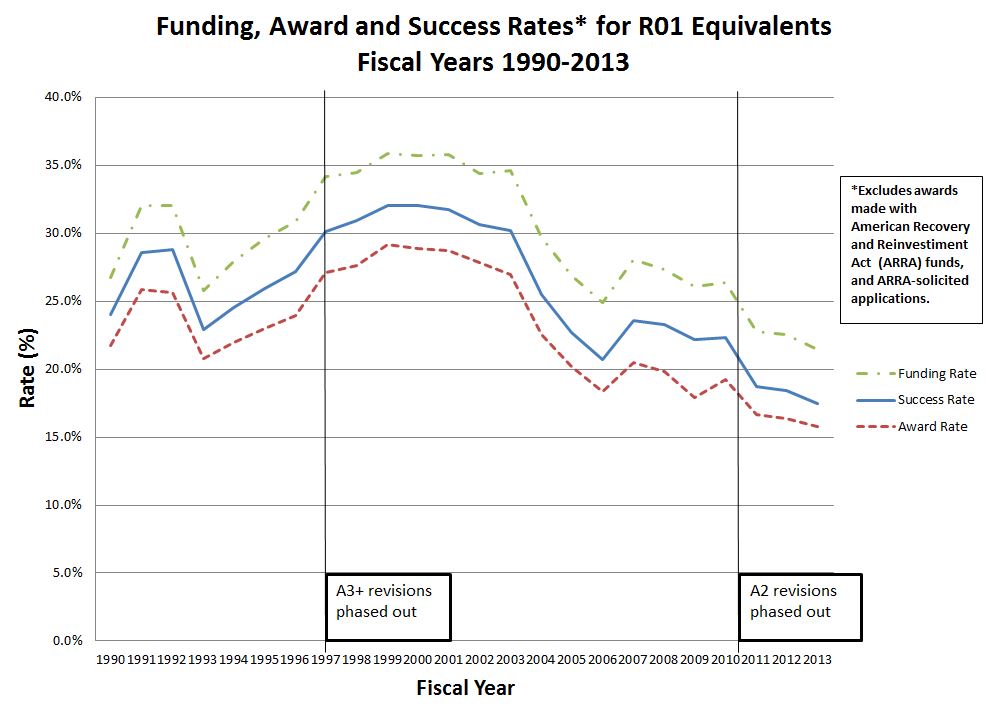 As you can see award rates are consistently lower than success rates each year, by about 3-5%, even when we've changed the number of resubmissions NIH will accept.
In summary, success rates, award rates, and funding rates each describe the "success" of NIH applicants in distinct and important ways. The choice of which rate to use depends on whether you are interested in the success of applicants by project, by submission, or by person.