It's definitely good to be back, and returning to data analysis and blogging as usual!
The R01 research project grant is NIH's mainstay grant mechanism and is used for much of our investigator-initiated research. When talking about about NIH funding, the subject that most often comes up is the R01 and how support for R01s may be changing over time. Recently I received numerous inquiries about whether the duration of the R01 has been shrinking. NIH has limited the duration of all grants to 5 years but I want to assure the community that there is no NIH-wide policy that dictates a project length duration below 5 years, and that our ICs work hard to provide support both in terms of funding levels and the award length that is commensurate with the work proposed in the application. But to help answer the duration question, we looked at the data to find out the facts about trends in R01 project length.
The first graph shows the average R01 project period length each year from 1999 to 2012. You can see that the length of R01s actually has increased slightly over this period and is currently closer to an average of 4.5 years.
We also looked at some historical data on the distribution of project lengths, to see how this has changed over the past decade or so.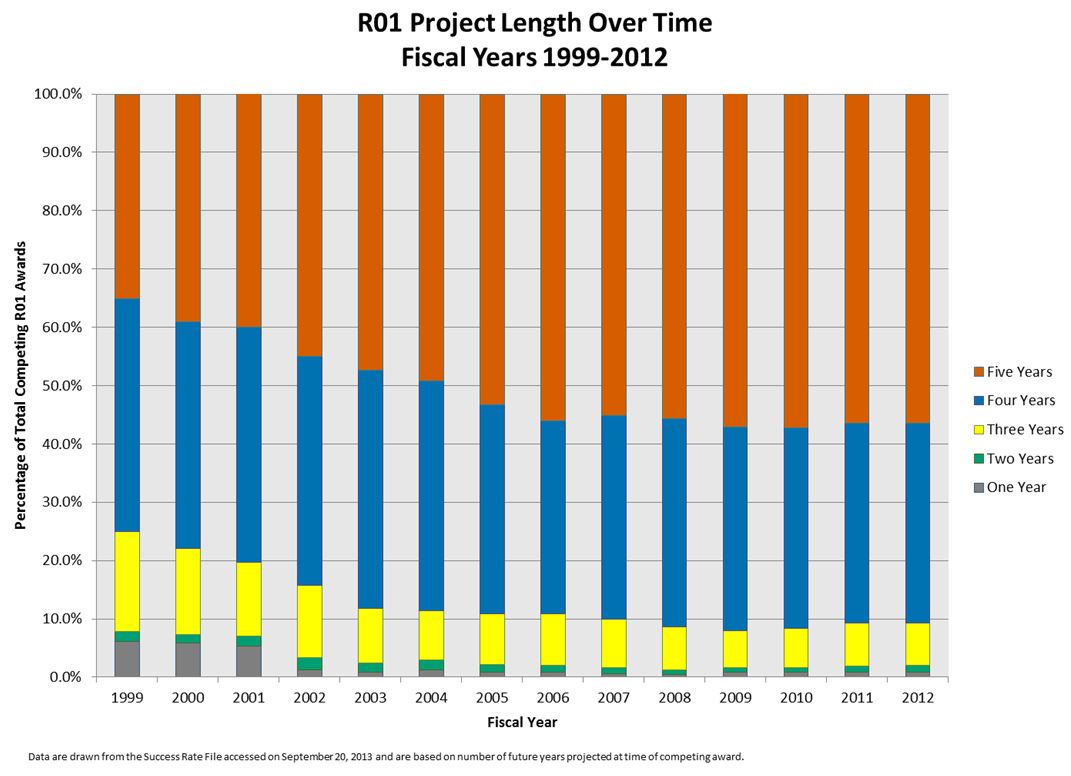 The data show that slightly over half of R01 awards are 5 year awards and this has been quite constant since 2005.
It's important to remember here that these data are for R01 awards only.
One reason for the perception that NIH has been making shorter awards lately may be an increase awards using mechanisms that are of shorter durations (as shown in the NIH data book, for example, there were 1,423 R21 awards made in 2009, and 1,932 R21 awards made in 2012).
So what's the final word? The most important advice I have is that you should continue to propose a project length that is most suitable for the research you're planning. Let the science drive the duration.