Over the past two years I've frequently discussed the recommendations from the NIH Advisory Committee to the NIH Director (ACD) on the Biomedical Research Workforce. I know there's been loads of information coming from us about how we are implementing these recommendations. I'm happy to share our new website that compiles all of this biomedical workforce initiative information.
You can read about the background of the task force, and track progress for the seven main implementation areas.  We include links to the relevant NIH Guide policy notices and funding opportunities for the activities resulting from task force recommendations, and timelines so that you can see when changes or new programs were announced, or are expected to take place.
On the background page we've also included reports summarizing the two Requests for Information (RFI) we posted to seek research community input on implementation activities.  Most recently we've published the summary of responses from the February call for comments. Below is a word cloud of the summary of responses so you can get a flavor of the content and sentiment of the feedback, and I'm happy the community has been so responsive to the issues we have raised.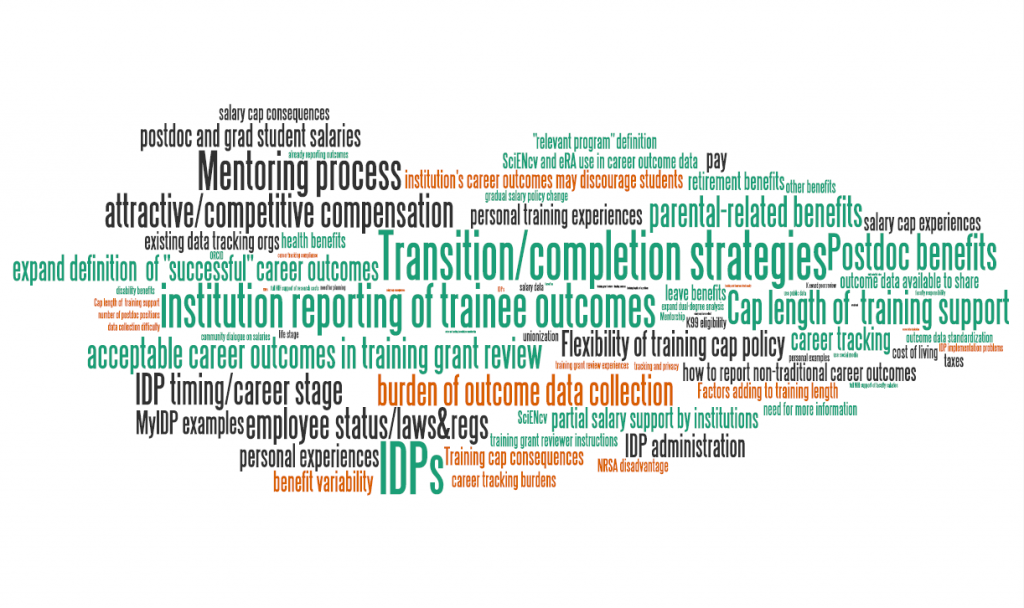 You'll see from the new website how your suggestions are incorporated into our implementation plans. To give you a quick review of the many things we have done in such a short time, implementation includes the BEST program, encouragement of IDPs, all NIH institutes participating in F30s and F31s, extending Commons IDs to students, and further down the road using SciENcv (whew!).
We'll continue to update biomedicalresearchworkforce.nih.gov as workforce activities unfold, so check it out and stay tuned.