Last August, I wrote on the number of investigators applying for NIH grants. Several readers correctly noted that the increase we showed in the number of applicants was based on the number of investigators submitting at least one application in a given year (rather than, say, all investigators "in the system"). In responses to this and other blog posts, commenters suggested this method of counting could create a misleading picture that suggests the number of individuals applying for grants has increased when it could simply be that the same individuals are submitting more often (e.g., applying every third year instead of every fifth year).
To examine this possibility, we looked at the number of different investigators applying for research project grants (RPGs; including both unsolicited and those submitted in response to requests for applications) over each five-year period from 1998 through 2012. The number of applicants increased from about 56,000 in the five years ending in 2002 to 83,500 in the five years ending in 2012, a 50% increase.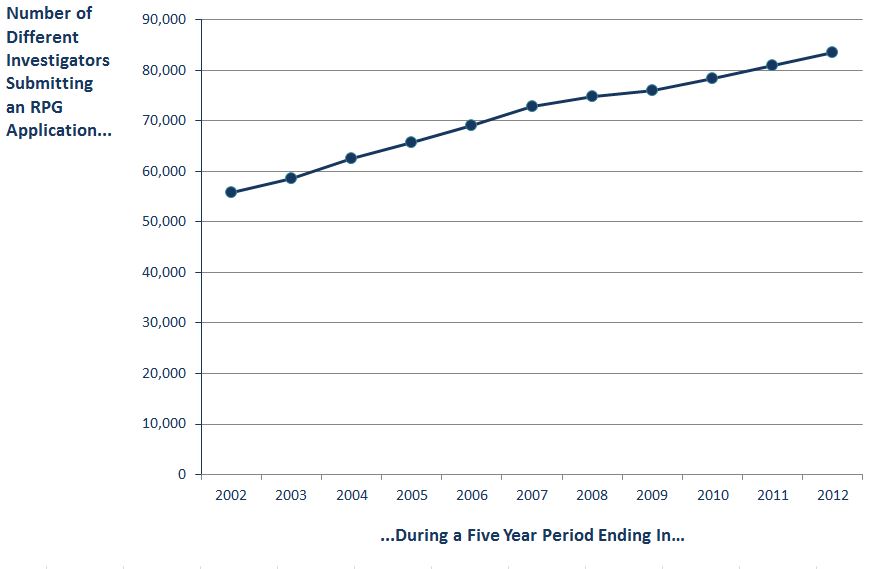 Applicants did apply more often, but the changes were rather small:  the total number of applications per investigator in each 5-year period increased from about 2.7 to 3.1 (or from 0.54 applications per investigator per year to 0.62). The percentage applying in only one of the five years in each period decreased from 45% to 40% and the number of investigators applying in four or five of the years in each period increased from 12% to 18%.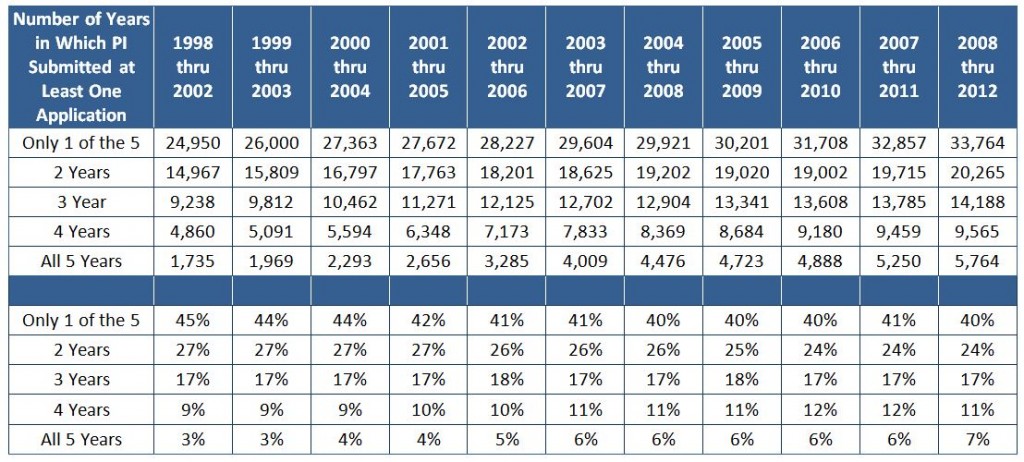 It appears that application rates have been increasing continuously since 1998.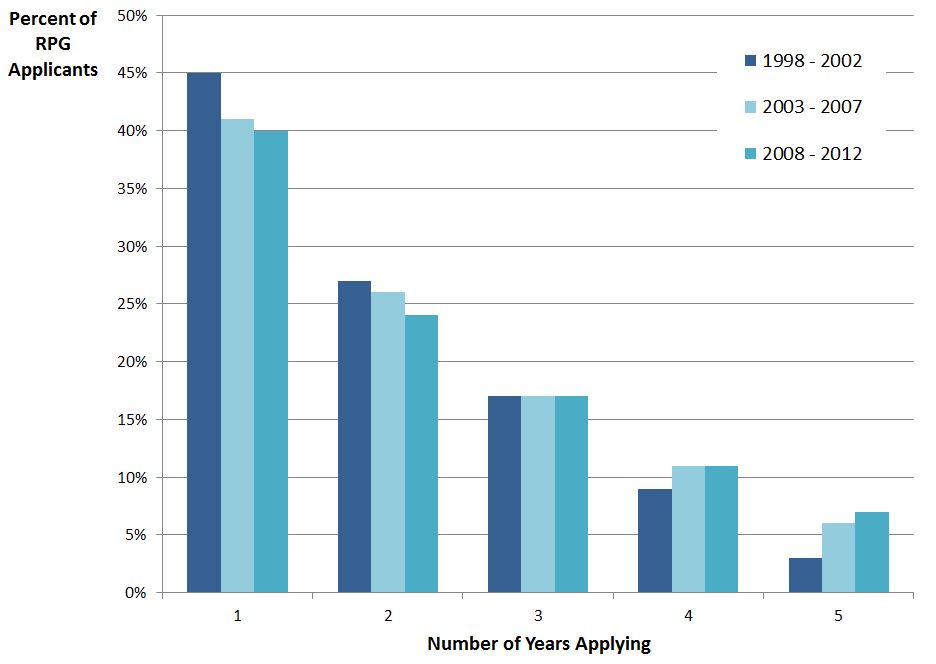 So which of these two factors, the number of applicants or application rate, has been the largest contributor to the increased number of RPG applications to NIH? It appears the number of applicants has contributed more. Let's do the thought experiment. If there had been no increase in applicants and only the observed higher application rate (from 0.54 to 0.62 applications/investigator/year), the number of RPG applications would have grown 16% from 148,878 applications in 1998-2002 to about 170,000 in 2008-2012 instead of the 258,802 that we actually saw. On the other hand, as noted at the beginning of this blog, the increase in applicants alone would produce an increase of about 50%, from 148,878 to almost 225,000.
So thanks for all the comments, it spurred us to go back and look at these data again. This is one reason why I find this blog so useful.
Note: The data table corresponding to these figures is posted on RePORT and can be downloaded in an Excel file. The file also includes comparable figures for R01 applications.