I'm eager to tell you about another important biomedical workforce-related initiative that NIH is launching based on the Advisory Committee to the Director (ACD) working group recommendations. This initiative seeks to expand existing research training and allow research institutions to best prepare their trainees for a variety of research-related career outcomes. The ACD working group report showed that while almost half of US-trained doctorates work in academia, an increasing proportion of newly trained doctorates finds employment opportunities in non-academic sectors and in other research-related occupations.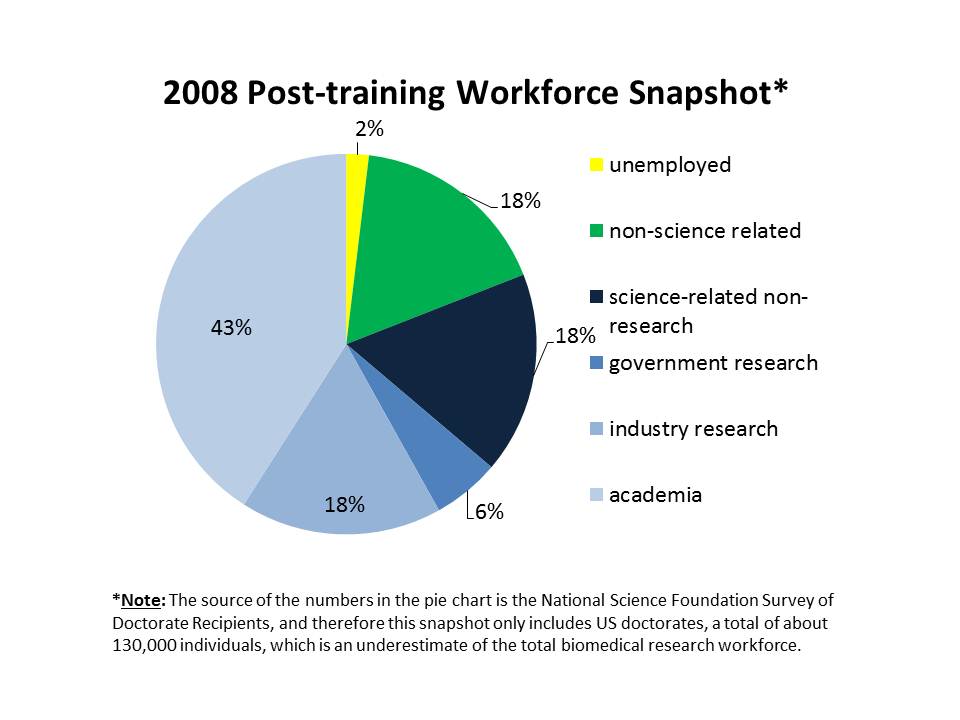 Especially in challenging financial times, it is important to not only prepare trainees for a diverse set of career outcomes, but to leverage existing resources and enlist additional support from the potential beneficiaries of NIH-supported training – the employers of PhD scientists. The Broadening Experiences in Scientific Training (BEST) program aims to do just that.
The BEST awards will be piloted through the NIH Common Fund, and support the development of new and innovative methods for preparing graduate students for the full breadth of research and research-related careers in the biomedical, behavioral, social, or clinical sciences. How applicant research institutions choose to approach this may vary. For example, scientific research institutions might initiate mutually beneficial collaborations with schools of business, public policy or economics, or might propose developing partnerships beyond academia and engaging the private sector or non-profit entities. But all programs should introduce students and postdoctoral scientists to the wide array of biomedical careers early in their training, and provide them with experiences in the career they plan to pursue, in addition to their PhD studies and traditional postdoctoral training.
BEST intends to change the culture of biomedical graduate education by seeding the development of diverse training experiences. Up to 15 BEST awards will be made in fiscal year 2013 to support research institutions' program and administrative needs during the initial stages of development, and to create self-sustaining programs in collaboration with external support. Communication among awardees and rigorous monitoring of outcomes are essential aspects of this award program so that effective and proven models for training can be shared with universities across the United States.
We plan to review applications to the BEST funding opportunity this summer. An informational webinar to advise applicants will be held in March, letters of intent are due in April, and applications are due in May of this year; more details on the program are in the NIH Guide Notice and on the program website.
As the centerpiece of all the ACD biomedical workforce recommendations, this program is an important part of supporting the biomedical research enterprise as a whole, at all stages of the scientific process. This investment is just the beginning of how we prepare biomedical research trainees for a broader set of career options, and I look forward to following the work of BEST awardees as they pioneer these diverse training programs.