Following up on last week's post, I want to look at another issue addressed in the Advisory Committee to the NIH Director (ACD) Working Group on Diversity in the Biomedical Research Workforce report.
The working group was interested to see if there were differences among general fields of science in applicant representation based on race, ethnicity, or disability status. The working group assessed this question by looking at the breakdown of applications from 2000 to 2008 in three broad fields of science—basic, applied and clinical, and behavioral. As you can see from the data in figure 1 below, the number of applications submitted by African-American or Black, American Indian or Alaska Native, or Native Hawaiian or Other Pacific Islander applicants also made up a small fraction of the whole compared to the number of applications submitted by White applicants, and this was true across the different fields of science. In the basic sciences, 1% of the applications were submitted by African-American or Black applicants compared to 64.6% submitted by White applicants. While the percentage of applications from African-American or Black applicants was somewhat higher in the clinical (1.5%) and behavioral sciences (3.1%), that proportion was still dramatically lower than that of White applicants (65.2% and 77.5%, respectively). Note that the overall number of applications in behavioral research is lower than in the other fields, so even though the percentage of applications from African-American or Black principal investigators (PIs) is higher, the absolute numbers remain very small. These differences notwithstanding, it is evident that African-Americans or Blacks, as well as American Indians or Alaska Natives, and Native Hawaiians or Other Pacific Islanders are underrepresented as PIs in all areas of science that NIH supports, and any efforts to address applicant diversity should be aimed at all fields.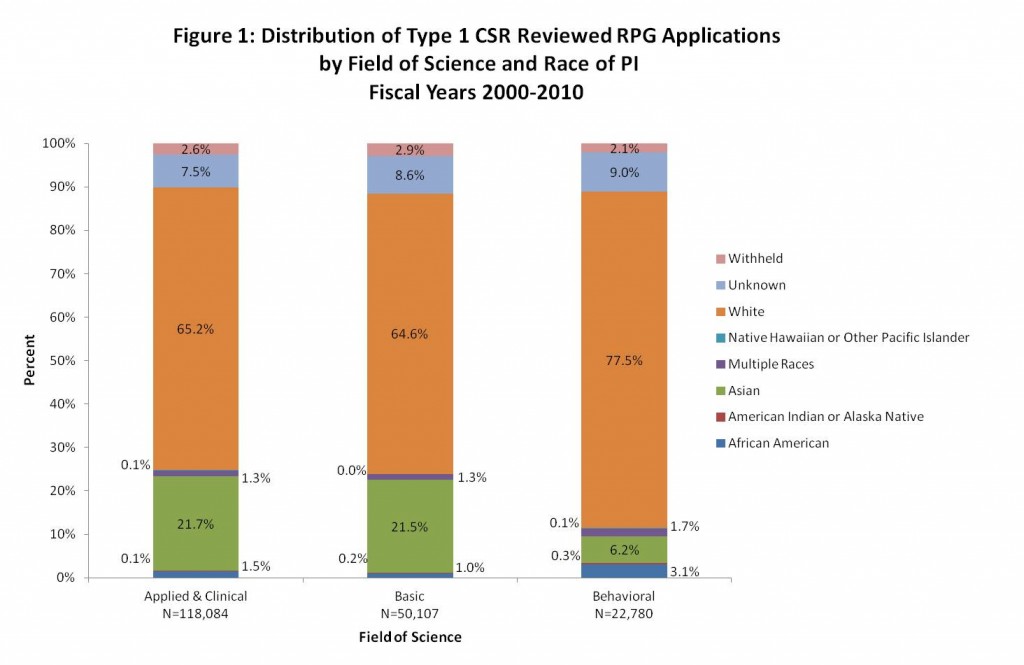 Additionally, although not contained in the report, the data on Hispanic applicants in figure 2 below show similar trends with low numbers of applicants overall and a slightly larger percentage in behavioral research. 
NIH does not collect data on disability status. Recommendation #1 of the working group specifically asks NIH to enhance its data collection capabilities for all these populations.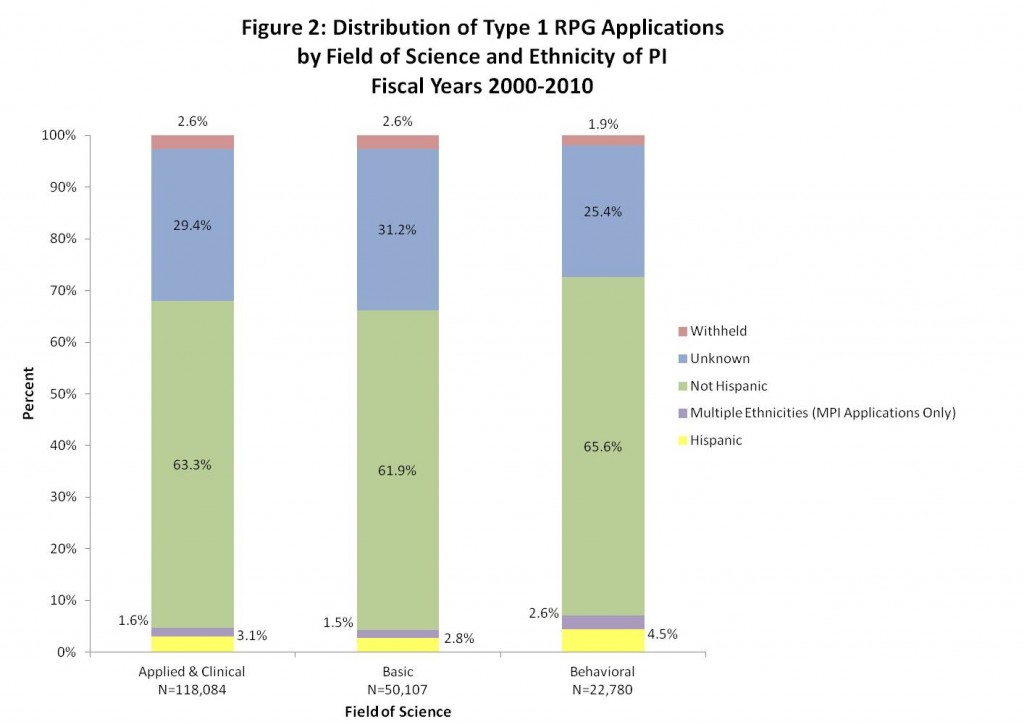 Overall, these data and the data presented last week show that we have a very small pool of underrepresented groups applying as PIs. These data serve to underscore the further need for NIH and academia to partner and improve the diversity of the biomedical research workforce.