Now that I've discussed the consolidated snapshot of the PhD biomedical research workforce, I'd like to focus on some trend data about graduate students gathered by the biomedical workforce working group. 
Before I get to the data, however, I want to provide some details about these analyses. As you will see in the report and on the accompanying website, many of our analyses separated out basic biomedical science, clinical sciences, and behavioral and social sciences (see what these fields include). There are a large number of PhDs in behavioral and social sciences research but only a portion conducts NIH-funded research. Therefore, the framework summary in the previous post included only basic biomedical and clinical sciences. That said, because the behavioral and social sciences research we fund is an essential part of NIH's mission, we included these fields in as many of the trend analyses as we could. In addition, to put the data in context, wherever possible we compared biomedical research to chemistry, which seems to be more constant in numbers of students and faculty. 
Let's take a look at some data on graduate and medical students. As you can see in the figure below, the number of PhDs granted in biomedical science in the US has risen substantially over the past decade. In contrast, the number of PhDs awarded in behavioral and social sciences and in chemistry has been stable over the same period, as has the number of MDs. The steep increase in the number of biomedical PhDs awarded began in 2004, reflecting an increase in graduate enrollments that began with the doubling of the NIH budget from 1999 to 2004 (see the second figure). Given an average training period of 6 years or so, this underlines the close relationship between the size of the NIH budget and the number of biomedical PhD slots.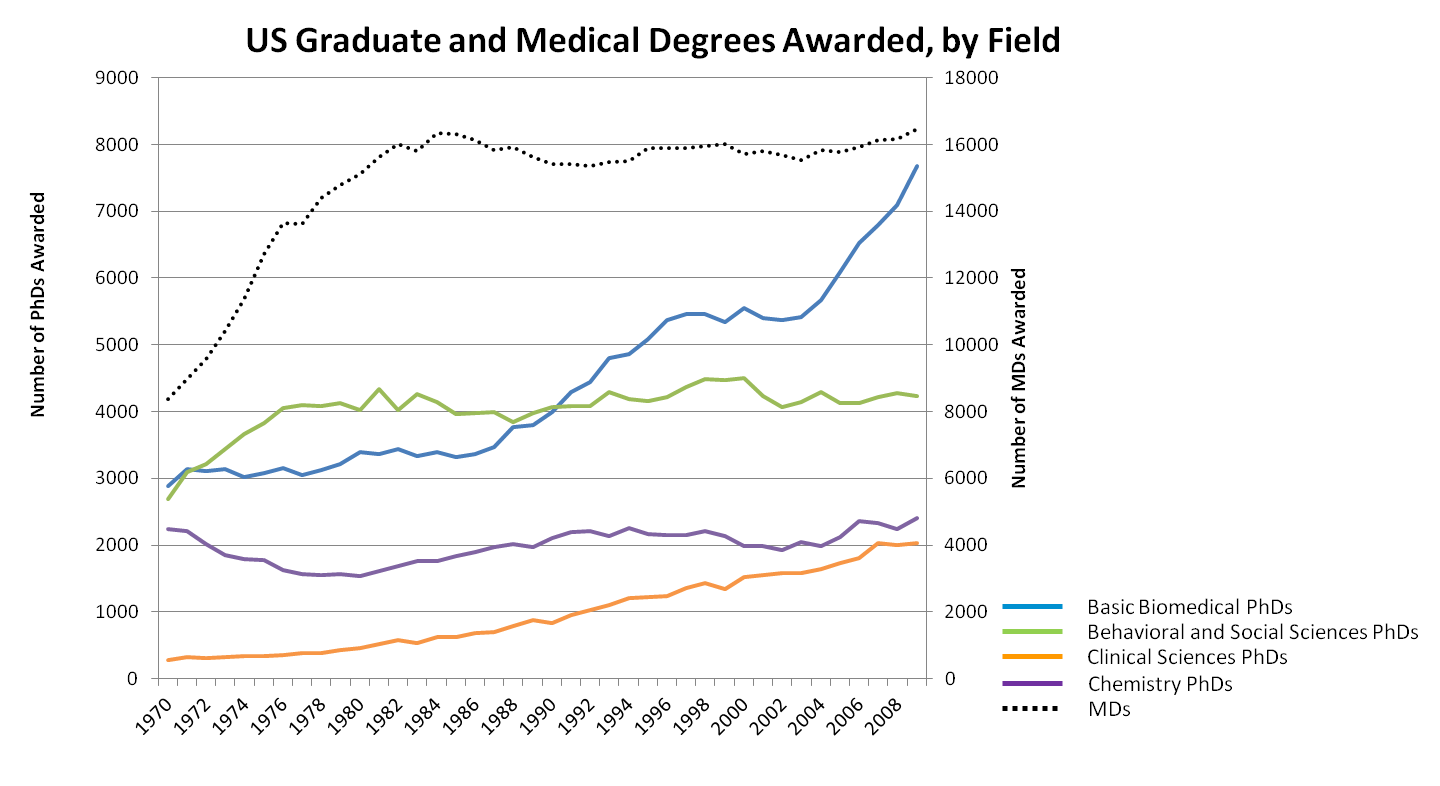 Source: NSF Survey of Earned Doctorates and AAMC Data Book
How are these graduate students supported? 
In the following figure, data from the NSF Survey of Graduate Students and Postdoctorates (which includes all sources of support, not just NIH) show that the vast majority of basic biomedical PhDs are supported as research assistants, and this number has grown considerably over the past decade, again in parallel with the doubling of the NIH budget. The number of students supported on fellowships and training grants has remained stable over that time, as also is evident from the NIH-specific data posted on the RePORT website.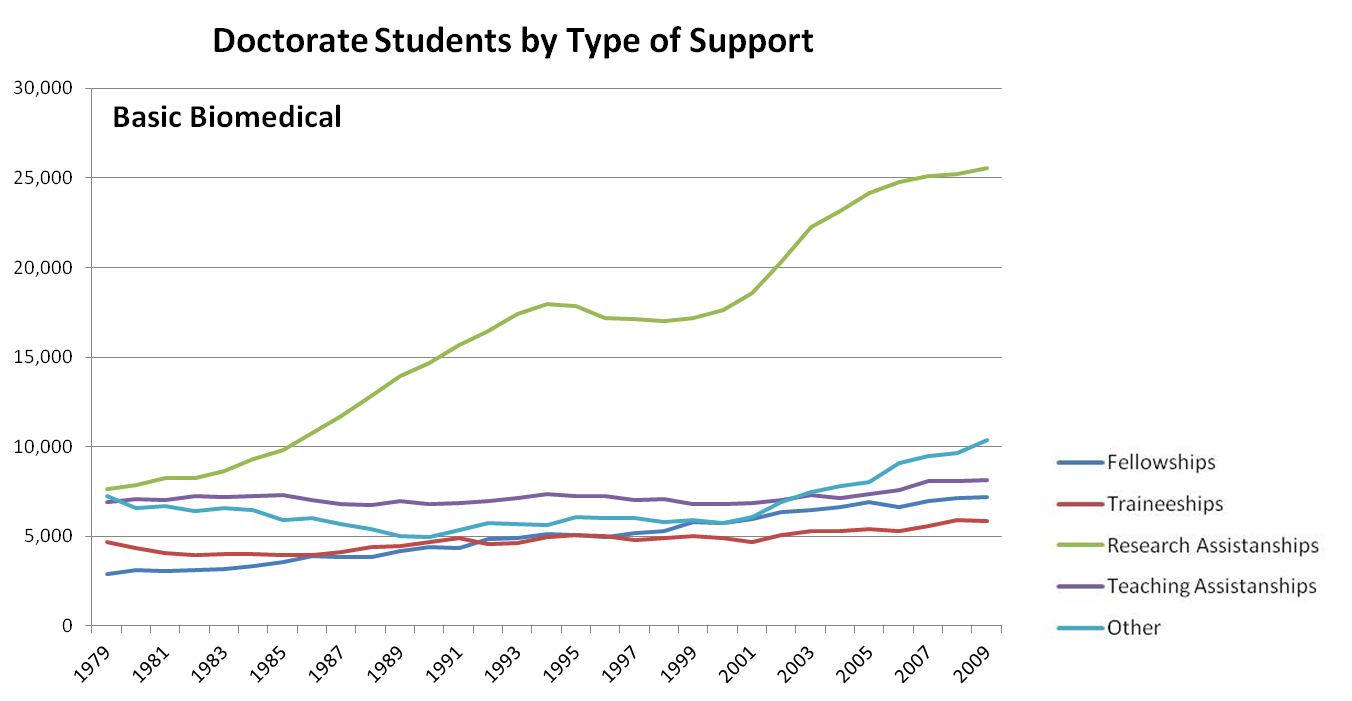 Source: NSF Graduate Student Survey
How long does it take to get a biomedical PhD? 
Among the anecdotes we heard when we started this study was that training for a career in biomedical research is getting longer every year. When we looked at the data shown below, however, we saw that the average time to a basic biomedical PhD has remained relatively stable since 1985—between 6 and 7 years. In recent years the training period has been shorter. Both clinical and behavioral and social sciences degrees take somewhat longer, but these too have decreased over the past decade. This is reflected in the average age at degree, which is about 30 or so years of age.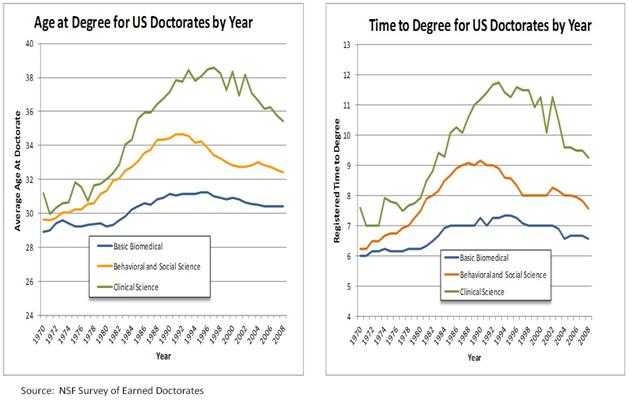 These data do beg the question of how people get their PhD at 30 or 31 when the degree only takes 6 or so years on average. There seem to be couple of years missing. We did not find data to address this question specifically, but anecdotes from working group members and others suggest that more and more people are working or doing postbaccalaureate research before going to graduate school.
Even though the time to degree of biomedical researchers has not increased significantly, it is important to remember that most biomedical research fields also require a period of postdoctoral training, so the total period before people embark on their career is considerably longer. We'll discuss postdoctoral researchers in my next post.