It's been awhile since I've presented some data, so I wanted to point you to a study that we just put up on our website. It looked at three of our most widely used mentored career development award mechanisms—the K01, K08, and K23. We were interested in finding out more about the characteristics of individuals that applied for and received these awards, and, for those who received an award, whether the career development experience affected their subsequent career paths. Ultimately, we wanted to know are the career awards fulfilling their purpose, do all awardees benefit from these awards, and are there any areas that we can improve upon?
Are these awards fulfilling their purpose?
Overall, the answer is yes. Looking at comparable unfunded and funded applicants, those who received a career development award were more likely to:
remain in research,
publish in scientific or medical journals,
apply for an NIH research grant,
receive an R01, and, for those who could be followed long enough,
apply for and receive a renewal.
Figure 1. Subsequent NIH grant outcomes, by program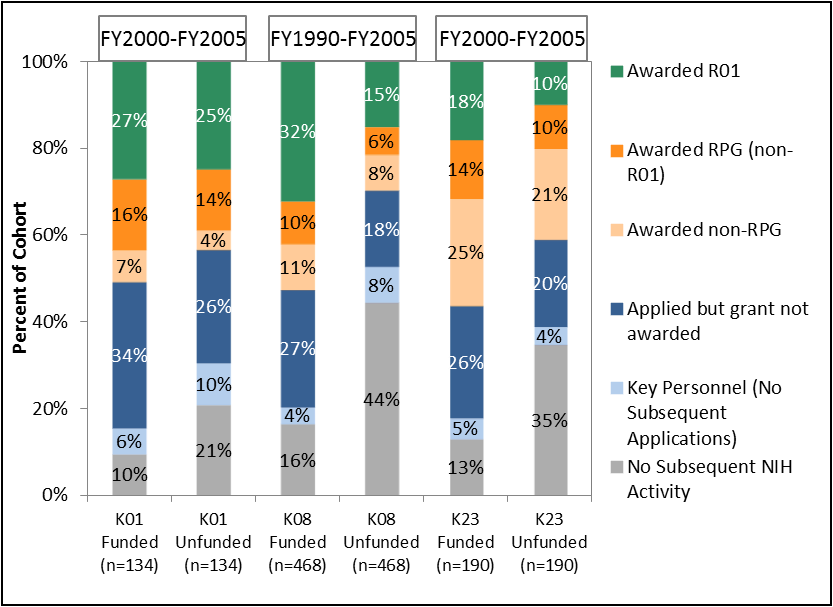 Do all the awardees benefit from these awards?
Yes, but the benefits vary. Investigators who received a K08 or K23 career development award (mostly MDs or MD/PhDs) improved their chances of getting a subsequent research grant (Figure 1), and they received their awards just as quickly as their peers in the comparison group (Table 1). For investigators who received a K01 award (mostly PhDs), the benefits were more modest, as might be expected from a group that already has significant research training and experience. Although K01 awardees received R01s at about the same rates as unfunded applicants, a higher percentage of K01 awardees remained active in research and published their research findings (data available in the full report). When K01 awardees did receive an R01 grant, it was, on average, a year later than their counterparts (Table 1).
Table 1. Average time to R01 application for K applicant cohorts
Bold font is used to highlight differences that are significant at p<0.05
*Sample size is too small to perform significant tests.
Note: "First R01 Application" and "First R01 Award" refer to the first application and award after the last K application within this study.
Are there areas to improve upon?
There's always room for improvement. Given the more modest effects of the K01 program on PhD awardees, should NIH's career development opportunities for PhDs be modified in some way? As for clinician researchers, we noticed that there was a small but notable cohort of investigators applying for K23 awards more than 15 years after their terminal degree. NIH has traditionally focused on fostering the training and career development of individuals early in their careers—should we do more to encourage mid-career clinicians interested in pursuing patient-oriented research? There is much more than I could cover here. I encourage you to delve into the study and then let us know your thoughts.