Let's talk about the NIH sponsored study 

 on review outcomes for R01 grant applications from different racial and ethnic groups and the accompanying commentary

 that were published in Science this week. The paper, together with a previous NIH-commissioned study

 describes a biomedical research pipeline with few students and postdocs from underrepresented groups, coupled with disparities in review outcomes when they do apply for an NIH research grant. NIH finds these results troubling. As someone who has been involved in designing and implementing government peer review programs for over 25 years and one who believes strongly in peer review as the best way to identify good science, I find these results troubling as well. At this time we don't understand fully the basis of the disparate review outcomes. What I do know, however, is that the NIH reviewers are outstanding individuals, who tirelessly devote their expertise, time and effort to making the biomedical research enterprise and NIH program the model for the world. We greatly value our reviewers and their contributions to our success at supporting high quality science that has huge impact on people's everyday lives.      
It is essential to include diverse groups in our efforts to improve the health of the nation. Diversity improves the ability to conduct research in all fields, but attracting the brightest minds who represent a broad range of interests is especially important for biomedical research. NIH has a long history of efforts towards achieving this goal, aiming to include, particularly in our training programs, underrepresented racial and ethnic groups, women, individuals with disabilities, and individuals from disadvantaged backgrounds. However, our efforts to establish a robust pipeline for a diverse workforce all the way through to principal investigators have been less than successful. Fewer than 2 percent of our PIs are Black, lower than the percentage of Black faculty at medical schools and much lower than the general population. The same holds true for Hispanics.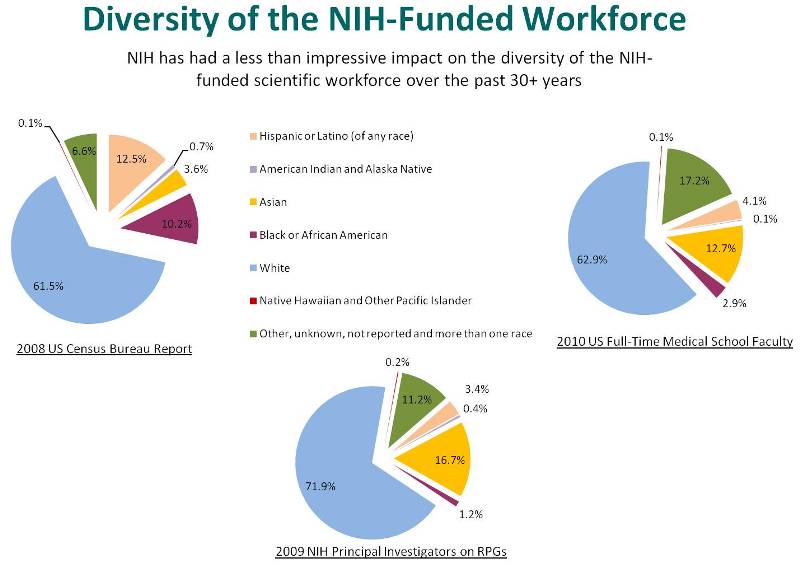 It is imperative that NIH rethinks its approach. As Drs. Tabak and Collins indicated in their commentary 

, we have launched new diversity-focused research programs, assembled new advisory groups, and are planning experiments to specifically identify issues that might be contributing to differential review outcomes.  
The NIH can't do this alone, however. We need to work together with the biomedical research and academic communities, sharing our successes and learning from our failures. My hope is that there will be renewed efforts across these communities to diversify our workforce. Can we improve the way we support new faculty members as they apply for NIH funding? Can we become aware of unconscious attitudes around race and gender that may influence our judgment? How can we make careers in research more attractive to those from underrepresented groups? At what point in their lives are individuals making decisions about science as a career and are there interventions that we can do at these critical points to steer more underrepresented groups towards exciting research careers?  
Because this issue is so central to the operation of NIH and the success of our programs, NIH is committed to moving in new directions and sharing findings with the community as they emerge. I invite you to work with us and to share your suggestions as we as a community work through these important issues.