You may have heard that Dr. Collins has charged a new subcommittee of the Advisory Committee to the NIH Director (ACD) with creating a model of the biomedical research workforce that will address future workforce needs, as well as help inform NIH in implementing policies to facilitate a vibrant and diverse future biomedical research workforce. Many questions will be asked:
What is the right size of the workforce?
What are the appropriate types of positions that should be supported to allow people to have successful careers and to continue to advance biomedical and behavioral sciences?
What is the best way to support these various positions?
What types of training should be provided?
In preparation for this committee, my office developed some basic information about how the biomedical research community is currently supported by NIH. I thought I'd use my blog to present some of this interesting information.
So to begin, let's ask where does NIH support go and what have been the trends in funding to various types of institution? After all, the grantee institution employs the biomedical researchers, it's the place where training will be sought and is delivered, and it's the place where any new workforce policies will be implemented.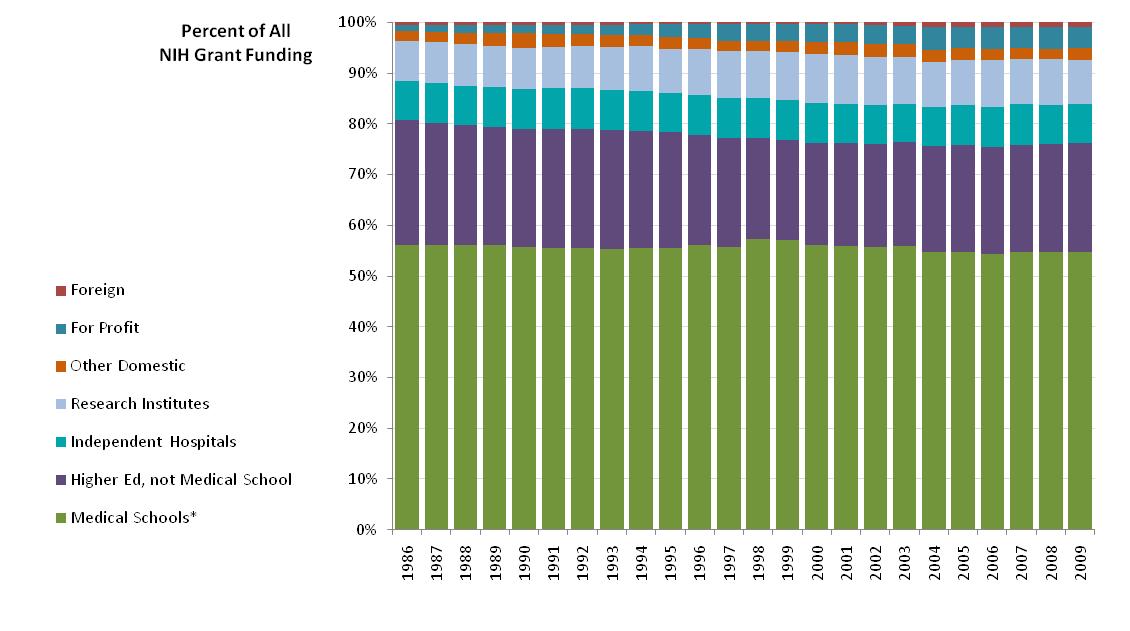 Looking over the past 25 years, medical schools have received the largest proportion of NIH funds followed by non-medical school academic institutions, research organizations and others. While this is no surprise to most, what is interesting is the consistency of this support over the past 25 years, meaning that the flow of funding from NIH has been relatively constant, at least in the proportion of funds various types of institutions receive from the agency. Even through the doubling of the NIH budget, the growth of specialized programs like the AREA and IDEA programs, and a number of other initiatives that target various types of institutions, states and populations, the proportion of funding remains remarkably steady. This is just a snippet of the data we have at hand, so we'll be looking at these and other data that will paint the picture of the current funding structure of biomedical research and NIH support. More to come in future blogs.