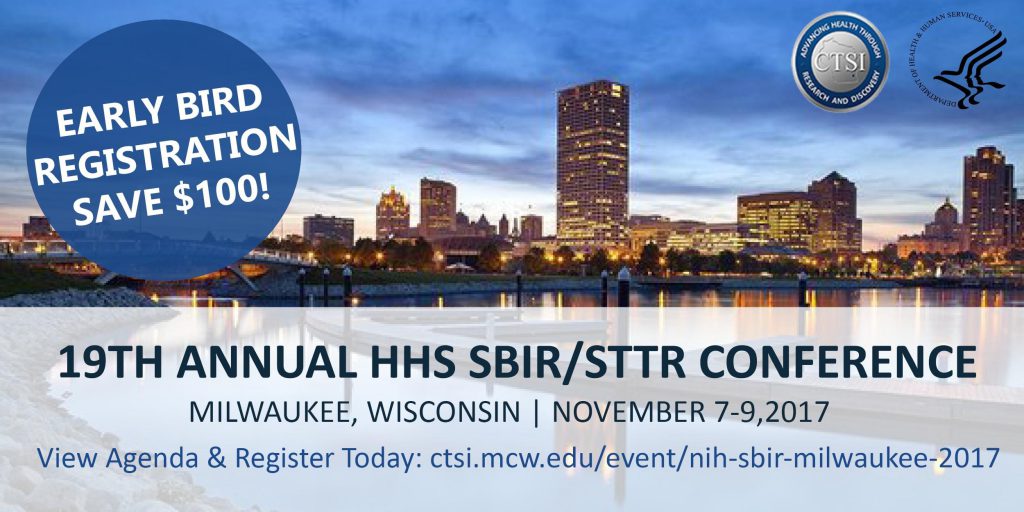 The Department of Health and Human Services (HHS) is pleased to present the 2017 Annual SBIR/STTR Conference: In The Heartland of BioHealth Innovation.
The National Institutes of Health (NIH), Food and Drug Administration (FDA), Centers for Disease Control and Prevention (CDC), Administration for Community Living (ACL), and the Office of Inspector General (OIG) will be present to demonstrate and discuss research funding opportunities with interested entrepreneurs and innovators.
The Small Business Innovation Research (SBIR) or Small Business Technology Transfer (STTR) programs are federal sources of support for U.S.-based small businesses developing life science technology to enhance health and life for all people. This year's conference will be hosted by our partner, the Clinical & Translational Science Institute of Southeast Wisconsin at the Medical College of Wisconsin, in Milwaukee, WI from November 7 – 9, 2017.
A draft of the agenda and registration information is now available online. 

 Save on registration with early bird rates though September 28, 2017.
This conference is relevant to a diverse audience, including biomedical entrepreneurs, principal investigators, grants and contracts administrators, and industry partners and investors. We are also committed to reaching and collaborating with Woman-Owned and Socially Disadvantaged Business owners, as well as professional organizations that support them.
You will network with potential partners and learn how to successfully participate in federal seed funding programs from HHS during an interactive three-day conference. Session topics will include:
Strategies for developing competitive SBIR/STTR applications
Understanding grant and contract solicitations and funding opportunities
What you need to know about Human Subjects and Animal Research
Discuss specific questions one-on-one with HHS SBIR/STTR subject-matter experts
Leveraging NIH's Technical Assistance Programs to support commercialization
We look forward to meeting you #InTheHeartland! Follow us on Twitter to keep up with news and updates: @NIHsbir

.