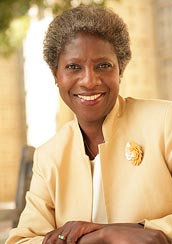 Hannah Valantine, M.D. is NIH's Chief Officer for Scientific Workforce Diversity.
Today marks an important step forward for NIH's support of a diverse scientific workforce. NIH has announced the awardees of unique, targeted programs for developing new approaches to engage researchers from underrepresented backgrounds and for preparing them to thrive in scientific careers. NIH has issued 12 awards, amounting to nearly $31 million in fiscal year 2014 funds.
To recap, these new programs, supported by the NIH Common Fund, were established in response to recommendations by NIH's Advisory Committee to the Director Working Group on Diversity in the Biomedical Research Workforce. As I discussed previously, the Working Group report highlighted that the biomedical workforce lacks diversity which, in part, can be traced to the small pool of students and trainees from underrepresented groups who successfully traverse the pipeline and make it out the other end into research careers. NIH has made a commitment to understand why there is a dearth of diversity in our workforce and will use this knowledge to create programs that help our young talent from all backgrounds choose careers in biomedical sciences and succeed.
The new NIH diversity programs announced today aim to do just that, by helping us understand cultural, social, and psychosocial factors that influence retention in biomedical research careers, and by integrating findings from social science research to create effective research training and education models. The new "Enhancing Diversity in the NIH-funded Workforce" programs are a tightly integrated set of three programs that will work as a consortium to provide real-time evaluation and dissemination of successful approaches to training and mentoring.
The Building Infrastructure Leading to Diversity or BUILD initiative has the long-term goal of catalyzing cultural changes at academic institutions so that the best and brightest students are well-prepared to enter research careers. The BUILD awards announced today will allow the development and testing of novel models for underrepresented student recruitment and retention in training within the biomedical sciences.
Also announced today is the NIH National Research Mentoring Network (NRMN) which will facilitate the development of robust mentoring relationships through the coordination of nationwide pairings of scientific leaders and early career scientists (undergraduate students through junior faculty members). Strong mentoring has been shown to have a powerful impact on individuals from underrepresented groups. Mentees benefit from mentors who share common experiences and can help them navigate the complex issues that often arise during a person's early career. Finally, NIH is supporting a coordination and evaluation center, which will work with BUILD and NRMN recipients on gathering and analyzing metrics on their programs. This center provides the critical glue that holds all of these components together, as evaluation of the programs' impact on diversifying our workforce is vital to understanding what programs work, for whom and in what context, and will allow NIH to share effective training and mentoring practices broadly.
You can read more about these programs and their awardees on the NIH Common Fund website. We are thrilled to see these programs launched, and we have high expectations that our biomedical research ecosystem will be even stronger with a diverse pool of extraordinary scientists whose expertise and ideas can propel us towards our goal of improved health for all.