True or false: iEdison is the new Apple™ light bulb.
Well, for now at least, false. iEdison – which stands for "interagency Edison" – is a system for reporting inventions resulting from federal funding. iEdison is now part of NIH's electronic Research Administration (eRA) suite of services, and our new website helps iEdison users access information and resources related to invention reporting.
From the main informational page, you can find information that is centralized in a graphical concept that is less text heavy and easier to navigate. Steps for navigating iEdison are broken down into major sections and each section includes: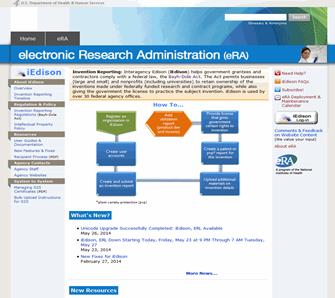 NIH is one of over 30 federal agency offices, including the Air Force, the Army, CDC, and the Department of Energy, that uses iEdison to help recipients of federal funding comply with the Bayh-Dole Act. Grantees and contractors — usually the office responsible for technology transfer at the grantee or contractor organization — submit these reports via iEdison to the government agency that issued the funding award.
We welcome your feedback on the new design and content – suggestions for specific improvements are particularly welcome!