In a classic scene from Seinfeld, Kramer imitates Moviefone's automated phone service prompts but becomes confused and abandons the script, asking the caller instead "Why don't you just tell me the name of the movie you've selected?"
We've done something similar in our latest release of our popular Funding Facts tool on the RePORT website.  We built Funding Facts to provide quick answers when you have a very specific question about NIH grants such as the number of awards, success rates, levels of funding, or the average size of an award. Filters let you select different institutes and centers, funding mechanisms, grant activity codes, types of awards, and fiscal years. Although the old system seemed to work well enough, selecting the various filters to narrow down your search of the thousands of statistics in the database could become tedious.
So, why don't you just tell us what you want to know? We've built a new interface that lets you enter natural language questions that in many cases will provide you with a correct result in much less time than manually selecting each of the filters. (Of course, if the new interface doesn't provide the information you're looking for, you can always construct a query the usual way.)
For example, if you want to know the number of new (type 1) R01s NIH awarded in 2010, you could select the various filters for activity code, type, and fiscal year and execute a query. Or, you could simply enter the question and click the Submit Query button (simply hitting the return button works too):
Funding Facts will return with a hit list of records that match the question, in this case showing the answer is 3,889.
You'll notice that three records were returned, all with the same answer. When you've asked for a particular activity code this will almost always be the case since activity codes are nested within a hierarchy of funding mechanisms. For instance, in this example, you can see from the "Mechanism" column that an R01 comes up as a Research Grant, a Research Project Grant (RPG), and a non-SBIR/STTR RPG.
The new interface to Funding Facts will work with questions related to:
Numbers of applications
Numbers of awards
Amount of funding
Average cost of an award
Success rates
for different:
Institutes and centers
Funding mechanisms
Activity codes
Application types (e.g., new, competing renewal, noncompeting, etc.)
Fiscal years
Here are some examples of other valid questions:
You'll note that complete sentences aren't required. For the question in my original example "How many new R01 awards did NIH make in 2010?" we would have gotten the same answer by entering "new R01 awards 2010." Also, the two-letter codes for institutes and centers can be used (e.g., "GM" for NIGMS or "HL" for NHLBI).
For those of you with mobile devices that support voice recognition to input text, some (but perhaps not all) questions can be created using you mobile device's microphone. Here is one using an iPhone: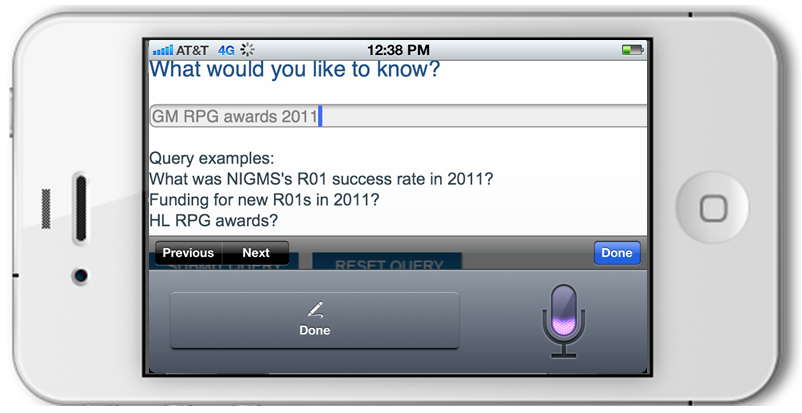 And this returns the number of NIGMS RPG awards in FY 2011 (all, non-SBIR/STTR, and SBIR/STTR).
We hope that this new interface to Funding Facts will help you more easily find that specific number you're looking for.