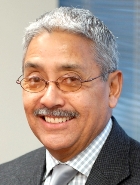 We are welcoming our first Rock Talk guest blogger this week, Dr. Milton Hernandez. Milton is director of NIH's Loan Repayment Programs.
Last week, The New York Times published in a blog "The Hidden Costs of Medical Student Debt 

." In this, Dr. Pauline W. Chen highlights that young doctors who graduated from medical school in 2010 had an average debt of $158,000 and notes that:
"for some young people, looming debts mean eschewing a calling to serve a particularly needy, less lucrative patient population or practice, and instead pursuing a well-compensated subspecialty that caters to the comfortably insured."
This large debt is also a barrier for young doctors and scientists who want to pursue research careers, and it has been a hot topic in the scientific community for many years. We need to keep talented young scientists in research careers if we are to address our nation's current and future health needs. In 2001, Congress established the NIH extramural Loan Repayment Programs (LRPs). These programs repay up to $35,000 of student loan debt annually for investigators who commit to at least two years of biomedical or behavioral research funded by a domestic nonprofit, university or government entity.
Each year, NIH Institutes and Centers fund about 1,600 LRP contracts for investigators who perform clinical, pediatric, health disparities, infertility or contraception research. The programs are open to M.D.s as well as Ph.D.s and will help repay graduate and undergraduate debts. After the initial award, recipients may apply for one or two-year competitive renewals as long as they have sufficient educational debt remaining and meet the other eligibility criteria. The success rate for new applicants is 42 percent, and the success rate for renewals is 70 percent.
As of 2011, nearly 8,000 researchers have benefited from LRPs, and an evaluation conducted in 2009 showed that program participants stay in research careers longer, apply for and receive more research grants, and are more likely to become independent investigators than peers who do not receive LRP funding. Our success stories illustrate that many of our alumni are running their own research labs, and some, like New York State Health Commissioner Dr. Nirav R. Shah, represent the next generation of public health leaders.
If you are a young researcher who has educational debt, I encourage you to apply for these programs. The next application cycle opens September 1, and the deadline is at 8 p.m. ET on November 15. As you prepare your application, be sure to check out my webinar for tips and advice. To learn more and/or apply, go to http://www.lrp.nih.gov.