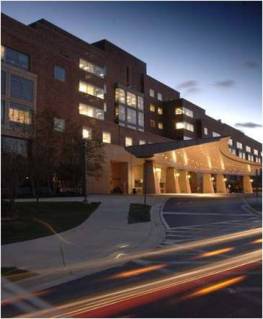 Last week at the NIH Advisory Committee to the Director meeting, John Gallin, head of the NIH Clinical Center, and I presented the early progress of a committee developed to examine how we can promote the Clinical Center as a national resource by extending its capabilities to you, the extramural community. The NIH Clinical Center is the nation's largest hospital devoted entirely to clinical research. Currently used for intramural research by 18 of NIH's institutes and centers, the Clinical Center has a wide variety of world-class or unique research services and resources that we think the extramural community will also find valuable. We are currently determining how we can provide both services and training and how to support collaborations between intramural and extramural investigators to take advantage of the broad range of resources the Clinical Center can provide.
We started with the low hanging fruit and are drafting a program that would provide access to the pharmaceutical development facility for our grantees and contract recipients. We recognize there could well be other resources such as the metabolic unit and the PET program where collaborations with extramural investigators could be established. We are also looking at ways to use and possibly expand the current Bench-to-Bedside program to promote collaboration between extramural basic scientists and intramural clinical investigators, with the goal of understanding important diseases and translating basic science into new therapeutics.
We are excited to provide this opportunity to you. But we want to make sure that if we build it, you will come, so look for further opportunities to provide input on your interest in accessing the NIH Clinical Center resources. I'll keep you posted on our progress.