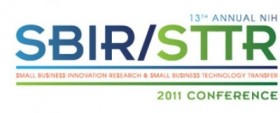 NIH awarded approximately $690M in grants through our small business programs last year. Want to get help and advice to apply this year? Attend our annual conference for small businesses on June 22 and 23, 2011 at the NIH campus in Bethesda, Maryland.
Attendees will be introduced to the nuts and bolts:
How to submit an electronic application
Tips from awardees about writing and preparing an application
The peer review process
The award and selection process
Who to contact and when
Information about how to move a product into the marketplace
If you are seeking funding to perform innovative research in the life and health sciences that has the potential to commercialize, you won't want to miss this event.

Register for the conference. The registration fee is $345 through April 15, $385 on or after April 16, and $425 after May 31.
For information about the NIH Small Business Innovation Research (SBIR) and Small Business Technology Transfer (STTR) programs, visit the Small Business website.