Right now we're celebrating Women's History month. I recently was the keynote speaker at NIH's observation of the month and was able to chat about my own scientific career and discuss research administration as a career choice. I was delighted to be asked to speak, as it made me reflect on how I came to be the head of extramural research at NIH through an unusual and circuitous route and to think about and celebrate the women who blazed the scientific trail to bring us where we are today. Thus, I thought I'd take this opportunity to provide you with some information from my talk regarding the participation of women in NIH extramural programs. These and other data on the topic are posted on the Web in the NIH Databook.
Because female scientists are vital to the biomedical and behavioral research enterprise, we continuously monitor the involvement of women at every stage in their interaction with our programs. For example, we know that women are at parity with men in all of our graduate and postdoctoral training programs. Female participants are nearly equal to males in our mentored career development programs.
Research Career Development Award Recipients and Kirschstein-NRSA Trainees and Fellows
Representation by Women by Activity and Career Stage
When we look at research project grants, however, women are making steady gains, but they currently constitute only 27 percent of all the principal investigators (PI) on research project grants.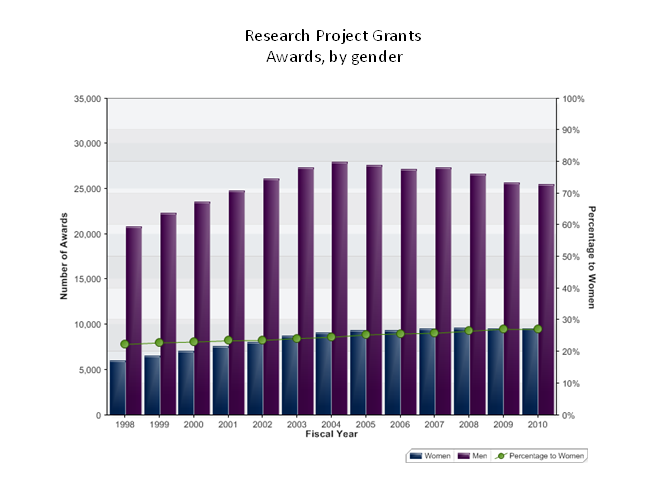 When  we look at success rates for men and women who apply for R01-equivalent applications we find that success rates are comparable for new (Type 1) projects but men have a slight edge over women on renewal (Type 2) applications. The comparable success on Type 1 applications would suggest that there is parity in the overall process. The difference at the renewal level is something we need to explore further.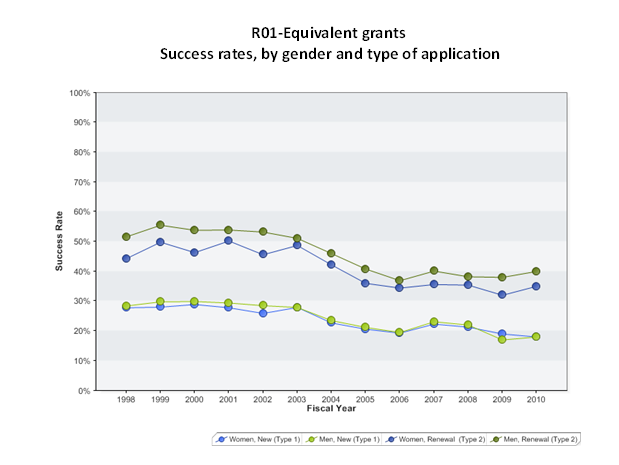 Even though success on research grants is approximately equal for men and women, we still often see a large reduction in the proportion of women

 that migrate into faculty positions that typically allow them to apply for NIH grants.
Like Ceci and Williams, who just published a paper entitled "Understanding current causes of women's underrepresentation in science," 

I believe that this could be largely due to life choices. Noting these choices, in combination with the data I described above, further highlights the relevance of NIH taking steps to make participation in NIH programs friendlier to those with family responsibilities—a topic on which I have previously blogged. 
There will be much more to come as we continue to explore the data and trends for shaping the future biomedical workforce.